The best films on TV this Christmas
Here is our guide from today (December 12) to New Year's Day.
Friday, 11th December 2020, 3:51 pm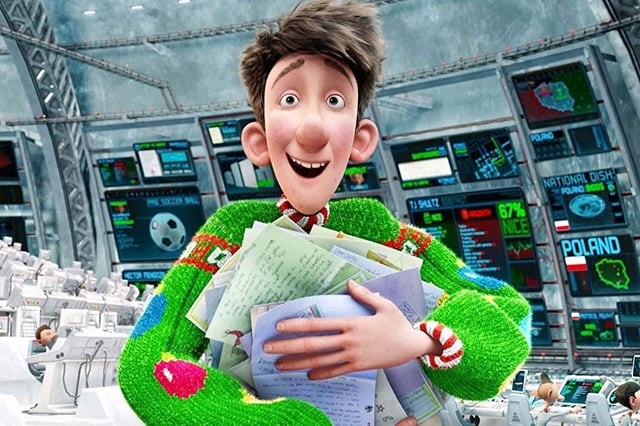 Arthur Christmas is being shown on TV this Christmas.
The BFG (2016), BBC1, 2.45pm:
Starring: Mark Rylance, Ruby Barnhill, Penelope Wilton and Rebecca Hall.
What's it about?: Young orphan Sophie is kidnapped from her bed by the Big Friendly Giant. Back at his home, Sophie finds herself learning ogre language and about the BFG's sluggish ways. The story takes a turn when the BFG joins forces with The Queen to defeat the flesh-eating enemies.
Why watch?: Despite it's gruesome synopsis, this funny film will have the children laughing more than hiding behind a pillow. Steven Spielberg's imaginative and visually-dazzling adaption of Roald Dahl's beloved children's book is a firm family favourite.
The Grinch (2018), ITV, 5.20pm
Starring: Benedict Cumberbatch, Cameron Seely, Pharrell Williams and Angela Lansbury.
What's it about?: Watch Dr Seuss' infamous grumpy Grinch come alive in this animated adaptation of the 1957 book. A firm hater of festive cheer, the Grinch becomes increasingly annoyed as the residents of Whoville celebrate Christmas in style. Motivated by his sad childhood as an orphan, the Grinch teams up with his dog to ruin Christmas, only to find Cindy Lou Who stopping him in his tracks.
Why watch?: Enjoy this Christmas classic which has a touching story of a grumpy character seeing the error of his wicked ways.
Nativity! (2009), CBBC, 6pm
Starring: Alan Carr, Martin Freeman, Jason Watkins, Marc Wootton and Pam Ferris.
What's it about?: After his girlfriend left him at Christmas and after a failed attempt at a nativity, primary school teacher Paul Maddens hates the festive period. To make things worse, he is tasked with the challenge of running the school nativity again and has a useless classroom assistant to help. After telling a lie to impress a friend, hilarity follows as this small Coventry primary school prepares for their nativity to be transformed into a Hollywood musical.
Why watch?: This comedy-musical will be sure to have you in stitches as you watch children be their naturally funny selves, as well as making you believe in the power of love at Christmas.
About Time (2013), 5 Star, 9pm
starring: Rachel McAdams, Bill Nighy, Tom Hollander and Margot Robbie.
What's it about?: From the director of Love Actually, this film is a heartwarming romance. When Tim Lake is told by his father that all the men in his family possess the power to travel in time, he uses it to pursue his love interest, Mary.
Why watch?: This film will make you laugh and cry while depicting family life at the heart of life's adventure. It reminds the audience that even with a superpower, there is no such thing as a perfect life.
Holiday Affair (1949), BBC2, 2.50pm
Starring: Robert Mitchum, Janet Leigh, Wendell Corey and Esther Dale.
What's it about?: This rom-com is about a young widow who is torn between a boring businessman and a romantic but unsuccessful sales clerk.
Why watch?: This seasonal treat will make you smile. It's like a Mike Leigh film made in the 1940s.
The Bishop's Wife (1947), BBC2, 2.30pm
Starring: Cary Grant, Loretta Young and David Niven.
What's it about?: Henry Brougham (David Niven), troubled with funding the building of a new cathedral, prays for help. And his plea is answered by an angel named Dudley (Cary Grant). However, Dudley's mission is not to help construct a cathedral, but to spiritually guide Henry and the people around him while repairing his broken relationships.
Why watch?: Based on the book by Robert Nathan, there's something for everyone in this enjoyable and festive black and white film.
The Importance Of Being Earnest (2002), BBC2, 2.45pm
Starring: Colin Firth, Rupert Everett, Frances O'Connor, Reese Witherspoon and Judi Dench.
What's it about?: Two gentlemen lie to inject some excitement into their lives. Worthing (Colin Firth) has invented a brother, Earnest, whom he uses as an excuse to leave his dull life behind to visit Gwendolyn (Frances O'Connor). Montcrieff (Rupert Everett) decides to take the name Earnest when visiting Worthing's young and beautiful ward, Cecily (Reese Witherspoon). However things start to go wrong when they end up together in the country and their lies are unveiled.
Why watch?: This British-American romantic comedy-drama directed by Oliver Parker is based on Oscar Wilde's classic comedy The Importance of Being Earnest. The original score is composed by Charlie Mole.
The Eagle Has Landed (1976), BBC2, 5.50pm
Starring: Michael Caine, Donald Sutherland, Jenny Agutter and Robert Duvall.
What's it about?: During the Second World War, Nazi officer Max Radl (Robert Duvall) devises a plan to kill British prime minister, Winston Churchill. Approved by German Commander Heinrich Himmler (Donald Pleasence), the plot gathers pace with the Germans aided by an Irishman with a deep hatred of England. Their plan seems to be working, until certain events threaten the group's shot at success.
Why watch?: Being shown as part of BBC2's Michael Caine Night, this far-fetched but funny thriller will take you back to the good old days of film.
Diamonds Are Forever (1971), ITV, 4.40pm
Starring: Sean Connery, Jill St John, Lana Wood and Charles Gray.
What's it about?: Sean Connery plays a priceless James Bond as he masquerades as Peter Franks to uncover a diamond smuggling conspiracy. He must also deal with his old rival who wants to use the diamonds to build a giant laser.
Why watch?: Deemed the greatest Bond of all time, watch Diamonds Are Forever as a tribute to Sean Connery, who died earlier this year.
The Muppets (2011), BBC1, 10.25am
Starring: Eric Jacobsen, Dave Goelz, Jim Henson and Steve Whitmire.
What's it about?: This American musical-comedy follows the search of the Muppets as three fans set out to reunite the clan to save the Muppet Theater from destruction. But, it's trickier than they think when they realise the Muppets have mysteriously disappeared.
Why watch?: Enjoy Kermit the Frog returning to your screen for this laugh-out-loud wild adventure.
Arthur Christmas (2011), ITV, 11.35am
Starring: James McAvoy, Bill Nighy, Hugh Laurie and Imelda Staunton.
What's it about?: Father Christmas is nearing retirement. When a hi-tech operation to deliver all of the presents on Christmas Eve becomes glitched, Father Christmas' gawky son, Arthur Christmas, has to save the day.
Why watch?: The characters are fun, the animation is impressive and this Christmas adventure is one you won't forget.
Casablanca (1942), BBC2, 2.15pm
Starring: Humphrey Bogart, Ingrid Bergman, Paul Henreid and Claude Rains.
What's it about?: During the Second World War, Rick, a nightclub owner in Casablanca, agrees to help his former lover Ilsa and her husband. Soon, Ilsa's feelings for Rick resurface and she finds herself renewing her love for him.
Why watch?: This highly-reviewed film is still quoted (and misquoted) decades after its initial release. What could be better than a timeless love story enveloped in a wartime thriller, written with beloved wit?
It's A Wonderful Life (1946), Channel 4, 2.35pm
Starring: James Stewart, Donna Reed, Lionel Barrymore and Karolyn Grimes.
What's it about?: George Bailey is a troubled soul and is contemplating taking his own life – and it's Christmas! As the heavenly angels discuss George, we see his life in flashback. Thanks to his guardian angel, Clarence, he is saved and shown what the world would have been like without him.
Why watch?: This film is now considered as one of the greatest Christmas films of all time thanks to the skill of director, Frank Capra.
Starring: Will Ferrell, Zoe Deschanel, James Caan and Bob Newhart.
What's it about?: This seasonal comedy focuses on Buddy the Elf (Will Ferrell) and his quest to find his birth father in New York. Raised by elves, and now too clumsy to assist in the present workshops, Buddy finds himself spreading Christmas cheer in the Big Apple while making friends and getting into hilarious scrapes along the way.
Why watch?: Elf is an hilarious Christmas celebration, highlighting how everybody should be accepted for who they are.
Paddington 2 (2017), BBC1, 4.15pm
Starring: Hugh Grant, Hugh Bonneville. Sally Hawkins, Ben Whishaw and Julie Walters.
What's it about?: Paddington takes up a job to accumulate enough money to buy the perfect gift for his aunt on her 100th birthday, but it's stolen.
Why watch?: Following on from the 2014 film Paddington, this sequel packs a greater laugh and adventure than before.
A Christmas Carol (1984), Channel 4, 12.40pm
Starring: George C Scott, Mark Strickson, Susannah York and Roger Rees.
What's it about?: Based on Charles Dickens' yuletide favourite, watch George C Scott play a great and grumpy Ebenezer Scrooge who meets the ghosts of Christmases past, present and future.
Why watch?: Director Clive Donner perfects Dickens' gloomy atmosphere in Shrewsbury and a stellar supporting cast makes this adaptation of A Christmas Carol a worthy watch.
Oliver! (1968), Channel 5, 12.05pm
Starring: Ron Moody, Oliver Reed, Harry Secombe, Shani Wallis, Mark Lester and Jack Wild.
What's it about?: Nine-year-old orphan Oliver Twist falls in with a group of pickpockets led by the Artful Dodger and criminal Fagin. When Oliver's intended victim Mr Brownlow takes pity on him, he offers him a home. However Fagin's henchman Bill Sikes plots to kidnap Oliver to keep him from talking.
Why watch?: This immensely popular film version of Lionel Bart's musical brings a wealth of wit and wisdom to the screen.
Chicken Run (2000), ITV2, 3.50pm
Starring: Mel Gibson, Julia Sawalha, Miranda Richardson and Lynn Ferguson.
What's it about?: Rocky, a rooster, and Ginger, a chicken, decide to escape from a chicken farm when they learn that their owner is plotting to have them killed.
Why watch?: This dramatic comedy will take you on a fun-filled adventure on a northern chicken farm.
Four Weddings And A Funeral (1994), Channel 4, 12.15am
Starring: Hugh Grant, Andie MacDowell, Kristin Scott Thomas, Simon Callow and John Hannah.
What's it about?: Charles, a good-natured young introvert, discovers true love as he attends the wedding of four of his friends and a funeral.
why watch?: Richard Curtis' Oscar-nominated film changed the nature of British screen comedy and also made Hugh Grant an overnight sensation. Reviewers were also wowed by the great performances by Simon Callow and Kristin Scott Thomas, which makes this a five-star film not to be missed.
Home Alone 2 Lost in New York (1992), Channel 4, 5.30pm
Starring: Macaulay Culkin, Joe Pesci, Daniel Stern and Catherine O'Hara.
What's it about?: Kevin McCallister is getting a bit of a reputation for ditching his family at Christmas. This time, he gets on the wrong plane and ends up in New York alone. Armed with his dad's credit card, Kevin lives the high life at the Plaza hotel until he runs into dodgy burglars Harry and Marvin once again.
Why watch?: This piece of slapstick escapism is bound to put a smile on your face.
Goodbye Christopher Robin (2017), Film4, 6.50pm
Starring: Domhnall Gleeson, Margot Robbie, Will Tilston and Kelly Macdonald.
What's it about?: The true story of the father-son relationship between Alan Alexander Milne, an author, and his son, Christopher Robin, inspires Alan to write about the magical world of Winnie-the-Pooh.
Why watch?: This portrayal of family bonding is both shocking and heartwarming, earning this film a 4/5 from the Radio Times.
Cinderella (2015), BBC2, 2.50pm
Starring: Lily James, Cate Blanchett, Richard Madden and Helen Bonham Carter.
What's it about?: Based on Disney's 1950 animated masterpiece, watch young Ella as she is tormented by her stepmother and ugly stepsisters. However, her life changes forever after dancing with a charming stranger at the Royal Ball.
Why watch?: This romantic fantasy brings the classic fairytale to life with a fantastic cast and a visually-dazzling film to capture a new generation.
Calamity Jane (1953), BBC2, 1.10pm
Starring: Doris Day, Howard Keel, Dick Wesson, Gale Robbins and Philip Carey.
What's it about?: The boisterous Calamity Jane Canary (Doris Day), the infamous Wild West heroine who dresses like a man, helps bring a star attraction to Deadwood and finds love.
Why watch?: Rated as 5/5 by the Radio Times, watch Doris Day in her prime and finest role. Her breathtaking performance of Secret Love, recorded in just one take, won the best song Oscar.
Dunkirk (2017), BBC1, 9.05pm
Starring: Harry Styles, Fionn Whitehead, Cillian Murphy and Tom Hardy.
What's it about?: Restaging the evacuation of troops at Dunkirk in 1940, follow the journeys of several soldiers, pilots and sailors as they try to escape the terrors of Dunkirk during the horrific battle against the Germans.
Why watch?: With Han Zimmer's exceptional score providing momentum of its own, this picture was nominated for several awards. It is a mesmerising but often terrifying work of modern cinema, recapturing the feelings of war in less than two hours.
Carry On Screaming (1966), ITV3, 7.30pm
Starring: Kenneth Williams, Charles Hawtrey, Angela Douglas, Joan Sims and Fenella Fielding.
What's it about?: Mocking Hammer horror films, this hilarious story follows an evil doctor who kidnaps women to turn them into mannequins so that he can sell them to stores. The detective investigating the case has no clue about the disappearance of several women from the city.
Why watch?: Deemed as one of the finest entries in the popular Carry On series, Talbot Rothwell's script is filled with gleeful one-liners such as Kenneth Williams' memorable line 'frying tonight!' as he sinks into a cauldron.
Billy Elliot (2000), BBC4, 9pm
Starring: Jamie Bell, Trevor Fox, Charlie Hardwick, Julie Walters and Billy Fane.
What's it about?: The life of 11-year-old Billy Elliot, a coal miner's son in northern England, is forever changed when he stumbles upon a ballet class during his weekly boxing lesson. Before long, he finds himself in dance, demonstrating the kind of raw talent seen by the class teacher, Mrs Wilkinson. Set against the backdrop of the miners' strike under Margaret Thatcher's government and the family turmoil that came with it.
Why watch?: Billy Elliot shines a new light on family relationships and breaking stereotypes.
Inside Out (2015), BBC1, 1.20pm
Starring: Amy Poehler, Phyllis Smith, Bill Hader and Mindy Kaling.
What's it about?: Inside the brain of tomboy Riley, her personified emotions are accidentally removed from Memory HQ, triggering a fun-filled adventure.
Why watch?: Pixar retain their sparkling reputation with this fantastic film, entwining laugh-out-loud moments for children and equally entertaining wit for parents.
The Bridge On The River Kwai (1957), Channel 5, 12.10pm
Starring: Alec Guiness, William Holden, Sessue Hayakawa and Jack Hawkins.
What's it about?: This war drama follows Colonel Nicholson's obsession of getting the Second World War POWs to build a railway bridge.
Why watch?: Another 5/5 rating from the Radio Times, this film is one of few war films with such endurance and captivation that has become known as a masterpiece.
Dirty Dancing (1987), Channel 5, 6pm
Starring: Patrick Swayze, Jennifer Grey, Cynthia Rhodes and Kelly Bishop.
What's it about?: While holidaying with her parents at a New York holiday resort, Frances – otherwise known as Baby – gets roped into learning to dance with bad boy and dance instructor Johnny.
Why watch?: Swayze spent much of his career trying to live up to his stellar performance in this film. Dirty Dancing has defied age, and remains a classic in the film cabinet.
Starring: Daniel Craig, Judi Dench, Naomie Harris, Ben Whishaw and Ralph Fiennes.
What's it about?: An ex-MI6 agent steals a hard drive with top secret information to carry out a vendetta on Bond's overseer, M. Bond must face his past in a bid to try and save M.
Why watch?: The moviemaking on Skyfall involves stunning and impressive backdrops, while still being a classic Bond film the public knows and loves.
Beauty and the Beast (2017), BBC1, 2.20pm
Starring: Emma Watson, Dan Stevens, Luke Evans, Josh Gad and Ian McKellen.
What's it about?: Belle, a village girl, embarks on a journey to save her father from a creature that has locked him in his dungeon. Eventually, she learns that the creature is an enchanted prince who has been cursed.
Why watch?: A Disney remake of the 1991 version, this take on Beauty and the Beast impressed families across the country.
Monsters v Aliens (2009), BBC1, 10.25am
Starring: Rainn Wilson, Reese Witherspoon, Seth Rogen and Will Arnett.
What's it about?: Susan Murphy is hit by a meteor on her wedding day and grows into a giant. She is dragged into a team of five other freaks of nature who have to stave off an alien invasion.
Why watch?: Children and adults alike will be enthralled by the enthralling visuals.
Hot Fuzz (2007), ITV2, 9pm
Starring: Simon Pegg, Nick Frost, Jim Broadbent, Olivia Colman and Bill Nighy.
What's it about?: Police officer Nicholas Angel is used to fighting big crimes across London in The Met. When he is posted to a small, remote village, he is bored by its petty crime. That's until he uncovers a huge conspiracy.
Why watch?: Simon Pegg and co-director Edgar Wright satirically transform this plot into a typical American action movie which will have you laughing out loud.
Mr Holmes (2015), BBC2, 6.20pm
Starring: Ian McKellen, Milo Parker, Laura Linney and Hattie Morahan.
What's it about?: Sherlock Holmes is 93 years old and lives with his housekeeper and her young son. Through jumbled memories and sheer determination, Holmes pieces together his final case.
Why watch?: A touching and poignant film which takes a sympathetic view of old age and what happens when the mind starts to fail.
Chitty Chitty Bang Bang (1968), Channel 5, 11.35am
Starring: Benny Hill, Dick Van Dyke, Sally Ann Howes and Robert Helpmann.
What's it about?: Inventor Caractacus Potts transforms an old Grand Prix car into a magical flying machine that transports him and his family to a kingdom ruled by the evil childcatcher, Baron Bomburst.
Why watch?: This cheery musical features toe-tapping songs, an eccentric inventor, fantastic sets and a stellar cast as well as an iconic baddie. This film, which has been performed on theatre stages and school sets alike, is a firm family favourite which will make you smile and perhaps bring back childhood memories.
Willy Wonka and The Chocolate Factory (1971), ITV3, 4pm
Starring: Gene Wilder, Julie Dawn Cole, Michael Bollner and Denise Nickerson.
What's it about?: Based on Roald Dahl's most popular book, this all-singing and all-dancing musical will make you laugh and cry. When poor Charlie Bucket finds the golden ticket which promises him a lifetime supply of sweets, he joins four other children in entering Willy Wonka's Chocolate Factory. Disaster strikes and it's up to Charlie to make it out alive.
Why watch?: Roald Dahl wrote the original script himself and although he wasn't chuffed with the final film, Gene Wilder plays a curious, engaging character as Willy Wonka, the sets and backdrops will transport you to a land of all things sweet.
Pretty Woman (1990), Sony Movies, 9pm
Starring: Julia Roberts, Richard Gere, Laura San Giacomo and Alex Hyde-White.
What's it about?: Edward and Vivian come from two different worlds. She's a prostitute trying to pay rent and he's a successful businessman. Unsurprisingly, they fall in love and trouble ensues when they try to bridge the gap between their different worlds.
Why watch?: Originally meant to be a serious drama (called $3,000) about a man buying a prostitute for a night, this heartwarming rom-com kicked off Julia Roberts' star-studded career and shows how love is not bound by class.