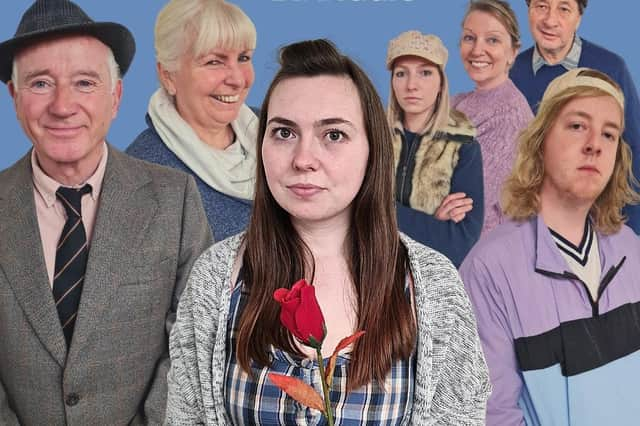 Looking for Joe Dimaggio is being livestreamed from March 22-28, 2021 by Titchfield Festival Theatre
The play explores love, relationships and romance – in a funny, humorous way with relatable characters. Looking for Joe DiMaggio is Gary Orchard's second production for TFT this season – with hints of the successful TV sitcoms The Royle Family and Gavin & Stacey.
Judy is fed up with life.
An usherette in a cinema, she dreams of the life she sees in the movies. Judy is in a loveless relationship, tired of the drudgery of life and a boring family.
Enter Max, a film addict and a romantic; can his outlook on life in his old age change her future for ever?
Set in 2005, this is a wonderfully funny and heart-warming new play that will bring smiles and tears in one night.
Sassy Harvey is making her directorial debut. She says: 'Joe DiMaggio's marriage to Marilyn Monroe was brief, lasting only nine months. However, after she died DiMaggio placed an order for roses to be laid on her grave three times a week, hence the reference to roses in the play. A truly romantic gesture; in spite of everything, Joe loved Marilyn.
'This show is therefore about how romance can exist in our lives. Judy is standing inside the Roxy cinema out of the rain, and starts up a conversation with Max. Max is an older man and a romantic – as well as a good listener. Judy, a young woman in her 20s, is unhappy in the relationship with her fiancé. As Max tells Judy the story of DiMaggio and Monroe, the two people get to know each other. For Max, nostalgia can relive the good times.
'I have loved directing this play – and we have a great cast. Looking for Joe DiMaggio is funny, entertaining – and suggesting that in all of our lives, maybe old fashioned romance can still happen?'
All of Titchfield Festival Theatre's productions are to be streamed in the coming weeks.
The show is being streamed every evening from 6.30pm from Monday 22 to Sunday, March 28.