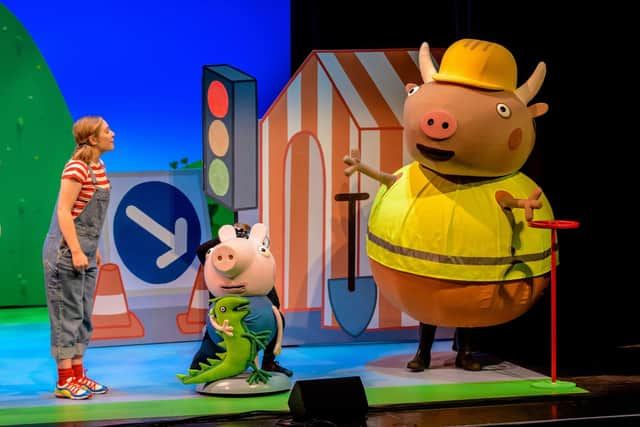 Lizzie Burder (Daisy), George Pig and Mr Bull in Peppa Pig's Best Day Ever! Picture by Dan Tsantilis
Peppa Pig is a huge star in our house so I was hoping she wouldn't let us down in her live show.
And she didn't disappoint – that cute but slightly bossy little pig entertained the young audience and got us all on our feet, dancing along to the many catchy songs with actions, and playing one of our favourites – The Bing Bong Song.
The show features a fun combination of costumes and puppetry to tell the story, with Peppa and George being whisked around the whole of the stage by the cast.
One of my favourite scenes was when Peppa and her family visited the caves, they used torch lights from foam hard hats and put on a display of lights around the theatre's auditorium.
It wasn't just Peppa and her family that made the show though, we also had appearances from Peppa's best friend Suzy Sheep, Miss Rabbit, Mr Bull. and my favourite Danny Dog.
It was a wonderful afternoon with singing, dancing and most of all, smiling.
There are two more performances on Thursday, February 27, at 10am and 1pm.