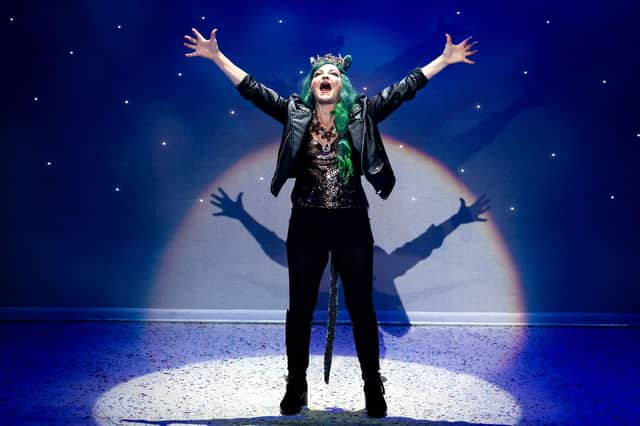 Julia Worsley as Queen Rat in Dick Whittington. Picture by Andrew Searle
At the curtain call for the press night, the cast were visibly moved by the lengthy standing ovation they received.
Among them were James Percy and Julia Worsley, who play Silly Billy and Queen Rat, respectively. Subtitled as The Pompey Panto, it is a totally home-grown show – produced in-house and the cast all have strong ties to the region.
Speaking with The Guide back before the panto opened, South Yorkshire-raised James admitted this is actually his first time on that stage: 'All of my work has been away from Portsmouth, so it's nice to come back and do a panto on my home turf.'
James Percy as Silly Billy in Dick Whittington: The Pompey Panto, at The Kings Theatre, Southsea 2020. Picture by Andrew Searle
He's now been living in Portsmouth for the past five or six years, and has just started a performing arts school here, Theatretrain.
'My family are all from here but I've spent most of my career touring elsewhere. This is my first Christmas at home in years, It's so nice to be home and doing a panto, when so many others have had to be postponed or cancelled.'
James was actually performing in a Las Vegas residency and American tour of the hit show Potted Potter at the start of the year, and made it home just before the lockdown started.
The ensemble in Dick Whittington at The Kings Theatre, Southsea, 2020. Picture by Andrew Searle
'I've just sort of been in my pyjamas ever since – it's been months of pyjama-wearing!
'When you're used to showing off, essentially, for a living, it makes lockdown that much harder because it's just you and a mirror, it turns you into quite a crazy person.
'I'm so glad that we get to go up and do this again.'
Julia, who clearly loves playing the villain of the piece, has a strong bond to the Edwardian theatre says: 'I started my performing career on the stage here at The Kings, I was a member of the Portsmouth Players.
'Then I went off to do it professionally and have done it professionally ever since. Now I am coming back here, which I am so privileged to do, given the current state of affairs.'
Julia's extensive career has taken in The West End, touring shows, roles in the films of Les Miserables, Phantom of The Opera and Evita, and appearances on TV in EastEnders, Holby City, The Bill and many more. As such, it's been some time since she was in panto.
'The last time was in Brighton, going back 20-odd years. I've actually harangued Jack (Edwards, The Kings' creative director and Dame Dolly in Dick) for years going: "When am I going to have a part in the Kings? I want a part in The Kings!"' she laughs.
'It's really nice to be home for Christmas and working as well – just a joy.'
Both agree that it will be lovely to have their families come and see them.
'They're all coming separately on different nights in their little bubbles,' says James. 'It will be nice as a lot of my work has taken me elsewhere and abroad, so it will be nice. A lot of my family haven't been able to see what I do – I don't know if any of them think I'm any good or not. I've been blagging it for years!
Julia adds: 'Where you're doing shows in the West End or touring, they've had to put the effort in to come and find you, and this time we feel like we've come and found them.'
'They do feel now like they've got no excuse', says James with a chuckle, 'they've got to come!'
While it is not uncommon for actors to find themselves with downtime between jobs, when theatre-land came to a sudden halt in mid-March, they were simply unable to work.
Julia recalls: 'It was quiet for a big chunk of time because lockdown literally knocked everything out and our industry has been truly decimated by this, which is why it's even more important for me that my local theatre has stepped forward and gone: "No, no, we're going to do something about this".
'As lockdown receded, although we were still under measures and restrictions, we were having to put down recorded auditions for television and film.
'That's been done beautifully because it means you don't have to go to London for auditions – it's been great in that respect, but stuff for stage and theatre has been pretty much limited to the occasional concerts.
'There have been a few auditions for things which are hopefully going to happen, but even they're done online until you get to the final stage, and then you're going through all of the security for Covid.
'In fact, every job's contract now has such a massive section in the terms and conditions that you've got to be prepared to test, to quarantine and all these things – it's massive, and it has totally changed our industry.
'We are struggling, which is why it's even more important to support these kind of shows that are stepping forward and saying: "We are doing something about this, this is what we do for a living, this our livelihoods".
'For a theatre like The Kings to do that, the other big production companies and the other big theatres need to take a leaf out of their book. I think it's quite substantial what they've done here and I am so proud of them.'
When The Guide met with James and Julia, chancellor of the exchequer Rishi Sunak was reported to have recently said that many in the arts world need to retrain as their jobs were not 'viable'. It understandably stuck in the craw of many.
Julia says: 'Not to labour the point, we are viable people, we are a viable profession – we generate billions of pounds.
'What have people done through lockdown? They've watched Netflix, they've watched films, shows that have been televised from the National Theatre because we need art, we do need it, it's not a just a flimsy little non-viable profession – people have trained and they're skilled.
'All of the backstage crew, even the Conservative Party's conferences will have a backstage production company working for them doing light, sound, all of that.
'We are a viable industry, and it's nice we are stepping once more into the light.'
With there being little live entertainment to take in, James admits that even going to see the circus on Southsea Common on summer was more emotional than he expected.
'I nearly cried! It was like, oh my god, the lights and the performers, and it was so emotional seeing them up and doing it again – it was great.'
But for now, they're just relishing being back on stage.
'When you've got a beautiful theatre like The Kings,' says James, 'it's heartbreaking and tragic to see it dark at any time, to have the lifeblood put back into it...'
Julia finishes the thought: 'Even working back into the changing room, all of a sudden to go back into the area where you work it does remind you who you are a little bit.
'It sounds really "arty", but it is like going back to the office, and it's such a great feeling. It is our jobs.'
Dick Whittington will now close due to Covid restrictions on Friday, December 18, the last performance is at 7pm. For remaining tickets, go to kingsportsmouth.co.uk.