Ali Rasoul: my roadmap to creative marketing
Young would-be entrepreneurs hoping to create their own business start-ups have been given a roadmap to success. Ali Rasoul, a 21-year-old creative entrepreneur, hopes to inspire others to find their own success stories, based on lessons he has learned in his career to date.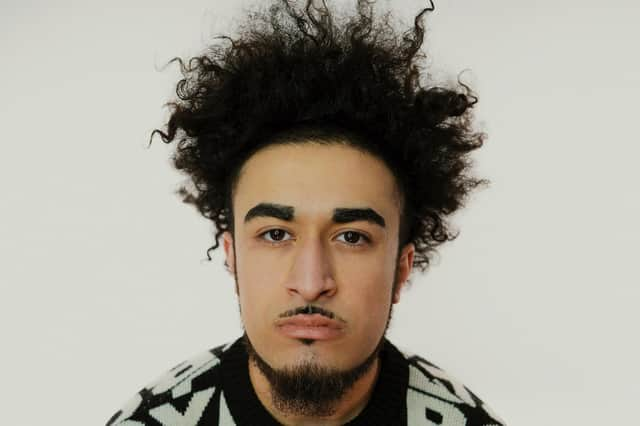 Ali Rasoul
His own business was started when he was 18, and the creative design, marketing and filmmaking agency has some well-known clients, including working with some of the biggest names and creative brands in the cinema and music industries.
Ali has put together a reflection on his own journey to success, in the hope of inspiring the next generation. Here, in his own words, he outlines the key opportunities he has developed and the influential people he has met.
Early beginnings and self-belief
'Don't allow any current circumstances to put a cap on the goals you're aspiring to reach'
I believe surroundings play an enormous role in one's growth and development, and it merely shapes an entire future. Certainly for me, growing up in London, England it wasn't always a comfortable road; the expectations of young people remain considerably low which makes it difficult to push themselves to exceed, and sometimes even meet low expectations.
In England, students are assessed in primary school before proceeding to high school, and the grades from that determine the outcome for the rest of their education and potentially life. Moreover, it can weaken the ability to build a stronger self-belief system.
Fortunately, I had a creative passion that grew into a vision empowering me to dream big and recognise the bigger picture of where I was, and where I can be. Believing in my potential is what enabled me to overcome these obstacles, as it grew my interest to invest time into seeking further knowledge, allowing me to appreciate the value I had around me.
Prior to starting my entrepreneurial career, I always had an interest in creating content that attaches value with the viewer, initially inspired by consuming films and understanding the more profound connotations of the narrative and cinematography.
In 2017, I decided to take my film interest further and applied for a three-week program with the British Film Institute in partnership with the National Film and Television School. Throughout my time at the BFI, working with BAFTA award winners and recognised personalities, I began to realise the impact of networking and the influence it holds on my growth and progression.
Proceeding to boost my network, I began to encounter various credible creatives from other industries like fashion and music. Moreover, it sparked my curiosity and questioned if my creative enthusiasm can be transformed into a tool that adds value to all creative industries.
By summer 2017, my contribution and input in the music, fashion and creative industries became apparent. I had one intention when starting, and that's to boost credibility before charging comfortably. I aspired to build genuine relationships, not just a service. Besides that work rate, I held myself accountable for each project to be delivered faster than expected.
By September 2017, I was due to start my first year, at the University of Portsmouth; studying a bachelor's degree in Film Production. Among many things I had going on that year, I secured more than 50 major projects, creating content for international superstars and labels, like Wizkid, Warner Music Group and receiving influential support from founders of Rah Boy Music, P Montana and Funkz.
Advancing into university with credible achievements and an industry reputation, I ensured to create a strategy that enables me to consistently balance both deadlines; one that handles university as a side hustle, and the other as the main, solely because I didn't desire to decrease the work rate.
In February 2018, occurred another pivotal moment, when the Royal Television Society awarded me an invitation to meet Prince Charles and Camilla, at ITV Studios to mark 90 years of the RTS.
Another level-up stage became apparent, enabling me to identify my professional advancement in my career. I managed to rebrand and establish a more strategic approach to utilising social media platforms more efficiently. One element I benefited from is remaining exclusive and being selective with projects, purely because I noticed a shift in appreciation towards my work. Meaning, the less I'm available equals, the more valuable each project is when accepted.
Throughout my time creating content, I began to alter my outlook on creative content and recognised the material held more weight than I apprehended, I viewed it as a tool that aids marketing campaigns and boosts user engagements.
Including this strategic approach, I advanced to working with my childhood idols like Spike Lee, and Jordan Peele, creating marketing material to help promote their private screening events for the BlacKkKlansman and Us.
Positivity and mental health
I discovered that building a shield of positivity is vital in this industry, as it's taught me ways to protect my mental health and appreciate myself. At times, it can feel a bit isolated and lonely in a world of on-going projects and deadlines, especially for creative entrepreneurs.
Fortunately, I continued to build tactics to prevent falling into a discouraged phase. Example of which meant reading uplifting books, like, Good Vibes, Good Life by Vex King and practising thoughtful routines.
Secondly, having a role model to look up to has created a massive transformation in my journey. An influential entrepreneur I drew inspiration from is founder of Passport Heavy and Live Richer Academy Jubril Agoro. Jubril has inspired me to be highly ambitious, a goal chaser, and completely recognise my worth. As a result of Jubril's influence, I've been able to financially progress, to heights I never imagined at an early age.
Around late 2018, I got invited to have dinner with Jubril Agoro at the Watermark restaurant in Portsmouth. Immediately after that meeting, I had sparked a new concept as to how I could financially elevate my business. As I formulated the strategy, I began to acknowledge that the majority of my music and film clients were recognised globally and that I could package that credibility to approach different higher-paying industries.
My initial steps were to thoroughly research: 1) how to successfully master the art of cold emailing and 2) investigating which industries typically possesses larger marketing budgets for ads.
An industry that caught my attention was luxury hospitalities, including private member clubs, and 5-star hotels. I started building a list detailing the marketing managers and emails of prestigious hospitalities across Central London.
I began to send 15 emails a day, with strategic follow-up routines. The acknowledgement rates started to pick up, and my first few meetings were scheduled with Coya Mayfair, Corinthia Hotel, and the h Club to discuss further ways to develop their marketing material. After spending three months working with a wide range of luxury hotels and private member clubs, I developed a more business-savvy mentality for operating among larger clients and strengthening my confidence to believe in my value.
The ability to estimate how to commission clients is something I discovered throughout the process, moreover, identifying that each industry holds unique values, then becomes a matter of adjusting to their conventional methods and making an appropriate judgment. Sometimes manoeuvring and distinguishing when to charge and who not to charge, could determine the success of a long-term relationship that opens doors to bigger opportunities. In my experience, having a strong creative portfolio has solely been the reason for my speedy entrance to corporate industries.
I started out charging music clients £150 per project, then luxury hospitalities £1,500 per project, later tailoring my value towards corporate firms and tech companies, commissioning £25,000 per project. Yet, I still find my music and creative credibility to be most valuable because it was the source of every success when reaching out to other industries.
As a creative entrepreneur, I believe merging creative strategies into a more business-targeted approach leads to having more impactful results. My productive process usually consists of mixing content creational elements into corporate marketing campaigns, essentially to deliver a more effective and engaging experience between the client and their prospects via social media.
To all emerging creative entrepreneurs, I would massively recommend a few points to note when starting out.
Firstly, don't allow any current circumstances to put a cap on the goals you're aspiring to reach, believe that if you visualise it, you can accomplish it.
Secondly, heavily invest time developing your craft and be eager to work for free. Also, having discipline and self-sacrifice to keep advancing will get you to higher heights.
Lastly, discover your self-love journey and support yourself with the knowledge that encourages you to keep growing.
My plans for the future remain very open to wandering around the globe, exploring and absorbing from other creatives in different cities and cultures. Additionally, my long-term goal is to build an academy that supports young creatives with lower-income backgrounds to be more business-minded.
Essentially to provide guidance that enables creatives to accomplish their aspirations and recognise the opportunities that are often not presented to them.