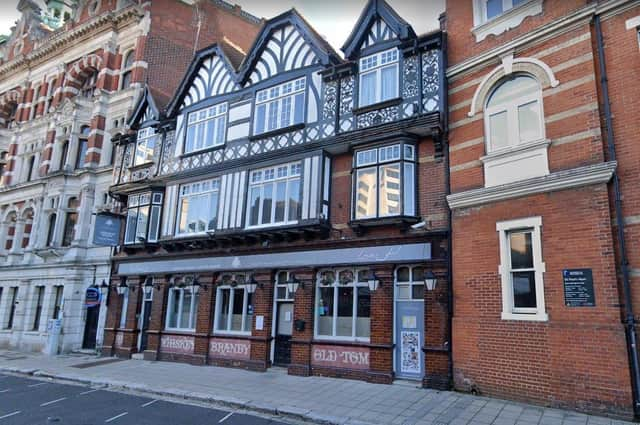 The Dish Detective had takeaway from Leilamezze in November 2020. Picture Google Maps
So with winter firmly setting in – and a second lockdown now under our belts – this is all your Dish Detective could have asked for with their latest venture.
At the time of writing, restaurants and other venues still haven't opened up for dining, however, luckily many eateries around Portsmouth are still offering a range of cuisines to be eaten from the comfort of your own home.
And on a dark and cold November night my companion and I decide to order from Lebanese restaurant Leilamezze, in St Pauls Road in the city centre.
A plate of Leilamezze tapas, eaten by the Dish Detective, December 2020.
Their menu is vast, offering an array of Lebanese options from well known dishes like hummus, falafel and kebabs to traditional bamiya stews and spiced sausages in sauces known as sujouk.
Our choices arrive quickly - giving us enough time to organise plates and cutlery, as well as the all important deciding what to watch on the telly while we eat.
As soon as we open up the bag I think we've ordered far too much.
We have opted for a range of tapas including the patata harras (£4.50), vine leaves (£4.75), homemade falafel (£4.50) and tabouleh mezzo salad (£5.75).
Tapas from Leilamezze eaten by the Dish Detective, November 2020
But that's not all - we also unwrap a vegan shawarma wrap - a vegan alternative to a typically meaty flatbread wrap - for £5.50 and a halloumi and hummus wrap for £6.50.
It seems like a lot (I should mention it also comes with complimentary flatbread) but we divide it up on two plates, taking a bit from each dish - all of which are still lovely and hot after the journey from the restaurant.
Every bite is flavourful and it tastes as if every item has been freshly made in the Leilamezze kitchen.
The patata harras is delicious chunks of potatoes, cooked in chilli and garlic, which act as a great side dish. The same can be said for the tabouleh salad which refreshingly complements the rest of the meal.
I am excited to try the falafel having only had it from supermarkets before. This excitement is well founded as it is crispy on the outside and tasty on the inside. It comes with a tahini dip to stop it being too dry - although we agree an order of hummus to accompany would not have gone amiss.
My companion enjoys the vine leaves I think more than I do. They are filled with rice and dipped in olive oil. Although I enjoy them, they don't match the flavour of the other dishes for me.
We cut both wraps in half so we can share. I had no idea what to expect with the vegan shawarma wrap. The meat substitute used is seitan – a protein made from wheat – and it works really well in the flatbread wrap with a tahini sauce.
For your Dish Detective though the highlight of the meal is the halloumi and hummus wrap. The halloumi is cooked to perfection and accompanied by just the right amount of hummus and salad.
Despite concerns that we had ordered too much it does not take us long to empty our plates. The only evidence that we have eaten a large meal is the pile of empty takeaway containers on the table - a symbol of our gluttony.
What I enjoy most though, probably heightened by the situation of lockdown, is the feeling that we have had a real experience with our meal – in the same way you do when you actually go to a restaurant.
I know I for one will be booking a real table at Leilamezze as soon as I can.
Leilamezze, St Paul's Road, Portsmouth