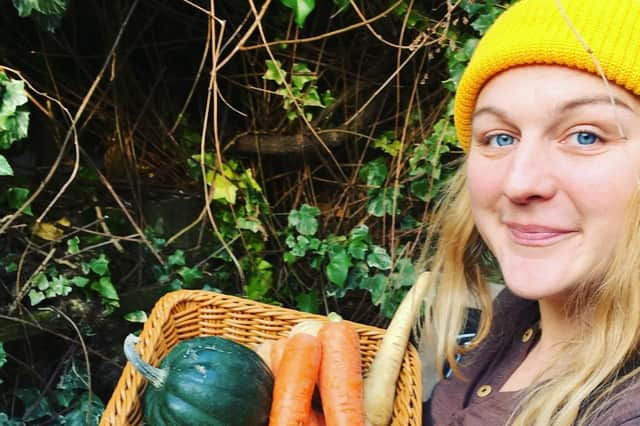 Kelly Kemp, of Wild Thyme, in Palmerston Road, Southsea
Wild Thyme, an independent wholefoods shop in Palmerston Road that opened in May 2015, is in the running to be named Britain's Best Small Shop of 2020.
Wild Thyme, which is a worker co-operative, which means it is owned and controlled by the people who work there, runs on a not-for-profit basis.
The shop offers a wide range of food that has been processed as little as possible, including organic fruit, vegetables and bread as well as a wide range of groceries, household products and toiletries.
Stuart Mills, of Wild Thyme, in Palmerston Road, Southsea
Shop member Kelly Kemp, 39, said: 'We felt there was a need for a large natural shop in the city, which could specialise in products that were not readily available in order to support specialist diets and provide ethical and sustainable produce.
'We also wanted to create a worker's co-operative, which means that all the workers of the shop all have an equal say in how the business is run.
'The idea came from founding members Frances Vigay and Stuart Mills who had previously been part of a worker's co-operative wholefood shop in Cambridge called Arjuna.
'When Fran moved back to the city it felt like a natural thing to start.
Wild Thyme, in Palmerston Road, Southsea
'They organised a group of like-minded individuals to begin the process of opening the shop.
'Fast-forward seven years and here we are.'
Kelly joined six years ago, just before the shop opened. She said the whole team was delighted by the nomination.
Wild Thyme, in Palmerston Road, Southsea
She said: 'For our customers to recognise this and nominate us, we are over the moon.
'To be honest, even being nominated was enough for us, our customers are so lovely and we are happy to just keep on doing what we do each day, although it would be nice to be able to put our city on the map with a national award.'
The Best Small Shops competition is managed by the Independent Retailers Confederation (IRC), whose member trade associations represent approximately 100,000 independent retailers. The competition celebrates the commitment and creativity of independent retailers on the UK's High Streets and the central role they play in their local communities.
Wild Thyme has also been shortlisted for a special award to be given to the independent retailer that has demonstrated specific innovation to combat the impact of Covid-19.
During lockdown, Wild Thyme not only ensured the shop was safe to visit but also started a delivery service.
Kelly said: 'From the start of lockdown, we realised lots of people couldn't get to us as they were shielding or self-isolating, so we started deliveries. Although we had already planned to create a webstore and delivery service, instead of it taking us the 12 months we had planned, we began deliveries immediately and got the webstore up within a few months.
'It's been great, and our website and delivery service are here to stay. We have a lot of regular customers, especially for our organic fruit and veg boxes but we still have some work to do...there's over 1,000 products on the website and that's only about halfway there.
'Plus, we are trying to secure an electric cargo bike at the moment for more sustainable deliveries.'
Kelly said the shop's range is what makes it unique, stocking local suppliers such as Southsea Bathing Hut, Bread Addiction and Mighty Bucha, and it also has a juice bar and takeaway counter where they make lunches, cakes, juices and smoothies to takeaway.
She added: 'There's also a large zero waste area for customers to refill dried goods and household liquids. We have nearly 3,000 different items in the shop so there's something for everyone.'
Wild Thyme is up against 30 shops from across the country. The award winner will be announced next month.
The News is running the #supportlocal campaign to encourage people to seek out local traders, whether face to face if they remain open or via their website if they have had to close for lockdown.
A message from the Editor, Mark Waldron
The News is more reliant than ever on you taking out a digital subscription to support our journalism.