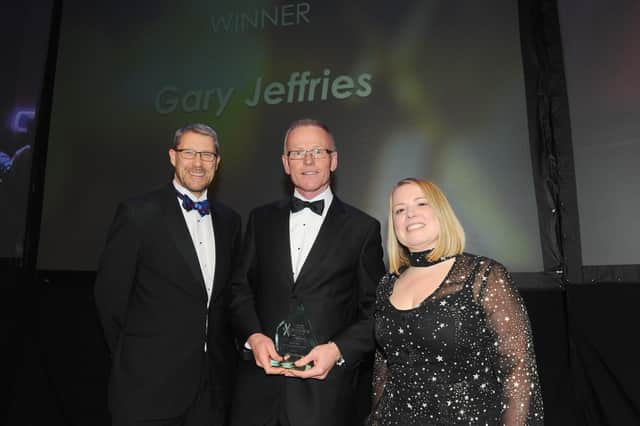 Editor of The News Mark Waldron, left, and Lucy Gleisner from Trethowans present the Lifetime Achievement Award to Gary Jeffries. Picture: Sarah Standing (210220-8542)
The prestigious awards returned for their 19th year at the Portsmouth Guildhall last night with a glitzy black-tie gala evening, which saw hundreds of people come together to celebrate the best in the industry.
Fifteen awards were handed out, with one in particular – the Lifetime Achievement Award – which this year went to deserving recipient Gary Jeffries, the Solent LEP's chairman.
Gary is the regional managing partner for property consultants Vail Williams' Solent region, following the merger of Hughes Ellard – where he was managing director – and Vail Williams in mid-2018.
He has more than 30 years of experience in the Solent region's property markets and is a Fellow of the Royal Institution of Chartered Surveyors and a RICS registered valuer, regularly appointed to advise on residential land valuation disputes.
But his impact has been felt beyond the 'day job'.
In his time working across the region he has been a past president of the Chamber of Commerce and a past chairman of Portsmouth Property Association, where he remains as treasurer.
His spirit of combining many challenging pursuits at once came to the fore when Gary stepped up to the role of chairman of the Solent LEP six years ago, and he is standing down as chairman this month.
In his time as chairman he was at the forefront of shaping the economic development agenda in the region.
The leadership that the chairman provides is vitally important for it to have an impact on the economy and the future prosperity of the area.
On picking up his award, Gary said: 'It is amazing and completely unexpected.
'I'd like to thank my colleagues at Solent LEP and all of their hard work, the team at Vail Williams who have allowed me to give up some of my time to do this job and of course my wife Claire.'
Claire, who was with him, said: 'It has been a big commitment for him but it is really good and it is almost a shame that it is coming to an end.
'I can't stop smiling, he has worked so hard.'