100 in 100: Campaign launched to create 100 job opportunities in 100 days for young people in Portsmouth
A RALLYING cry has gone out for businesses to get on board with a new campaign and help create opportunities for 100 young people in 100 days.
The 100 in 100 campaign, which has been set up by Shaping Portsmouth in partnership with the Portsmouth education and business community, is designed to give young people a much-needed boost.
The campaign, supported by The News, hopes to create a total of 100 roles in 100 days in the wake of shocking figures showing youth employment is at its lowest for five years.
Since January 2020, the number of people claiming Universal Credit in the city has risen from 4,350 to 10,140, a rise of 130 per cent year-on-year, with 1,871 young people in that number, a disproportionate 170 per cent rise.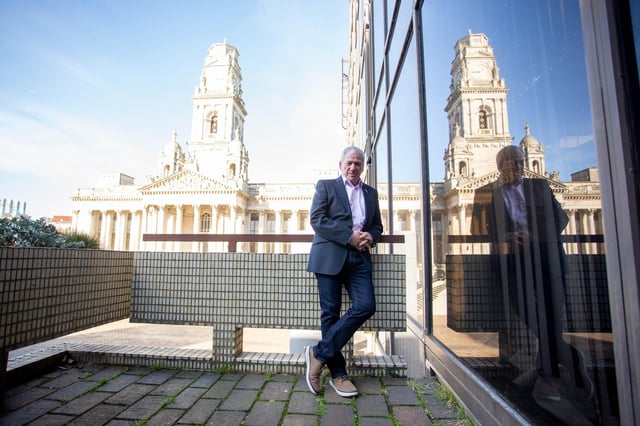 Shaping Portsmouth's Stef Nienaltowski
Shaping Portsmouth's chief executive officer Stef Nienaltowski said he hoped the 100 in 100 campaign would encourage businesses to see the benefits of bringing young people on board and inspire them to create opportunities, which in turn would boost the city.
He said: 'For the first time in Shaping's 11-year history we will be working with all four colleges on a city-wide programme. We hope to create 100 placements in 100 days and that would be lovely if that was across 100 businesses.
'We are very excited about it as we have clearly been through a very tough year.
'Young people have suffered more than most, especially in terms of employment.
'The idea is to encourage our businesses to take on one young person, whether that's a trainee, work experience, internship or Kickstarter, just to give the young adults in our city their first chance – for the good of everyone.
'We really hope that by June 6 we are celebrating reaching the milestone.'
Stef said that he had every faith that Portsmouth could hit the target, especially as it is such an entrepreneurial city.
He added: 'Our current business performance has been nothing short of spectacular.
'As at December 2020, we have seen the net number of business in Portsmouth hit the 8,000 mark, which is up a net of 430 in 2020.
'Portsmouth was also ranked as the UK's most entrepreneurial city last year. I have every faith in our city.'
As well as supporting and promoting the value of hiring young people, Stef said that Shaping Portsmouth and its partners would also be offering additional adult learning to the 100 people to upskill them to make them more attractive to their initial employer or a future opportunity.
Solent Apprenticeship Hub
Hub manager Jodi Fair said: 'We are thrilled to be playing a part in 100 in 100 and have confidence that this will be beneficial, not only to the individuals who are beginning their career journeys, but also the employers that will be introducing new, skilled employees into their workforce.'
Cabinet member for culture, leisure and economic development and deputy leader Steve Pitt said: 'The 100 in 100 campaign is a great opportunity to celebrate the important work that is undertaken across the city and the positive steps it takes towards recovery. Collaboration between our incredible businesses and the skills providers who support them is a powerful tool for growth. As a council we are committed to raising aspirations and skills development. That's why we're supporting this campaign, the business growth and the entrepreneurial spirit Portsmouth is known for.'
College principal and CEO Andrew Kaye said: 'We are delighted to be supporting this initiative encouraging employers to offer new and existing staff and young adults the opportunity to take their first step on to the career ladder, or progress further in their chosen career. Fareham College's focus has always been to equip its learners with the knowledge, skills and experience to achieve their ambitions and we look forward to enabling as many people as possible to gain valuable industry experience to set them on the path of their chosen career, as well as aiding the local economy and assisting business recovery in the region.'
Highbury College, Portsmouth
Craig Mincher, commercial director, said: 'The 100 in 100 campaign comes at a crucial time for both individuals and businesses in Portsmouth. Highbury College are proud to play a part in a campaign that will offer such hope and tangible outcomes for both local employers and adults of the city.'
Havant and Southdowns College
Director for business growth and innovation Aaron Butson said: 'Everything we do at HSDC is to realise the ambitions of our community and we fully support Shaping Portsmouth and partners in the 100 in 100 campaign. With everyone working together to realise this ambition, we will all have a tremendous impact supporting young people into work and supporting others in our community regain employment and upskilling opportunities.'
Vice principal Tom Lloyd said: 'Portsmouth College is delighted to be able to play a role in the 100 in 100 campaign. Collaboration is critical during a crisis and this project is a fantastic example of employers, training providers and agencies from across the city coming together to promote opportunities and support local people back into employment.'
Claire Middleton, degree apprenticeship manager, said: '100 in 100 is a great opportunity to highlight all the wonderful new apprentices and employers that we have in the city and to show the commitment they are making in the road to recovery post-Covid. Collaborating with partners is the best way to raise awareness of apprenticeships at all levels and show the diversity of courses, employers and apprentices that are available in our community.'
Chief executive officer Stef Nienaltowski said: 'Two years ago, we launched our Roadmap to a Career vision and this programme is yet another key part of that. No matter what your age, your career options should not be a hidden secret but something you can get access to and experience readily. This programme aims to give our people that opportunity and, whilst some of the placements are age-limited, some are not. Opportunity is for everyone and Shaping and our partners aim to make that happen with this and following programmes.'
:: Apprenticeships – combine practical training in a job with study. As an apprentice you'll be an employee earning a wage and getting holiday pay. Work alongside experienced staff and gain job-specific skills.
:: Traineeships – a course with work experience that gets you ready for work or an apprenticeship. It can last from six weeks up to one year, though most traineeships last for less than six months. You can apply if you're eligible to work in England, unemployed and have little or no work experience.
:: T-level paid placements – new courses which follow GCSEs and are equivalent to three A-levels. These two-year courses, which launched in September 2020, have been developed in collaboration with employers and businesses so that the content meets the needs of industry and prepares students for work, further training or study. T-levels offer students a mixture of classroom learning and 'on-the-job' experience during an industry placement of at least 315 hours (approximately 45 days).
:: Internships – a temporary position with an emphasis on on-the-job training rather than merely employment. Can be paid or unpaid.
:: Work experience (fewer than 70 hours) – enables young, unemployed people to volunteer for placements lasting between two and eight weeks.
:: Kickstarters – the government's Kickstart Scheme provides funding to create new job placements for 16 to 24-year-olds on Universal Credit who are at risk of long-term unemployment.