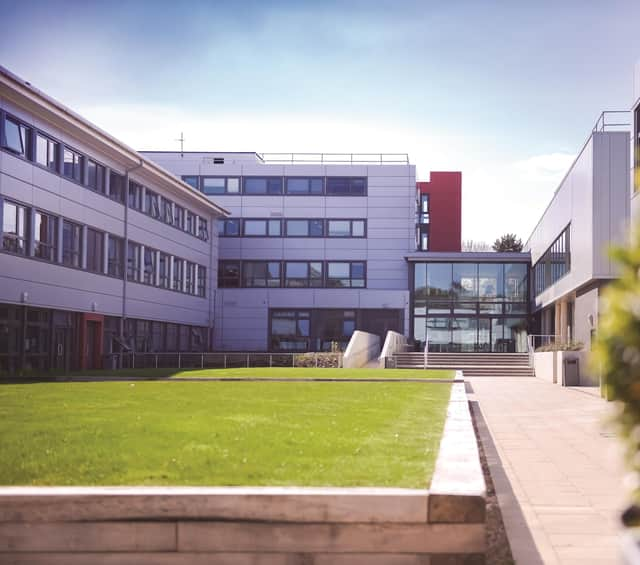 Your next step could begin on November 30 at Fareham College.
Fareham College is hosting an in-person open event on Tuesday, November 30, from 5-8pm.
Simultaneous events are being held at each campus; Bishopsfield Road campus in Fareham the College's Centre of Excellence in Engineering, Manufacturing and Advanced Skills Training (CEMAST) and its Civil Engineering Training Centre (CETC), both located a few minutes away in Lee-on-the-Solent, where the team will be on hand to guide prospective students and parents through all the options available.
Not only does the College have outstanding facilities, it offers a wide range of courses and experiences, including Apprenticeships, Traineeships and the new T Level qualifications. T Levels are a new qualification that focuses on high-level technical study and work-ready skills. They have been developed to offer a credible alternative to A Levels and will provide young people with a clear route to skilled employment, as well as progression to higher or degree Apprenticeships, or degree-level study at university. T Levels combine the career focus and practical elements of current technical and professional qualifications like BTECs and NVQs, with the theory and study of traditional A Levels.
Your future starts here: Fareham College Open Event November 30 5pm – 8pm
A core component of the T Level qualification is an industry-based placement, where students will apply the theory they learn in the classroom to the workplace and develop the essential work-ready skills that employers are looking for.
Fareham College launched its first two T Level courses last September in Digital Production, Design and Development and Education and Childcare. From this September, the College is also offering T Levels in Design, Surveying and Planning; Digital Business Services; Digital Support Services; Health; Healthcare Science; Science and On-site Construction.
Having successfully bid for and been awarded grants previously to further develop facilities to support the delivery of these T Levels, Fareham College is now embarking on the creation of a new Centre of Excellence in Environmental Technologies to facilitate the delivery of the Building Services Engineering T Level, which the College will be offering from September 2022. The College will also be offering T Levels in Legal, Finance and Accounting and Engineering and Manufacturing from September 2022.
Join us at Fareham College for an Open Event November 30 5pm – 8pm
The facilities are truly state-of-the-art.
Bishopsfield Road had a £15mllion redevelopment, and is an outstanding environment for students, with some of the best technical and professional teaching in Hampshire. Courses range from art to hospitality, construction to digital industries and much more.
CEMAST campus, is Fareham College's £12 million Centre of Excellence in Engineering, Manufacturing and Advanced Skills Training. All automotive, engineering and manufacturing programmes run by Fareham College are delivered at the CEMAST campus, with opportunities to train with partner companies including BAE Systems, Coopervision, Hamble Aerostructures, HMS Collingwood, and South Western Railway, to name but a few.
Fareham College's Civil Engineering Training Centre (CETC) was established in 2017 in response to a county-wide skills shortage believed to be hindering civil engineering growth and expansion in the south of England.
Fareham College's CETC campus, a purpose-built two-acre mock construction site close to the College's existing CEMAST campus on the Daedalus airfield, is dedicated to the delivery of a specialist civil engineering and groundworks apprenticeships.
It's in the top three per cent of advanced level pass rates nationally.
Students receive support, guidance and advice from teaching and support staff.
There are fantastic transport links to each of the campuses, making it accessible.
Ofsted has rated the college as Outstanding, making it a desirable choice for full time, part time and higher education courses, T Levels, Apprenticeships, Traineeships and more.
Find out more about the open event here.