Happy faces at Hayling Island school as 'excited' teachers welcome children back to Mengham Infants classroom
Excited pupils on Hayling Island were greeted by music, bright decorations, and happy teachers as they returned to the classroom this morning.
Monday, 8th March 2021, 4:28 pm
Updated
Monday, 8th March 2021, 5:09 pm
Mengham Infants hosted a party with games and activities to help the children get to know each other again.
Headteacher Lindsay Rebbitt said: 'Today is a celebration day - we wanted to give the children something to look forward to. There was music, and we played party games, giving the children a day to settle in with their friends.
'We're so excited to have them back'.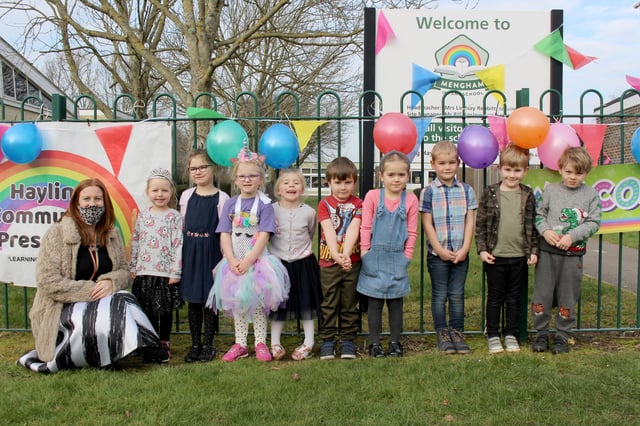 Mengham Infant School in Hayling Island, returned to school on Monday, March 8. Headteacher Lindsay Rebbitt with some of the Year R pupils. Picture: Emily Turner
Parents and children spoke about their eagerness to return to the classroom at the school gates on Elm Grove, which was decorated with bunting, balloons, and welcome signs.
Caroline Leedham, whose son is in Year R, said: 'I'm happy for him, but sad for me!
'It feels like the first day back in September.
'But he's happy to see his friends.'
Cheryl Austin-Whittley with sons Archie and Alfie outside Mengham Infant School. Picture: Emily Turner
Cheryl Austin-Whittley, mum to sons Archie and Alfie, said: 'The hard work of Mrs Rebbitt and the other teachers has been amazing.
'I couldn't ask for a better school'.
Paul Frampton, a governor at Mengham Infants, brought his daughter Poppy to school this morning.
Paul Frampton with daughter Poppy on the first day back at Mengham Infants. Picture: Emily Turner
He is a key worker but chose to homeschool Poppy, and is pleased she is now able to return to the classroom.
Paul said: 'The party is a fantastic idea, as now the children are excited to go back.'
Andrew Young, deputy headteacher, said: 'We are all genuinely really excited to have the children back.
'It's been lovely seeing their engagement when they were learning at home, but they are missing the social side of school.
'We wanted this day to be a celebration - it's important for them to feel that we're desperate to have them back.
'We want them to feel that school is a safe, happy, supportive place.'
Mrs Rebbitt explained that the school offers a lot of mental health support to youngsters which will help pupils who may be nervous or anxious about returning to school.
She said: 'Our pupils are very emotionally literate, even at a young age.'