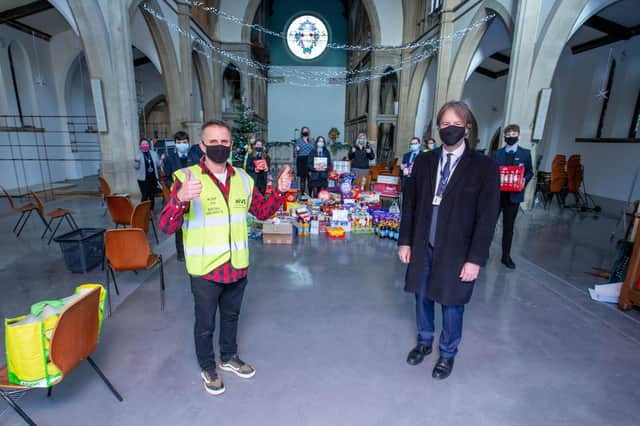 Lay pioneer minister Fran Carabott and Priory School headteacher Stewart Vaughan with Priory School pupils, teachers and volunteers at St Margaret's Food Bank. Picture: Habibur Rahman
The initiative was led by the school's Student Voice group who arranged a non uniform day which raised over £1,200 which was used to buy goods for St Margaret's Community Church Food Bank in Southsea.
As well as the provision of staple non perishable goods, pupils were also keen to include festive foods such as sweet mince pies and selection boxes.
Student Voice representative Ava Errington-Noden, 15, said: 'The food bank gives many in the local community relief in times of hardship and without it those people would be lacking the necessities to feed their families and enjoy the upcoming time of festivities.'
The work of the pupils did not stop with the purchasing of goods as eight members of Student Voice visited St Margaret's to personally deliver the food.
One of those, Ethan Bailey, 15, added: 'To us the food bank is important because it connects the community and is a critical lifeline for those in a difficult position. We are pleased that our school student body has been able to support the food bank and we thank the staff at St Margaret's for their hard work.'
For headteacher Stewart Vaughan, allowing students to see the tangible benefits of their fundraising was an important part of the initiative.
Mr Vaughan said: 'For the students to speak to people at the food bank and to see people from the community queuing to receive food parcels was really quite powerful. We have had a strong association in supporting St Margaret's throughout the pandemic and I am proud of this.
'I'm immensely proud of our students and families who have helped us to support local charities. St Margaret's Food Bank do a wonderful job in our community and it's so important to now support them further as our community approaches an uncertain Christmas period.'
The donated items will now be used to create 80 hampers of hope which will include whole turkeys, Christmas puddings and other festive treats which will be delivered to the most needy families in the community.
Lay pioneer minister at St Margaret's Fran Carabott said: 'It was so encouraging to see the pupils arrive with a whole minibus full of food. The pupils brought all the items we need. It was wonderful for the students to see for themselves how these donations will be used.'
A message from the Editor, Mark Waldron
Our trial offer starts at just £2 a month for the first two months.