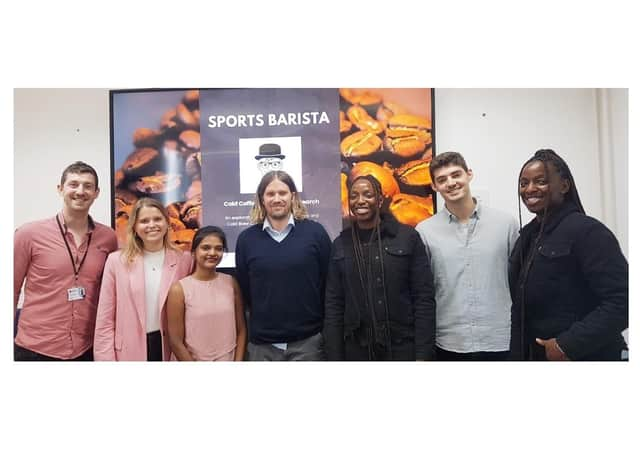 The winners of the Insight Showcase with Dr Gareth Beeston (Seminar Tutor) and Fraser Cameron (Co-Founder, Sport's Barista)
Their work was celebrated at the University's Insight Showcase, which was sponsored and judged by London-based international insight agency RDSi.
80 students worked with a number of local businesses from a variety of sectors: food companies Montezuma's, Sport's Barista, Bold Bean Co and The Tomato Stall; activewear brand X-Zony; the University Global Office; digital agency Fresh Relevance and Portsmouth news app Island City Living.
Each client shared a business issue that needed solving, from which the student teams planned and executed effective consumer research. Findings and insights were shared with the clients via business-format presentations.
Peter Hopkinson, owner of Island City Living, said: "The research carried out by the students and resultant feedback was both thorough and insightful, providing our business with clear actions that will help us achieve our aim of growing our audience. Their attention to detail and success in more than meeting the brief was impressive."
Dr Jo Pabari, Project Co-ordinator and Course Leader for BA (Hons) International Business, said: "Giving students opportunities to apply their knowledge in real-world scenarios is a core element of Portsmouth Business School. Three students are in discussions with their clients about job offers post-graduation, which is a testament of the value of this initiative for all parties involved."
Making an impact on society through social enterprise
Encouraging people to venture outdoors, tackling loneliness with bikes, and learning to drive with virtual reality were among the finalists from the University of Portsmouth at the National Ingenuity Showcase.
The Ingenuity Programme is a competition that works with university partners across the UK to focus on creating businesses with impact.
Emma Kemp, Portsmouth graduate and founder of Love Outdoors was awarded the prize of Ingenuity Climate Champion, South Coast Champion and the Shakespeare Martineau Legal Prize.
Chris Worrall, Innovation Director at the University, said: "I am proud to see the creative and thoughtful ideas that come from our students, staff and alumni to tackle global challenges and help improve the world we live in. I can't wait to see what ideas we get next year!"
Emma said "Being part of the Ingenuity programme has been amazing! I have been able to learn how to pitch, write a business plan, and have access to amazing mentors from Nuffield Health, Get Set Solent, and a coach, to turn my ideas into reality."
Entrants were supported by Innovation Connect at the University, which provides office, co-working, and meeting space as well as business services across four centres in Portsmouth.
If you would like to know more about Innovation Connect, please call 023 9265 8200 or email [email protected]