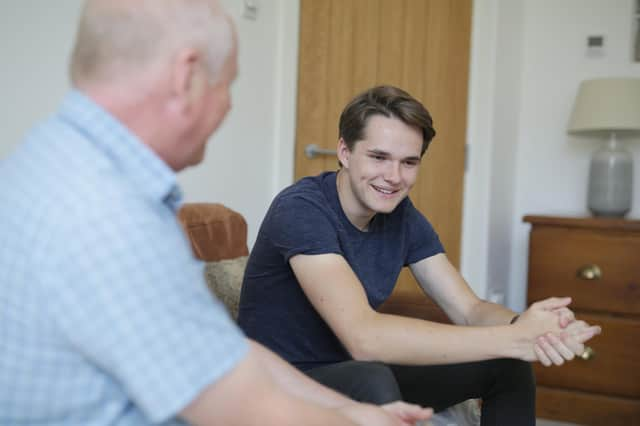 Example of a care leaver meeting with a project key worker
The Aspiration Staying Close project, run by Portsmouth City Council, was set up to bridge the gap between young people leaving the care system and living independently as many can experience difficulty after care, including breakdown in housing situations or feeling isolated or lonely.
The scheme, which received funding from the Department of Education Children's Social Care Innovation Programme, involved 14 young people between 16 and 18 years old who were moved into shared accommodation houses with each other and provided with regular support from their key workers as well as given access to speak with trained mental health workers for their emotional wellbeing.
Shannon, a local care leaver involved in the project, said: 'The place I live is quiet and friendly, the household is like a big family.'
The key workers also received training from experts specialising in mental health, educational psychology and staff with knowledge of the benefits system to better understand young people's needs and help them directly with a range of support for the future.
By the end of the programme, 10 out of the 14 were in education, employment or training and most had remained in their house share throughout the project.
Two had moved to independent living and are receiving continued support.
Suzy Horton, cabinet member for children, families and education said: 'We want to ensure that all of Portsmouth's looked after children go on to successful futures, and the scheme has built a really successful model for how to ensure that for our young people.'
'It's crucial to us that we take ideas and feedback from our care leavers to continue to build and improve our offering to better support them on to stronger futures.'
Alongside the project, the city council is running the Supported Lodgings Scheme, which pays people to provide accommodation for young adults aged 16 and over.
Foster Portsmouth, the team responsible for training and supporting fostering and supported lodgings carers, is still looking for people able to provide accommodation and a minimum of 10 hours support a week to a care leaver on their way to independence.
For information contact the recruitment team via email at [email protected] or visit foster.portsmouth.gov.uk
A message from the Editor, Mark Waldron
The News is more reliant than ever on you taking out a digital subscription to support our journalism.