12 photos taking you back to Havant and Waterlooville in 1993
Have a look into the past and see what it was like all those years ago.
Friday, 19th June 2020, 5:15 pm
Updated
Friday, 19th June 2020, 5:16 pm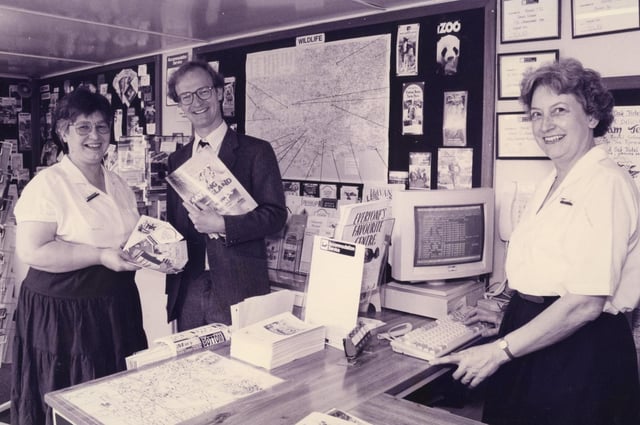 Havant MP David Willetts talking to Linda Newell manager of the Havant Tourist Information Office (left) and Elizabeth Aitchison, 1993. The News PP4525
After glimpses of what Portsmouth and Gosport were like in 1993, we have had a look at how Havant and Waterlooville has changed since then.
If you would like to purchase an image from the gallery contact our photosales department. Telephone 0330 403 0033 or email [email protected]
Stewart Luke heads the team at Portsmouth Water Company in West Street, Havant, in making sure our water tastes just right in 1993. The News PP1957
Havant canoeist Michael Grimes, 17, splashes around in the warm sea water in 1993. The News PP3025
PC Michael Sunderland of Havant Police Station with recovered stolen jewellery on November 1 1993. The News PP3646
Playing safe. John Palmer and his neighbour Tina Peters from Oak Park Drive, Havant celebrate the councils decision to reserve som land for a play area with Tina's daughter Danielle in November 1993. The News PP3868
Margot Jacobs, who works at Havant Job Centre, is appealing from traders for Christmas street decorations in 1993. The News PP1976
North Street, Havant 1993. The News 2073-2
The First Havant Youth Marching Band, 1993. The News PP4940
The Hogg Robinson travel shop in Market Parade, Havant, 1993. The News PP4822
The march away from the Waterlooville remembrance service, 1993. The News PP5143
A Volvo fire engine at Waterlooville fire station, 1993. The News PP5741
Havant MP David Willetts talking to Linda Newell manager of the Havant Tourist Information Office (left) and Elizabeth Aitchison, 1993. The News PP4525