22 photos to take you back to Portsmouth in 1983
Quite a few interesting things happened in Portsmouth in 1983. Perhaps you remember some of them?
Thursday, 26th November 2020, 4:04 pm
Updated
Thursday, 10th December 2020, 7:16 pm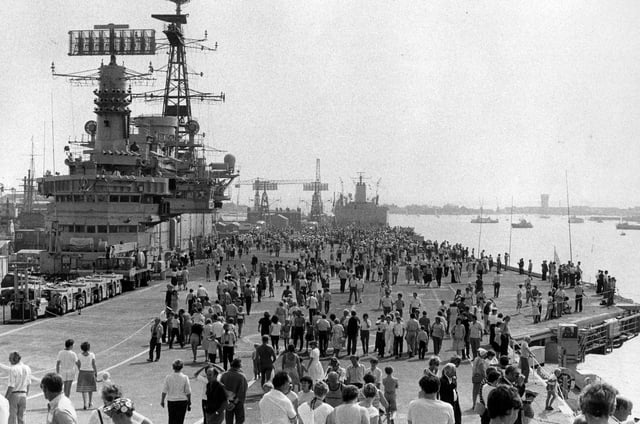 Portsmouth Navy Days is packed full of excited people in 1983. The News PP4990
Navy Days and Southsea beach were packed with crowds. It snowed in February, and aircraft carrier HMS Hermes was in port to 'pay off'.
Popular entertainer Roy Castle was playing his trumpet outside Allders at the store's first birthday. Portsmouth Power Station was brought down with explosives at Gunwharf in July.
Christmas lights go up in Commercial Road, Portsmouth on December 22, 1983. The News PP3916
There are so many memories here of Portsmouth – to share yours and to see more retro photos join our Portsmouth Retro group on Facebook.
Shops lining London Road, North End in 1983. The News PP4885
The News centre loading bay, Hilsea in December 1983. The News PP5005
Standing room only, thousands of sun seekers packed Southsea's beaches at the weekend as the temperatures continued to hover in the eighties, July 10, 1983. The News PP4454
An aerial view of North Harbour IBM building in April, 1983. The News PP5009
The row of ambulances ready for emergencies at Queen Alexandra Hospital in 1983. The News PP5138
Fratton Road/Kingston Road in 1983. The News PP402
Overjoyed with the white carpet of snow which fell on Portsmouth in February 1983, these three lads signify the first snow of the winter to passers-by. L to r: Jamie Bowbrick (nine), Sean Wardel (10) and Robert Critchett (11) all of Hilsea Crescent, Hilsea, Portsmouth.
Walt's Waltzer at Clarence Pier funfair, July 1983. The News PP5598
View of the Dockyard and HMS Hermes in 1983. The News PP1840
HMS Hermes enters Portmouth Harbour to 'Pay off' in December 1983. The News PP4826
The scene in the Guildhall Square where hundreds of Portsmouth school children enjoyed the annual carol service, 1983. The News PP5094
A crowded Continental Ferry Port in November 1983. The News Portsmouth
After the power station chimneys had been brought down brick by brick the main structure was brought down by explosives 1983. Portsmouth Power Station in Gunwharf Road in July 1983. PP467 The News, Portsmouth Archive.
Roy Castle gives a blast on his trumpet to the waiting crowds outside Allders to celebrate the store's first year in Portsmouth, May 1983. The News PP133
While most people are religiously trying to conserve water, the fountain in the Commercial Road Precinct still goes on pumping gallons of water everyday on February 4, 1983. The News PP3914
Sally Port Hotel on Old Portsmouth High Street on January 14, 1983. The News PP3846
Devonshire Avenue junction with Winter Road in May 1983. The News PP1174
Queues outside the Mr Clive shop in the Tricorn, 1983.
Undine, a German minesweeper, passing HMS Dolphin in Portsmouth Harbour in September 1983. The News PP5319
St Catherine the brand new Sealink car ferry as viewed from the Round Tower as it steams into Portsmouth on June 24, 1983. The News PP4074
Portsmouth Navy Days is packed full of excited people in 1983. The News PP4990