23 rare unseen photos of Portsmouth Guildhall over the years
It's hard to believe some of the changes that have occurred over the years in the Guildhall Square area of Portsmouth.
Thursday, 8th July 2021, 4:28 pm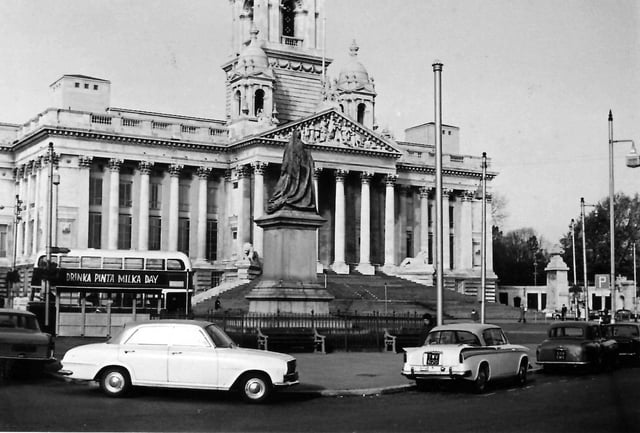 Guildhall Square when it was open to traffic undated
Here is a glimpse of how things used to be. In this selection you will see some wonderful images, including huge crowds hoping to catch sight of the Portsmouth players returning with the FA Cup in 1939.
As well as a royal visit in 1937, several interesting images of when the square was opened to traffic, a fabulous aerial image from 1970 and the Civic Offices under construction in 1973.
Crowds in Guildhall Square clamour to see Pompey players return with the FA Cup in 1939
Motorcyclists and their sidecars gather in Guildhall Square, Portsmouth, possibly about 1918-1920.
The redevelopment of the Guildhall Square area of Portsmouth about 1970
National Day of Prayer 1940 No, Pompey have not just won the FA Cup. This is the attendance for a National Day of Prayer in Guildhall Square in 1940.
Thousands gathered in the Guildhall Square on May 6, 1939, to see George VI and Queen Elizabeth depart for Canada and the United States
Model ship 'Coronation' in Guildhall Square 1937 To celebrate the Coronation of King George VI in 1937 a model warship was constructed in Guildhall Square. Picture: Ellis Norrell collection
Looking from Park Road across to Russell Street we are at the southern edge of Guildhall Square in winter. Picture: Barry Cox collection
The Queen as an 11-year-old with her father King George VI in Guildhall Square during a visit to Portsmouth in June 1937.
The old Guildhall Square, undated
A view of the Guildhall across the Square in 1962
Looking north over the Guildhall Square circa 1970. The Guildhall is to the left.
Guildhall Square, May 1994
Victoria on the move In the early 1970s Queen Victoria's statue was moved a hundred yards to her present position in Guildhall Square.
A Fairey Fulmer Mk.II in Guildhall Square at the Wings for Victory Week 1943.
Bomb damage close to Guildhall Square.
Guildhall and Square and surround area circa 1970.
A modern aerial view of the Guildhall and Square August 2018.
Portsmouth Guildhall Square undated
A wonderful panorama view of Guildhall square pre 1936. Look how vibrant it all is.
The Town Hall area. August 1911 and torrential rain flooded Commercial Road in what is now Guildhall Square.
Royal marines are presented with the Freedom of Portsmouth at the newly-opened Guildhall in May 1959 Picture: The News Portsmouth
The civic offices under construction in the new-look Guildhall Square in 1973.