24 memories of a family trip to Southsea's Canoe Lake
For as long as we can remember, Canoe Lake has been the perfect place for a relaxing walk around Southsea.
Thursday, 19th November 2020, 3:15 pm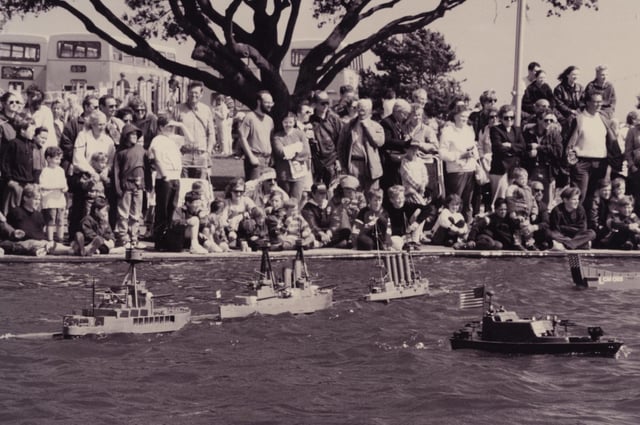 Model boats re-enact D-Day on Canoe Lake on July 29 1995. The News PP3764
Today we have had a look back into the archive at some historic photos of visitors to the lake.
Maybe you have spent a sunny day on a Canoe Lake pedalo, or you might have fed the swans as a child.
Southsea ladies dressed to kill. No, not scenes from Downton Abbey or Upstairs Downstairs but Canoe Lake in Edwardian days. Picture: Ellis Norrell
Before the days of swan-necked 'pedalos' when the lads showed off their rowing skills to their girlfriends. Picture: Roger Young collection
A packed Canoe Lake area in Edwardian days. It might have been a Bank Holiday perhaps. Note the carriage in South Parade.
Canoe Lake in more genteel Edwardian days.
The swan house on Canoe lake. Undated.
Canoe Lake, Southsea, between the wars
The recent news about demolition of Lake House on the seafront near Canoe Lake was remembered by Mrs Rita Wall of Old Canal, Landport. She sent in a news cutting about the demolition of Froddington Cottage in the 1960's. It was a former 18th Century gamekeepers cottage. It was in immaculate condition but had to be demolished for the then new north south road.
South Parade Pier and Canoe Lake, Southsea. Picture: costen.co.uk
You might be forgiven for thinking, at first glance, this was a scene in Venice, but it is in fact a gondola on Canoe Lake. Picture: Ellis Norrell collection
Happy days at Canoe Lake. Model ships of all kinds watched by a vast audience.
40 boats on Canoe Lake. Visit Canoe lake in the summer and there may be half a dozen boats, back pre-1936 there were a minimum 40 boats out.
Canoe Lake swing park, 1960
The swan house, Canoe Lake, Southsea
South Parade before the D Day memorial stone was placed. A superb photograph looking east from the Royal Beach Hotel towards Canoe Lake. Picture: Roger Young collection.
This is indeed a strange sight, a three-masted schooner berthed on Canoe Lake, Southsea. This smaller version of the real thing must have been around in the early part of the last century but if anyone still has any knowledge of it please let us know.
Boats galore on Canoe Lake, Southsea 1960. Two lads in cowboys hats.
Canoe Lake swing park in 1960. Is that you on the scooter?
Southsea seafront looking very quiet. Canoe Lake before the special bus lane was built.
Model boats re-enact D-Day on Canoe Lake on July 29 1995. The News PP3764