29 photos to take you back to Portsmouth in 1990
A lot of us of a certain age will remember Paul Gascoigne's tears in 1990, but what do you remember about what happened in Portsmouth that year?
Friday, 14th August 2020, 1:40 pm
Updated
Friday, 14th August 2020, 1:48 pm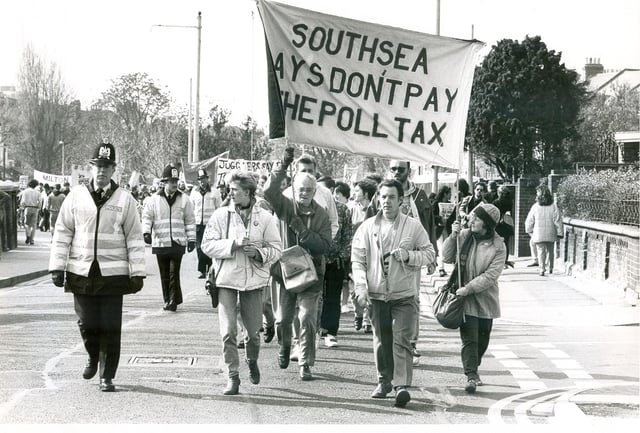 Portsmouth poll tax demo in April 1990. The News PP168
As our collection of photos below show, the city enjoyed a visit from Princess Diana to start the decade. Crowds gathered to welcome back sailors on HMS Gloucester and the old brewery in Queen Street was demolished.
What are your memories of 1990 in Portsmouth?
Teenagers learning to juggle outside the Portsmouth Guildhall on August 28 1990. The News PP3662
Guy Whittingham playing for Pompey against Sheffield United in 1990. The News 6956-3
Wykeham House School infants with Fireman Sam in June 1990.
HMS Gloucester passing the Round Tower as it leaves Portsmouth Harbour in 1990. The News PP4765
Diana visiting the Eastney Community Centre in October 1990. Picture: The News PP185
Fratton Park fences in March 1990. The News PP410
Poll tax demonstration from Portsmouth Polytechnic outside the city magistrates' court in October 1990. The News PP1082
Work being carried out to repair the cross on top of the St John's RC Cathedral in April 1990. Picture: The News PP1466
The soon-to-demolished Whitbread brewery in Queen Street, Portsea, in February 1990. The News PP1430
The demolition of the Whitbread brewery in Queen Street, Portsea in May 1990. The News PP1431
A revamped No Man's Land Fort, Spithead in June 1990. The News PP1543
Enjoying fireworks at the Royal Navy Families bonfire night at Whale Island, November 5 1990. The News PP3195
Eastney beach in December 1990. The News PP1694
Portsmouths' own Elephant Vacuum Cleaner in Southsea Common carpark on April 6 1990. The News PP3133
A tranquil day at the Historic Dockyard on May 18 1990. The News PP3023
An Indian-American man who took part in the sacred run for Earth and Life at The Mountbatten Centre on August 7 1990. The News PP3633
Former Portsmouth FC player Gary Stevens on the pitch on August 11, 1990. The News PP3996
Guildhall Square, Portsmouth in November 1990. The News PP3938
Former Portsmouth MP David Martin visits Manor First School in January 1990. The News PP3771
Heavy traffic along the M27 on April 12, 1990. The News PP3721
Demolition of former brewery on Queen Street on February 28, 1990. The News PP4056
The greyhounds being walked around the stadium, Tipner, Portsmouth in November 1990. The News PP4177
Portsmouth to Portsmouth, USA, in aid of Elizabeth foundation, 1990. The News PP5639
Portsea Venture playground for the children of Aylward Street, Portsmouth in September 1990. The News PP4420
People give a wave to the returning sailors aboard HMS Gloucester in August 1990. The News PP4764
Employees of St Mary's Hospital, Portsmouth, are proud of the new Prostatic microwave machine, 1990. The News PP5080
Bollards restricting market traders at the Tricorn, Portsmouth 1990. The News PP5239
The exterior of Portsmouth's Tricorn in 1990. The News PP5238
Portsmouth poll tax demo in April 1990. The News PP168