30 stunning photos of former Royal Navy flagship HMS Ark Royal
Known as 'The Mighty Ark', HMS Ark Royal saw active service in the Bosnian War in the 1990's and later in the 2003 Invasion of Iraq.
Friday, 19th June 2020, 5:24 pm
Updated
Friday, 19th June 2020, 5:26 pm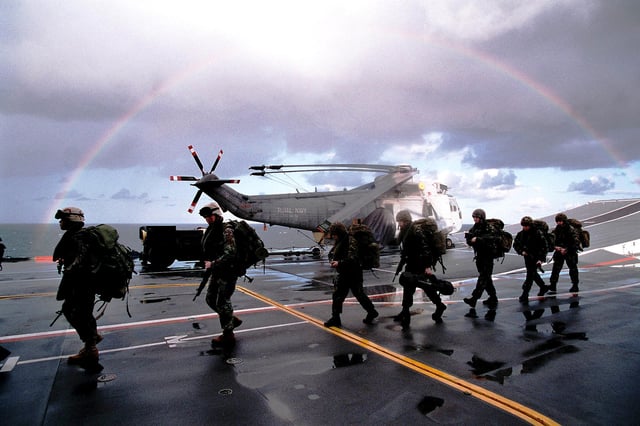 Members of close combat troop from Delta Company 40 Commando Royal Marines preparing to board CH 47 Chinook aboard HMS Ark Royal during NTG 03.Picture: LA (PHOT) SEAN CLEE COMATG (PHOT)
HMS Ark Royal was an Invincible-class aircraft carrier and a former Royal Navy flagship, launched for the first time in 1981.
She carried the Harrier Jump Jet aircraft, as well as helicopters and was equipped with a steep ski-jump ramp for the jet take-off.
Ark Royal was decommissioned in March 2011, even though originally she was due to be retired in 2016.
HMS Ark Royal officer videotapes the aircraft carrier's entry into Portsmouth Harbour 15th march 2003. Picture: Jonathan Brady 032429-165
Here is a look into the archives showing the history of HMS Ark Royal.
Families pack the quayside to welcome back HMS Ark Royal from Iraq. Picture: Mick Young
Two Royal Navy Sea Harrier FRS2 overflying HMS Ark Royal during the latest sea trials of Britain's most capable and formidable multi-role fighter aircraft. Picture: Phil Boyden
HMS Ark Royal in the Northern Arabian Gulf. Operator Maintainer (Above Water) Leigh Mears (19) from Huddersfield fires a GPMG (General Purpose Machine Gun) during weapon training on the carrier, he is assisted by Warrent Officer Stan Sayers. The helicopter carrier HMS Ocean is in the background. 06 Mar 2003.
HMS Ark Royal being towed by tugs through the narrows, as she leaves Portsmouth Naval Base for Rosyth in 1999. Picture: Mike Scaddan 992149-2
HMS Ark Royal returns to Portsmouth after her refit in Scotland.
Taken from Victory Jetty as HMS Ark Royal came alongside for the last time into Portsmouth Naval Base 3rd December 2010. Picture: Malcolm Wells 103922-8344
ARK's 25th Birthday 1st July/2010. HMS Ark Royal, the current R2 Strike Carrier is currently deployed on the Auriga 10 deployment which will see the Portsmouth based Carrier spearheading a Task Group under the command & Control of Commander UK Carrier Strike Group (COMUKCSG) Commodore Simon Ancona. The Task Group is Operating off the Eastern Seaboard of the USA & Canada
The Ark Royal arrives on the River Tyne for the last time before she is decommissioned. Her farewell voyage took her around the north of Scotland, before she made the short journey down the north east coast of England and into Newcastle, where she was built by Swan Hunters at Wallsend. November 19, 2010. Picture: Owen Humphreys/PA Wire
Taken from Victory Jetty as HMS Ark Royal came alongside for the last time into Portsmouth Naval Base 3rd December 2010. (left to right) Naval Ratings Rob Dutton (18) from Liverpool, Mike Pierce (29) from Bognor Regis, Sean Baldwin (24) from Havant, Paul Stockwell (30) from Blackpool, Simon Hart (27) from Southsea and Ashley Rea (22) from Fareham . Picture: Malcolm Wells 103921-3717
Ark in the snow 2nd Dec 2010. Taken on the Flight Deck of HMS Ark Royal during her final entrance to Portsmouth. Whilst rounding the Isle of Wight the Flight Deck was blanketed in snow. Picture: LA(PHOT) Abbie Gadd
HMS Ark Royal approaching Gibraltar in 25th Feb 1989.
Delta Company of 40 Commando Royal Marines during a training exercise on board HMS Ark Royal in the Gulf, Monday March 10, 2003. PA Photo/Royal Navy. Crown Copyright
Sailors marching onboard HMS Ark Royal 11th March 2011. Picture: Steve Reid.
HMS Ark Royal sets sail for home for the final time. After being alongside in Hamburg for five days she will now set sail for Portsmouth and return home for the final time before being put out of service at the end of the year. Picture: LA(PHOT) Abbie Gadd RN.
HMS Ark Royal has just completed her final voyage prior to her decommissioning, visiting Glen Mallen, Newcastle and Hamburg. She entered Portsmouth for the final time on the morning of 3rd December 2010. The 'Mighty Ark' left Portsmouth in early November and sailed through the Irish Sea to Glen Mallen, on the River Clyde, where the magazines were emptied of their ordnance. Picture: LA(PHOT) Abbie Gadd
HMS Ark Royal GR9 Harriers from 800 Naval Air Squadron and 1(F) Squadron Royal Air Force launched off the deck for the last time. They had embarked 5 days previously prior to ARK ROYAL paying a visit to Newcastle, the place of her birth. This will be the last time that the deck of the ship will see fast jets, as she is to be decommissioned. Picture: Petty Officer Airman (Photographer) Ray Jones.
20th April 2011. Portsmouth Naval Base, HMS Ark Royal left and RFA Fort Austin (A386) right. Picture: Paul Jacobs 111408-18
The decommissioning ceremony for HMS Ark Royal in Portsmouth Naval Base 11th March 2011. Picture:Steve Reid 110865-178
Taken from the Helicopter at the Sultan Summer Show 2011, a sad looking HMS Ark Royal.
HMS Ark Royal sailing past Spice Island May 2010. Picture: Paul Costen
Ark Royal the final journey. Wednesday witnessed a sad event as HMS Ark Royal was towed ignominiously, through the Straits of Gibraltar for the very last time, on her way to the breakers yard in Turkey. She was decommissioned five years early in 2010, as part of UK Government Defence Review and having had her innards ripped out, she departed HM Naval Base Portsmouth on her final voyage last week.
Visitors line up along the platform to disembark from HMS Ark Royal at Navy Days in 1992. The News PP942
The Royal Navy's Op Telic Flagship, HMS Ark Royal returns home to Portsmouth on 17 May.
Sailors aboard HMS Ark Royal wave to a civilian vessel full of well wishers welcoming the aircraft carrier home 15th May 2003. Picture: Jonathan Brady 032429-17
HMS Ark Royal leaves Portsmouth Harbour for what may be her last time in active service 9th November 2010. Picture: Malcolm Wells 0000-0175
HMS Ark Royal leaves Portsmouth Harbour for its very last time - sadly under-tow! 20th May 2013. Picture: Malcolm Wells 131356-4833