Celebrating the life of Portsmouth-born Charles Dickens on the anniversary of his birth
The buildings that inspired his works, the houses he grew up in and the illustrations created for his books.
Friday, 5th February 2021, 5:26 pm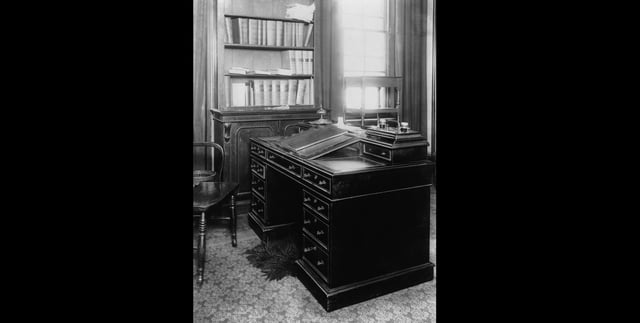 The writing desk used by English novelist Charles Dickens (1812 - 1870) at his home at Gad's Hill Place in Kent, circa 1900. (Photo by Hulton Archive/Getty Images)
There's so much history surrounding the Portsmouth-born author, we think you will enjoy looking through this beautiful collection.
We celebrate on February 7 his life and works with images from the Getty archive.
circa 1841: Frontispiece from The Old Curiosity Shop by Charles Dickens. Amdist a shop full of bric-a-brac a young girl is welcomed by an old man carrying a candle. Illustration by George Cuttermole (Photo by Hulton Archive/Getty Images)
Fictional characters Jerry Cruncher and his son Young Jerry Cruncher in an illustration from Charles Dickens' novel 'A Tale of Two Cities', circa 1860. In the novel, Cruncher senior supplements his income as a porter and messenger for a London Bank, by working secretly as a 'resurrection man', robbing graves in order to sell the bodies to anatomists for dissection. (Photo by Hulton Archive/Getty Images)
circa 1868: Charles Dickens (1812 - 1870) English novelist in later life dramatically posed standing in front of a table covered in books. (Photo by Hulton Archive/Getty Images)
Sam Weller (right) and Samuel Pickwick (second from right) meet Pickwick's widowed landlady Mrs Bardell at Fleet Prison in a scene from Charles Dickens's first novel 'The Pickwick Papers', published as a serial from 1836 to 1837. Illustration by Phiz (Hablot Knight Browne, 1815 - 1882). (Photo by Hulton Archive/Getty Images)
Members of the Pickwick Bicycle Club ride their antique machines during events surrounding the unveiling of a statue of late British writer Charles Dickens at Guildhall Square in Portsmouth on February 7, 2014. The statue, the only one of Dickens in Britain, was unveiled on the 202nd anniversary of his birth in the city. AFP PHOTO / CHRIS ISON (Photo credit should read CHRIS ISON/AFP via Getty Images)
Charles Dickens (1812 - 1870) delivers some sketches by 'Boz' - his illustrationist pseudonym - to the magazine edition box of the Morning Chronicle. (Photo by Hulton Archive/Getty Images)
Samuel Pickwick (centre, right) with the unscupulous lawyers Dodson and Fogg, in a scene from Charles Dickens's first novel 'The Pickwick Papers', published as a serial from 1836 to 1837. Illustration by Phiz (Hablot Knight Browne, 1815 - 1882). (Photo by Hulton Archive/Getty Images)
circa 1850: The characters 'Mr Micawber' and 'Young Copperfield' in an illustration from the Charles Dickens novel 'David Copperfield'. (Photo by Hulton Archive/Getty Images)
Chaos at the Eatanswill election scene from Charles Dickens's first novel 'The Pickwick Papers', published as a serial from 1836 to 1837. Illustration by Phiz (Hablot Knight Browne, 1815 - 1882). (Photo by Hulton Archive/Getty Images)