Havant naval camp that became a home for the stateless | Nostalgia
John Glanville has turned to Remember When for help in finding information about his ancestors, the Glanvilles and the Smiths, two well-known Portsmouth families from the 18th century onwards.
Wednesday, 10th February 2021, 7:06 pm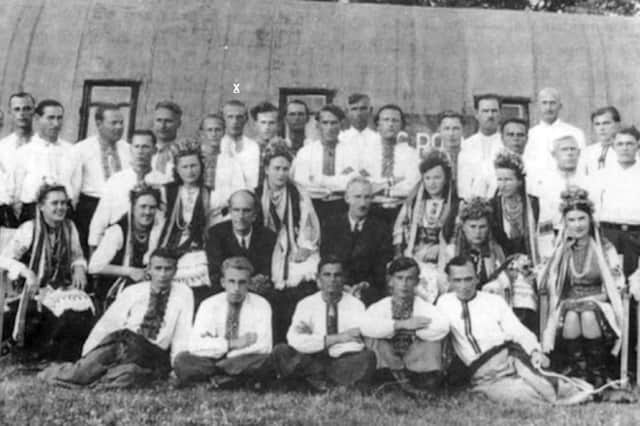 The choir comprising displaced Ukrainian nationals. Mykola Smalec can be seen with an X above him.
Frank Glanville was a dispensing chemist who, before and after the Second World War, ran shops along Highland Road, Havant Road and Eastney Road (still a chemists).
His son was also called Frank and he was a GP with a surgery at Havant and later Hayling Island until the 1970s.
George William Smith perished on or about December 1, 1914, in the submarine D2, the first boat to be lost in the First World War.
It is believed the boat became trapped in shallow water off the Ems estuary and was destroyed by German coastal craft.
The photograph here of three people was taken in 1940. None of them can be identified but John knows the man on the right was the best man at the wedding of Alec Glanville and Kathleen Hetherton at St Andrew's Church, Farlington, on August 3, 1941.
If you have any idea who these people might be please get in touch.
• Roman Smalec emailed from Canada after seeing a photograph of a Ukrainian choir in my book on the naval camps at Bedhampton, Havant and Leigh Park and recognised his father Mykola.
Taken after a wedding St Andrew's Church, Farlington, in 1941. Does anyone recognise these people?
After the Second World War most of the 21,000 displaced Ukrainians were known as European Voluntary Workers by the British government. They could not have refugee status.
Mykola and Helen Smalec were married at a displaced persons' camp in Germany on September 1, 1946. They arrived in Havant where they were sent to the former HMS Daedalus III naval camp which had become a displaced persons' camp.
In 1951 they were living in Waltham Chase. Mykola worked on farms and in glasshouses. Helen worked in a laundry.
Although Helen did not want to leave England, the couple, plus baby daughter, went to Canada leaving Liverpool on July 15, 1953. According to the ship's manifest they were listed as stateless. I know it is a long shot but if you remember the couple please let me know.
• We have lost another member of the railway fraternity who was well known in the area. Johnny Gardener, of Petersfield, served 47 years on the railway. He started at Guildford in 1961 as a cleaner then fireman. When steam ended John went on to electrics and moved to Fratton depot.
He was always known for his endearing smile no matter the occasion. Whenever he was in any trouble he just beamed and the matter was dropped. John leaves wife Mary and daughter Deborah.