Inside Portsmouth's lost party shop which filled customers with joy for a century
U-Need-Us was a fixture of the city centre for almost a century.
Friday, 18th September 2020, 2:33 pm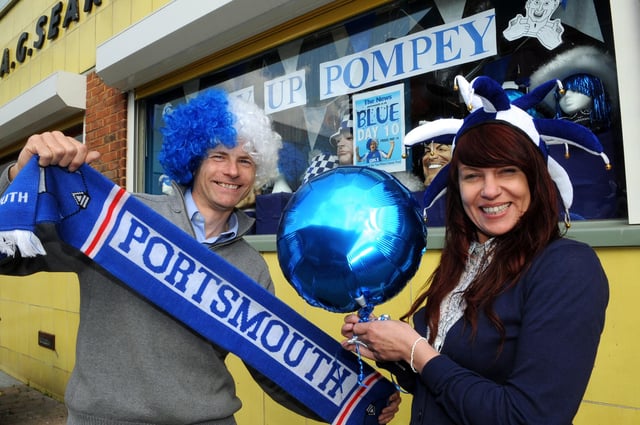 Steve Searle and Sarah Wellham hold a Portsmouth scarf outside U-Need-Us in May 2010 ahead of the FA Cup final which Pompey played in. Picture: Ian Hargreaves (101530-1)
It had called the spot home for 95 years and many residents have fond memories of the store.
Stephen Searle, manager of the U-Need-Us in 2005. Picture: Michael Scaddan
We decided to dive into The News archives to find old pictures of U-Need-Us.
So here are throwback photos from the shop over the years.
Make sure to click through all the pages!
Christmas crackers from U-Need-Us. Picture: Simon Hart
Christmas decorations from U-Need-Us. Picture: Simon Hart
U-Need-Us staff members (l-r) sisters Karen Knipe and Tracey Knipe get the street party started outside the store in February 2011. Picture: Allan Hutchings (110573-296)
U-Need-Us staff (l-r) Allison Brookes (correct), Karen Knipe, Tracey Knipe and Steve Searle get the street party started outside the store in February 2011. Picture: Allan Hutchings (110573-278)
U-Need-Us staff (l-r) Tracey Knipe and Steve Searle help get the street party started outside the store in February 2011. Picture: Allan Hutchings (110573-233)
Staff from U-Need-Us (l-r) sisters Karen Knipe and Tracey Knipe get the street party started outside the store in February 2011. Picture: Allan Hutchings (110573-322)
Here is what the outside of U-Need-Us looked like as it celebrated its 95th Anniversary in 2018. Picture: Vernon Nash (180396-002)
Card magician Roy Charles in the store as U-Need-Us celebrated its 95th anniversary in 2018. Picture: Vernon Nash (180396-008)
Lord Mayor Cllr Lee Mason prepares to cut the anniversary cake with the owners and staff of the shop as U-Need-Us celebrated its 95th anniversary in 2018. Picture: Vernon Nash (180396-007)
Sarah Jobe and Clare Searle with the 95th Anniversary cake at U-Need-Us in 2018. Picture: Vernon Nash (180396-005)
Amanda Marshall was shopping for tiaras for a friend's Hen Night as U-Need-Us celebrate its 95th anniversary in 2018. Picture: Vernon Nash (180396-004)
Shop assistant Jade Thompson (19) holds balloons as U-Need-Us celebrated its 95th anniversary in 2018. Picture: Vernon Nash (180396-003)
Tina Mula 47 with Dahlia 1 outside U-Need-Us in 2019. Picture: Habibur Rahman
Natalie Ennis outside U-Need-Us in 2019. Picture: Habibur Rahman
The Searle family including manager Steve Searle, back left, with customers, front left to right, Salina Coleman, Elizabeth Jones, 15, and Andrew Jones at U-Need-Us on its last day of trading in 2019. Picture: Chris Moorhouse (300319-24)
Matthias Hepworth and his children, Ben, 8, and Sophia, 11, outside U-Need-Us on its last day of trading. Picture: Chris Moorhouse (300319-21)
Matthias Hepworth and his children, Ben, 8, and Sophia, 11, outside U-Need-Us on its last day of trading. Picture: Chris Moorhouse (300319-20)
U-Need-Us on its last day of trading in 2019. Picture: Chris Moorhouse (300319-18)
Linda Brown and Lucy Parrett, 44, outside U-Need-Us in 2019. Picture: Habibur Rahman
Steve Searle and Sarah Wellham hold a Portsmouth scarf outside U-Need-Us in May 2010 ahead of the FA Cup final which Pompey played in. Picture: Ian Hargreaves (101530-1)