Manhandling torpedoes in boats where every square inch counts | Nostalgia
I do not know how torpedoes are loaded in today's nuclear submarines, but in diesel boats they were manhandled into the firing tubes as can be seen in this photograph.
Tuesday, 28th April 2020, 1:56 pm
Updated
Tuesday, 28th April 2020, 1:58 pm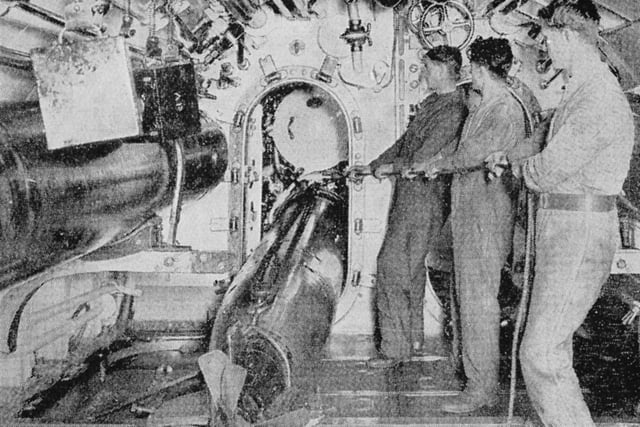 Submariners loading a torpedo. Picture: Rod Davis collection
To load a torpedo a circular door, the breech block, at the rear of the tube, was unlocked, the torpedo swung off its cradle, lifted, and hauled into the tube and the door closed.
A small cap covered the mouth of the torpedo tube to keep out the sea which was swung clear when the torpedo wa about to be fired.
The cap automatically replaced itself after firing.
Chief Petty Officers in the cramped mess on board a diesel submarine. Picture: Rod Davis collection
The 'fish', as torpedoes were called, was fired by compressed air with a pistol grip used for the actual firing.
As the torpedo left the tube a trigger was actuated.
This set off an internal mechanism for the torpedoes' operation. It was kept on course by a gyroscope.
It was a deadly weapon which nearly brought the downfall of Britain when German U-boats hunted in packs in the Atlantic sinking many thousands of tons of shipping carrying much-needed supplies from America.
The junction of Purbrook Way and Botley Drive, Leigh Park, in the mid-1960s. Picture: Barry Cox collection
The submarine base HMS Dolphin at Gosport closed in 1978.
On the subject of diesel 'boats' as submarines are called, here we see the confined space and this was in the senior rates' mess.
Imagine what the ordinary seaman submariner had to put up with. Apart from the hazardous nature of operations, a submariner's life was anything but comfortable. Every square inch was required for the engines and machinery. There must be many ex-submariners with anecdotes. Please send them in, be they good or bad.
Portsmouth-born Bobby Stokes with the FA Cup he won for Southampton. Picture: Mick Cooper collection