A Portsea childhood remembered | Nostalgia
If you are Portsea born and bred you will not want to miss a new book written by Ron Gregory.
Tuesday, 2nd February 2021, 4:45 pm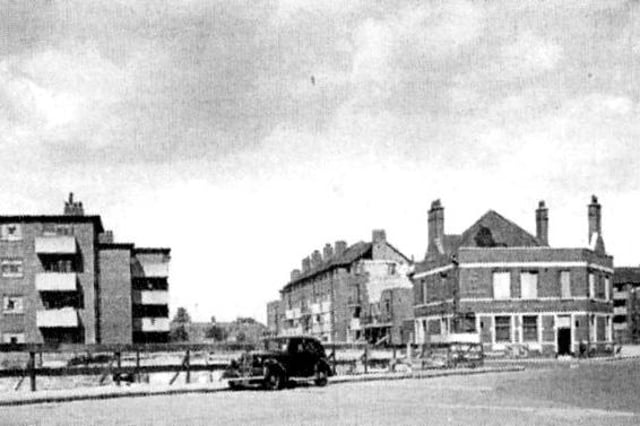 With a bomb site on the left, this is the top of North Street, Portsea. The Duke of Edinburgh pub is on the right.
It is a book of memories and anecdotes of the area from the outbreak of the Second World War in 1939 to Ron leaving school in 1954.
The 172-page, A5 book is filled with photographs, many of family and friends and local sites.
Several are of groups of children so you might find yourself pictured in one of them.
Ron Gregory, far left, with friends sitting on his go-kart.
It begins with Ron's family and the living conditions of the period and living in a crowded flat in Privett House, Cumberland Street, with 'cold unwelcoming grey, concrete stairways with no lighting' as Ron describes them.
When Ron was born there were several streets to the north of Cumberland Street which were taken over by the dockyard in a compulsory purchase scheme.
Ron then goes on to write about air raids and playing on bomb sites and street games.
Schools and rationing are well written about in the following chapters and how teachers wielded the cane in classrooms handing out 'whacks' for the most trivial reasons.
Mudlarking in the thick mud of The Hard is well documented and Ron describes how the boys often got covered in the slime, sometimes for little or no financial reward.
They were also involved in 'casing' – no not the criminal type of thing but offering to carry cases and bags for passengers leaving the Harbour station who had to walk to The Hard to catch a bus or coach to Southsea hotels.
They later made karts out of a plank and old pram wheels and were able to carry much more luggage. Many people tipped well, others gave just a few coppers, Ron says.
Charlotte Street market is amply covered and Ron managed to obtain a job assisting one of the traders who sold 'real china dinner services' for a song. Quite.
Cinemas and theatres are also well covered along with Ron watching wrestling at the Connaught hall in Stanhope Road. He also mentions visiting Fratton Park for the first time and seeing many of the international footballers who played there. The family later moved to Cumberland House.
Many of you might have attended Portsea Youth Club so will enjoy the many anecdotes about the club and some of the people who managed it.
With a forward by Ron's daughter Sarah, the book is a superb piece of nostalgia about the area and the period and well worth reading if you are from Portsea or wider Portsmouth. To buy a copy contact Ron on 07914 341 635 or via [email protected] The cost is £11 plus £3 postage.
A message from the editor, Mark Waldron. You can subscribe here for unlimited access to Portsmouth news online - as well as fewer adverts, access to our digital edition and mobile app. Our trial offer starts at just £2 a month for the first two months.