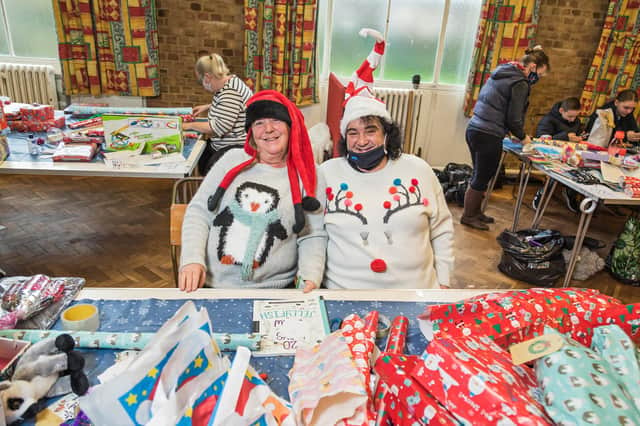 Deborah Young and Angela Palmer show off their Christmas jumpers while volunteering for the first time at The Big Wrap 2020 Picture: Mike Cooter
The Big Wrap event usually sees hundreds of people packed inside St Francis Church in Leigh Park to give donated presents the finishing touch before being delivered to families across Leigh Park and Havant.
But this year, social distancing means that only a dozen individuals could use the space – leaving a team of dedicated volunteers to work long hours throughout the week to ensure the gifts are ready for Christmas.
Co-ordinator Michelle Smith said: 'It's been a hard year, but we're wrapping for over 100 families.
The volunteer team behind The Big Wrap in Leigh Park.
'Because of Covid, we've only been able to get six tables in the hall – we've had people queuing up to help.
'There's been 12 of us working all week to get ready, working until 11pm.'
Alongside wrapped toys, games, and treats, more than 100 families will receive hampers full of everyday food items, fresh food, and classic Christmas staples, like mince pies.
Some of those previously helped by the Christmas giveaway have turned out to lend a hand, with Leigh Park resident Samantha Clark keen to help after the scheme supported her four years ago.
She said: 'We've been the last ones here a few times in the week.
'When I was being evicted four years ago, they rescued my Christmas. I was so close to having a nervous breakdown.
'Events like this shows what a community Leigh Park is – an amazing community. Even though Leigh Park gets a bad name, there are some lovely people around. We still get help from the Free Bank and the Food Bank, and we give back what we don't need and help out when we can.'
Her 12-year-old daughter, Amy, agreed: 'It really helps bring the community together.
Volunteer Rachel Bond, who runs the PO9 Food Bank, said the need in the community brought about by Covid-19 is 'horrendous'.
She said: 'It's incredible the amount of people that have been affected.
'It's not just people on benefits – it's people on furlough, people who have been made redundant or had their hours reduced.
'The response has been absolutely amazing. People have been donating a lot more this year.'
A message from the Editor, Mark Waldron
You can subscribe here for unlimited access to Portsmouth news online - as well as fewer adverts, access to our digital edition and mobile app.
Our trial offer starts at just £2 a month for the first two months.