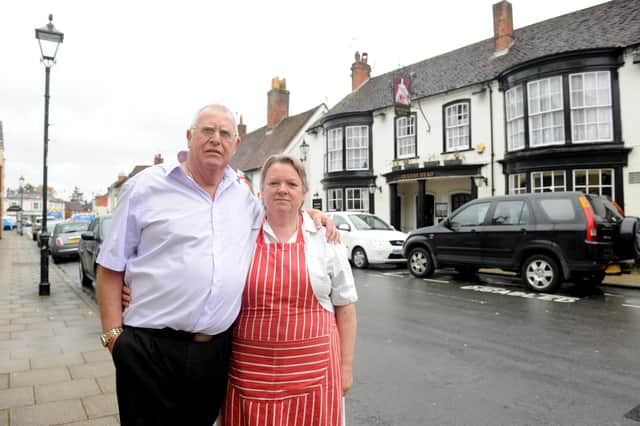 Bob and his wife Maz Forster, who have now retired after more than a decade at the helm of The Queens Head in Titchfield Picture: Sarah Standing (151805-7931)
The Queen's Head in High Street, Titchfield, offers a new manager a space with two bars and a restaurant, holding more than 100 covers.
The 'ideal' landlord for the Ei-owned pub would be willing to become 'a hub for the community,' according to regional manager Francisco Ortiz.
He said: 'It's got a little bit of everything. They have got a restaurant at the side and a spacey function room upstairs which has held dinner dances and even theatre.
'The ideal landlord would have to be inspired by the community and be willing to be a hub for the community.
'With the right person we would be looking to invest for a refurbishment.'
The Grade-II listed pub has previously staged five shows a year upstairs.
Until a new landlord is found, the public house is kept open by temporary landlady Alanna Clements, who has run pubs across Gosport, including The Green Dragon,
The 55-year-old, who has been working behind a bar since she was 15, said: 'The customers make a pub, and I have some lovely locals. They have quickly accepted me, which is a big thing – they are a welcoming bunch.'
She has taken over from previous landlords, Bob and Marilyn Forster, who took on the pub as their first family business in 2007.
Francisco added: 'They were past retirement age, and they wanted to enjoy their retirement.'
Anyone interested in taking on this piece of Titchfield history would need to cover the in-going costs of £21,000, and pay a rent of £40,000 a year.
They would have access to a private living accommodation comprising of two double bedrooms and two single bedrooms, with a lounge, kitchen, bathroom and toilet.
The pub also has an outdoor drinking area and more than 20 parking spaces.
The restaurant is currently closed, but Alanna hopes to open it 'as soon as possible.'
Four real ales are currently on tap, including Double Drop, as well as Invincible, Frigate, and Type 42, all from Portsmouth-based Irving Brewery.