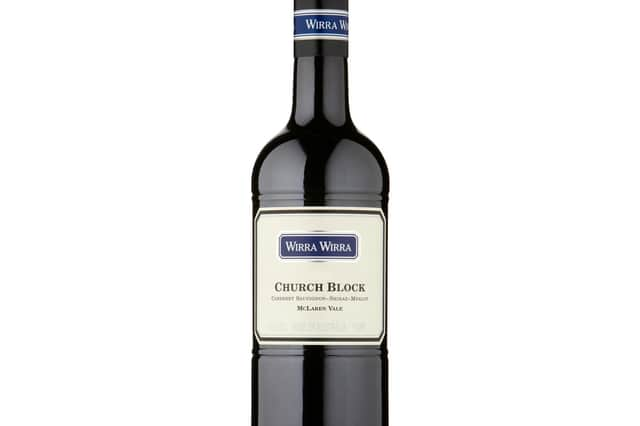 Wirra Wirra Church Block McLaren Vale S Australia 75cl
On the specials blackboard was 'Haggis Samosa' – if ever there was an example of fusion cuisine then surely this was it – which I proceeded to order.
As is often the case, the name was the most memorable part and I only repeat the story because I really do like haggis and don't need the excuse of Burns' Night to eat it. It is of course Burns' Night on Monday – and while sadly this year it won't be an excuse for a gathering of the clans, haggis will certainly be appearing on my dinner table
Traditionally whisky is served with the haggis but personally I would prefer to have a 'wee dram' at the end of the meal and so for me red wine it is. Haggis is quite a dense, rich, spicy dish and with all that accompanies it there are lots of earthy flavours on the plate so for me the wines need to be fairly robust with enough fruit to stand up to those flavours. Syrah or shiraz is a really good match but I have also found that tempranillo, Malbec and southern French reds in general can work really well.
Wirra Wirra Church Block 2018, McLaren Vale (Waitrose £9.99 on offer from £13.49 until January 26) is something of an Aussie classic and has certainly appeared here previously but while it is on offer this is an absolute steal. It is a blend of cabernet sauvignon and shiraz with a little merlot and is aged in mainly older French oak. Deep in colour, the nose offers blackberries, dark plums, mocha and spice, followed by a ripe, juicy full-bodied palate with more dark fruits, supple tannins and a long, generous finish.
Vina Cobos 'Felino' Malbec 2018, Mendoza (Hermitage Cellars £11.25 on offer from £13.25) is a deeply satisfying Malbec that is a definite step-up quality wise from many of the sub-£10 examples to be found. There are bramble fruits, Asian spices and liquorice on the nose, the palate is really well-balanced with layers of dark fruits, in particular blueberries, and firm but ripe tannins and a deeply satisfying finish.
Réserve des Tuguets 2017, Madiran (Tesco £7) comes from the foothills of the Pyrenees and is produced mainly from the local tannat grape. There are ripe cherries, damsons and spice here with gentle tannins and a relatively smooth finish. It is definitely not made in the big, tannic style usually found here but there is enough earthiness to work with haggis and it is brilliant value for money.