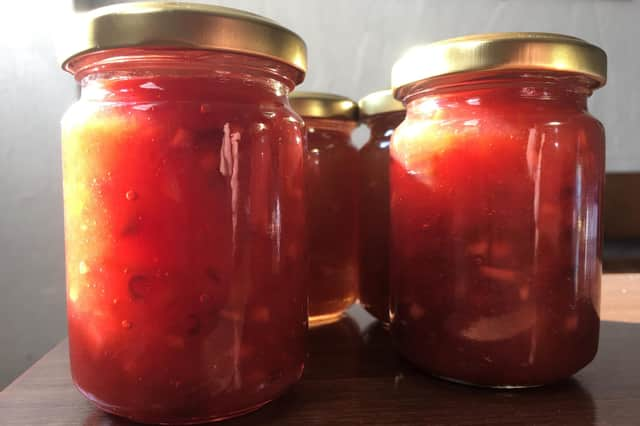 Plum and ginger conserve by Lawrence Murphy.
I don't really have a sweet tooth so thought that there would be enough preserve to last at least two or three months. Well, Julia had different thoughts, got a taste for the strawberry jam and wolfed down a jar before you could say: 'End of summer.'
This month I thought I'd restock the cupboard with what I think is a much more 'adult' type of jam. Not too sweet, with sharpness and a warm finish, plum and ginger conserve is, for me, at a different level to the strawberry jam we all love as children.
Plums are aplenty at the moment, so make a few jars and hope that your other half doesn't get a taste for it.
Ingredients (makes 2 jars)
2 bramley apples, peeled and diced
knob of ginger, finely chopped
1. Wash, stone and cut the plums into eight pieces.
2. Mix the sugar plums and ginger into a large saucepan.
3. Add the apple and a tablespoon of water and put on to the heat.
4. Stir until the sugar dissolves, heat to boiling and then turn down to simmer.
5. Simmer for 30 to 40 minutes stirring occasionally.
6. Spoon a little of the jam onto a cold plate and leave for a minute. Give it a push with your finger to see if it wrinkles. If it doesn't, cook for a few minutes and test again. Rest for 20 minutes.
7. Spoon into sterilised jars, top with greaseproof paper and put the lids on.
8. Store in a cupboard for up to a year.