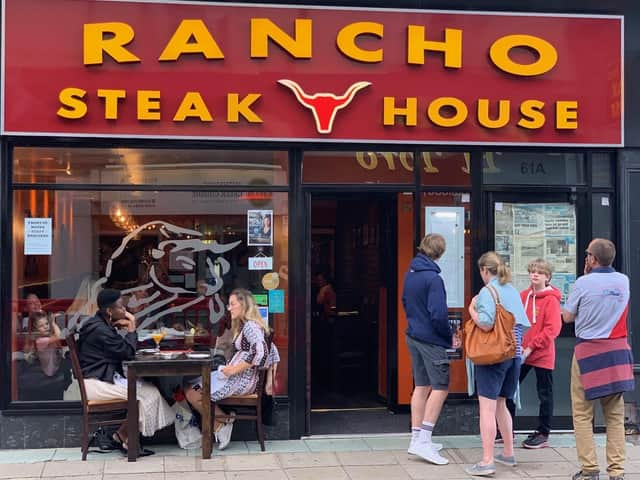 Ranchos Steak House: a taste of South America in Portsmouth
Its contemporary surroundings and mouthwatering menu offer a truly authentic South American dining experience – serving up quality meals in style with super service and great value.
The Rancho Steak House, at Osbourne Road, Southsea, not only strives to offer the finest cuts of beef, but also succulent chicken meals and a range of vegetarian options - and as its right there on the south coast it can also boast a range of fresh sea food too.
Rib-busting value, and quality steaks – Ranchos Steak House is known affectionately as the "South Coast's Meat Lover's Paradise"
Open seven-days a week, this well-established steak house has had the same experienced chef presiding over the kitchen for over 10 years.
His knowledge and skill means not only can you be assured he has strived to purchase the finest quality meat but that he can offer a range of different cuts of beef in different weights – including rump, sirloin, rib-eye, T-bone and fillet.
Alongside those tender cuts of beef, cooked just the way you like it, there are a range of other meaty treats including homemade burgers and fajitas. There are also seafood dishes with Peruvian Spiced Cod and tasty SeaBass fillet alongside dishes like Gambas a la Brasa (pan-fried king prawns), Calamari (crispy fried squid with garlic sauce) and Prawn Cocktail.
All this can be accompanied by a wide range of carefully chosen drinks. This includes a wide range of wines - including plenty of tasty South American bottles - plus beers from around the world including South American favourites such as Mexican Desparados and Corona. There's also a wide chose of other drinks and spirits. Fancy a cocktail? The Rancho Steak House offers two cocktails for £10 every day! Or how about sharing a jug of refreshing Sangria?
Love meat? You'll adore Ranchos Steak House – quality beef in a range of cuts and weights
If you love your ribs then you'll love this mid-week belly-busting offer. Try unlimited Caribbean Ribs with chips and salad for just £16.95 every Wednesday night – it's an offer the Rancho has successfully run for over 12 years and is a huge hit with regular customers.
The Rancho Steak House is open every evening Mondays to Fridays (5pm to 11pm), Noon-11pm on Saturdays and Noon to 9pm on Sundays.
For more details, menus, customer testimonials and more check out the website here or call 02392 737235 to make a reservation.
Try unlimited Caribbean Ribs with chips and salad for just £16.95 every Wednesday night
Enjoy an authentic South American dining experience at this long-established popular steak house