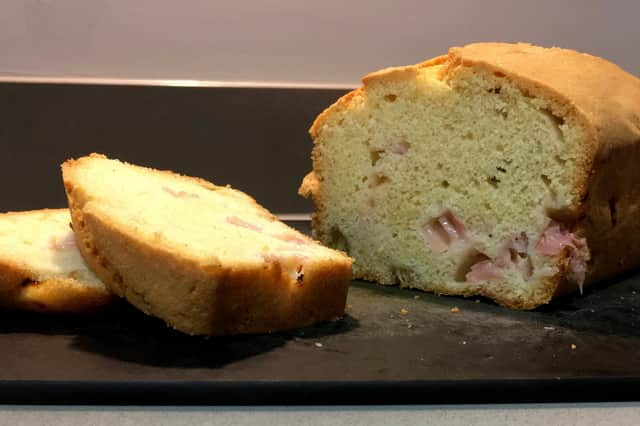 Rhubarb and ginger cake.
The long stems are the edible bit whilst the leaves, if eaten in large quantities, are poisonous containing oxalic acid.
Rhubarb is generally cooked with sugar and eaten in desserts but because of its acidity, it also pairs well with oily fish.
There are a few methods to cook this plant so that it holds its shape but you do have to keep an eye on it during the process.
This recipe requires none of that – just a bit of chopping and it cooks in the cake mixture, spiced with a little ginger.
180g rhubarb, cut into chunks
1. Beat the sugar and butter together until creamy.
2. Add one egg, the ginger and one third of the flour and mix in.
3. Repeat the process with the remaining eggs and flour until incorporated.
4. Mix in the rhubarb and spoon into a lined loaf tin.
5 Smooth out and bake in a pre-heated oven 165C, gas 4, for one hour.
6. Check that it is cooked by inserting a skewer which should come out clean. If not, return to the oven until it does.
7. Let the cake sit for 10 minutes and then remove from the tin on to a cooling rack.
8. Allow to cool before eating.