Portsmouth fireworks: Should fireworks be banned? Here's what readers of The News said before Bonfire Night 2020
ORGANISED firework displays are annual staples on calendars up and down the UK.
Friday, 30th October 2020, 4:15 pm
Updated
Monday, 28th June 2021, 3:36 pm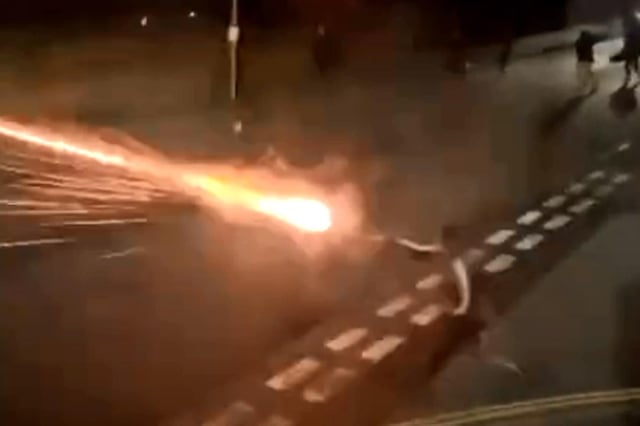 Yobs setting off fireworks in Greetham Street, Southsea, near residential properties and the city's railway line on Wednesday, October 28. Picture: Contributed
All these things considered, here's what readers of The News said when we asked them if fireworks should be banned for the remainder of 2020.
What our readers said
:: Josh Gregory: 'Should 100 per cent be banned from being sold to the general public – and not just for 2020. And also, the big shows should use the silent displays.'
:: Simon Chandler: 'So many against our rights to celebrate what has happened to this boring, soft country. When I grew up everyone had fireworks in their gardens and had pets etc. It's not pets thats the problem, it's soft people these days.'
:: Rosemary Turner: 'Of course they should be banned! Outdated, unsociable, insensitive ritual.'
:: Jason Smith: 'Absolutely not! Everything else has been cancelled this year so let's enjoy some fun and tradition in our own gardens.'
:: Gabrysia Lewis: 'Yes, for the public – organised displays only. Speaking as an owner of a petrified dog when fireworks are let off.'
:: Mat Hawnt: 'Nope, but warn your neighbours who have pets and obey the law concerning cut-off time.'
:: Mel Beets: 'Absolutely, should not be sold to the public. Far to many "idiots" buying them.'
:: Miles John: 'What we need is a ban on morons, the type who spoil it for other people, not fireworks.'
:: Mel Legg: 'Yes. Hospitals don't need added issues with burns. We can't have parties, when allowed [there] should only be organised displays. Too many idiots terrorising people and animals. Some dogs are petrified, wildlife is petrified, and also war veterans with PTSD. Plus when on sale, they go off for weeks until New Year's Eve!'
:: Chris Cassford: 'No, they'll be fine if you set them off before 10pm.'
:: Gillian Coney: 'Yes, totally agree there is no need for them to be on sale for [the] public. My animals are terrified of them, especially when lit in [the] neighbour's garden for their 20 year old, who is not a child. They are not essential items.'
:: Karen Ferre: 'No, can't take every enjoyment and tradition from people. Ok, there's going to be loads more [because] display been stopped. So, people [are] going to have them at home. If anything, should stop making them so loud, as they've got louder over the years.'
:: Simone Kelsey: 'Hell yes they should be banned from the general public buying them. Only licensed, organised displays should be allowed to buy fireworks for public displays. I know someone who served in Afghanistan who has serious PTSD caused by war and what they have seen while out there. They get flashbacks and nightmares for weeks this time of year, which in turn causes suicidal thoughts to increase. It's not just about animals being scared, there is a human cost also.'
:: Carla Hindle: 'We do our own, so we would like to still buy [them] to use in our garden.'
:: Karen Hilton: 'Definitely! I've been saying this for years now. They have become far too loud, and this combined with irresponsible actions should ban fireworks forever.'
:: Jim Perkins: 'Should we ban Christmas too, as it leads to excessive shopping and irresponsible drinking?'
:: Emma Lothian: 'Yes, as people would gather to see one show the animals had places to hide. Now everyone will be having them in residential areas, so man, animals will suffer – wild and domestic.'
:: Lyn Robbins: 'No, don't you think the children have lost enough this year. They have had holidays home and abroad cancelled. They had a summer and summer holidays stuck out in a garden (some didn't have gardens). They have had to stay in on their half term and now people want them to lose Halloween and bonfire night. They have birthday parties cancelled. There is nothing left to take away from them. My grandchildren will have a Halloween party in the house and bonfire night out the garden.'
A message from the Editor, Mark Waldron
The News is more reliant than ever on you taking out a digital subscription to support our journalism.