Recap updates as large crowd turned up for 'cancelled' Wickham Horse Fair
Large crowds gathered in Wickham despite the cancellation of the annual horse fair.
Thursday, 20th May 2021, 2:48 pm
Updated
Thursday, 20th May 2021, 2:53 pm
Wickham Horse Fair has been officially cancelled this year due to 'current Covid restrictions'.
However despite the cancellation a number of people and horse boxes turned up in Wickham this morning.
ROMANSE tweeted earlier: 'Bridge Street & The Square from A334 Winchester Rd is CLOSED in BOTH DIRECTIONS due to crowd control.'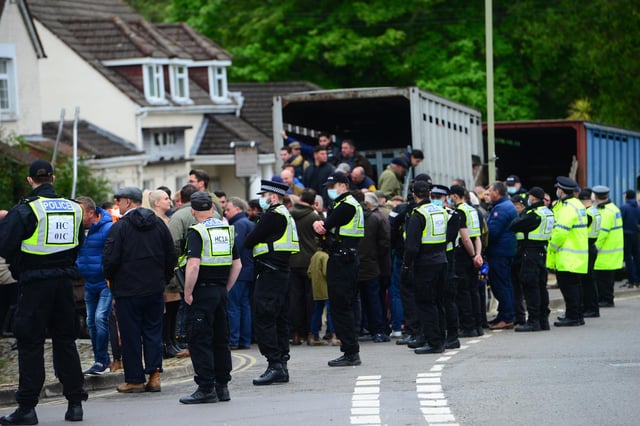 Crowds of travellers defied police today by turning up for an historic horse fair which had been cancelled. Picture: Roger Arbon/Solent News & Photo Agency - UK +44 (0) 2380 458800
The road has now reopened, according to our reporter at the scene.
Pictures from Wickham this morning show large crowds and a number of horses in the village.
There was a strong police presence with 30 officers and dozens of vehicles in the area.
Police officers in Wickham
We had a reporter down at the scene and they brought you all the updates throughout the morning and the afternoon.
Recap all our updates in our blog below.
You can subscribe here for unlimited access to our online coverage, including Pompey, for 27p a day.
Recap updates from Wickham Horse Fair
Last updated: Thursday, 20 May, 2021, 13:23
Wickham Horse Fair had been cancelled due to Covid restrictions
Large crowds turned up including a number of horses
Arrival of a man on a white horse has 'attracted a lot of attention'
The arrival of a man riding a large white horse along Fareham Road has attracted a lot of attention and caused part of the crowd to wander past the police line.
More footage from Wickham this morning
Resident says 'it does feel a little tense'
Steph Franklin-Burns and Isaac Mount
Steph Franklin-Burns and Isaac Mount, both 26, moved a flat opposite the Fareham Road four months ago - and were surprised to see the large crowd outside their window.
Steph said: 'We had no idea there was a fair here. There is a picture of a horse fair in our building - that now makes sense.'
Isaac says there is a sense of tension within the crowd: 'It does feel a little tense. There's something about the police being here.'
Steph added: 'It's a very large police presence. They should be given more space. I don't mind that much the fair is going on - it's interesting.'
Police have just attempted to block a young woman on a large horse
'We're outside and not doing any harm.'
Charlotte, 29 from Paulsgrove, said it was the sense of tradition that had brought so many people out.
She said: 'A lot of people worry if no one shows up, it gets shut down for good. We've missed so much lately. So to come out and enjoy something, even though we're not supposed to be here, it's nice. We're outside and not doing any harm.'
Police blocking part of the road
Police are now blocking the section of the road by the lay-by using police vans.
Teenager felt like she was being 'harassed' by police
Maylee Doe, from Poole, rode past the police line on her large white cob horse, Winchester.
She said she felt 'harassed' by the police, having been threatened with arrest for riding the horse on the roads several time's earlier today.
The 18-year-old said: 'They were grabbing my leg, grabbing my bridle. There's no need for that. I have come here every year of my life and There's loads of horses here. I have been harassed every day of my life. I live on the road and we get it every single day. If it was against a different community it would be called racism.'
Road closures remain in place in Wickham
In a new statement from police, a spokeswoman said: 'Officers are currently on scene managing an ongoing incident in Wickham, in relation to the cancelled Wickham Horse Fair.
'Road closures are in place on the A334 from the junction with School Road until Titchfield Lane. There are also closures at Mill Lane and Bridge Street.
'The road closures are in place to maximise public safety, and not to facilitate the cancelled event.
'There is a filtering system to allow traffic through whilst maintaining the safety of motorists.
'We would ask that people take an alternative route where possible, and thank you for your patience as we work with our partners to manage this situation.
'This is a dynamic and ongoing situation that we are working on resolving.
'We again remind you that Wickham Horse Fair has been cancelled, and ask that no one attends with horses or vehicles outside of the small symbolic event already agreed.'
Our officers will be on patrol in the area today, if you have any concerns please don't hesitate to come and talk to us.
More police have been brought in
In his latest update from the scene, Richard Lemmer has said that more police have been brought up to keep attendees contained to the strip of road by the lay-by.
One fish and chip shop is doing a roaring trade
Some people are being deterred by the weater
It's beginning to rain and it appears that some attendees have decided to move on, but a large crowd remains in place.
'It feels like the police have made it dangerous'
Peggy-Ann Smith, who has Sienna's Baby Boutique in The Square for ten years, said the horse fair usually attracts a lot of business - but this morning has been quiet. She said: 'There's no fun fair or stalls to attract families. It's always a busy day for us. But today, it's a different atmosphere. It feels like the police have made it dangerous. They have packed everyone in.'
RSPCA have not seen anything that 'has caused any concern'
RSPCA inspector Paul Williams and World Horse Welfare Officer Penny Baker have attended today's event to check on the welfare of the animals.
Paul said: 'Obviously with the event being cancelled, we stood down our usual deployment. Usually we have a vet here. This year we have not seen anything that has caused us any concern.'
Crowds beginning to thin in Wickham
The crowd has begun to thin as the drizzle persists.
Police asking when attendees will be leaving Wickham