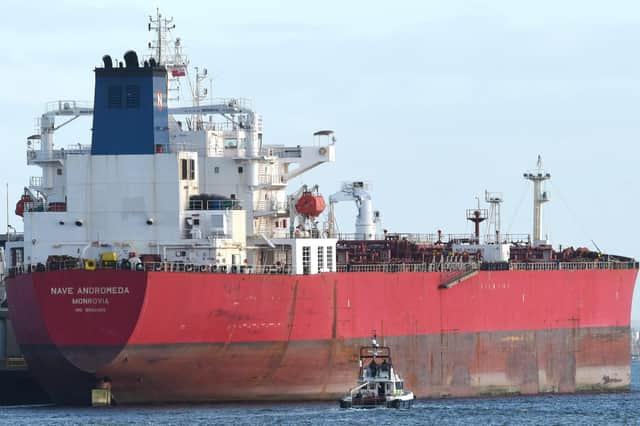 A police boat patrolling next to the Nave Andromeda at berth in Port of Southampton earlier this year. Photo: Simon Czapp/Solent News & Photo Agency
Emergency services were alerted to concerns over the welfare of the crew of the 228-metre long vessel as the ship – sailing from Lagos, Nigeria – headed towards Southampton on Sunday, October 25.
Approximately 16 members of the Special Boat Service (SBS) secured the Nave Andromeda in nine minutes and detained seven Nigerian nationals, who were handed to Hampshire Police.
Now, two men have been charged and appeared in court today as part of the ongoing Hampshire Constabulary led investigation into the maritime security incident.
The two men, Matthew John Okorie, 25, and Sunday Sylvester, 22, have been charged with an offence relating to conduct endangering ships under the Merchant Shipping Act 1995.
They appeared before Southampton Magistrates Court this morning and have been remanded in custody.
They will next appear at Southampton Crown Court on January 29, 2021.
Five other men, who were arrested on suspicion of seizing or exercising control of a ship by use of threats or force, remain on police bail until January 25, while Hampshire Constabulary's investigation continues.
They are currently detained under Border Force powers.
A message from the Editor, Mark Waldron
You can subscribe here for unlimited access to Portsmouth news online - as well as fewer adverts, access to our digital edition and mobile app.
Our trial offer starts at just £2 a month for the first two months.