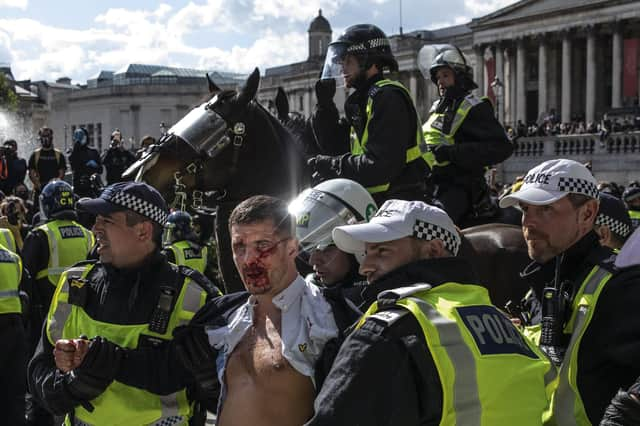 Police lead an injured man away after clashes between protesters in Trafalgar Square on June 13. Following a social media post by the far-right activist known as Tommy Robinson, members of far-right linked groups have gathered around statues in the capital. Photo by Dan Kitwood/Getty Images
I'm struggling to understand Great Britain 2020. I'm struggling to understand where this country is going. I'm an educated guy and I'm struggling to understand what kind of future my kids might be growing up in.
A statue of the Boy Scouts founder Robert Baden-Powell boarded up for fear of being damaged, or pulled down and chucked in Poole Harbour like Colston's statue in Bristol. I have no argument with Colston's falling, though we should never give in to mob rule. A statue of Winston Churchill - who in 2016 was voted the most influential British person of the 20th century - was likewise covered up in central London.
I have no idea where this is all heading, but I'll tell you something - I don't like it.
The BBC removing Little Britain from its streaming service. 'Times have changed,' said a spokesman. Undoubtedly true, but no reason to pull it. That's censorship. If you don't like it, you don't have to watch it. We cannot hide from the past if we want to ensure a different future. We have to understand our past if we are ever to write a better future. We cannot pretend it never existed.
Same with Ant & Dec apologising for blackfacing in the early noughties. No need to jump on the bandwagon, guys. We know you're not secret members of the Klu Klax Klan.
If Ronnie Barker, one of this country's greatest comedy actors, were still alive, he'd no doubt be forced to apologise for taking the mick out of people with a stutter - Arkwright in Open All Hours - and for blackfacing in a sketch with Ronnie Corbett. Many time laughed at the time. That doesn't make it right, but we cannot, should not, condemn them for living in a time which isn't June 2020.
Thank God the national media haven't yet found the whereabouts of anyone who was in the Black & White Minstrel show. They'd have more journalists outside the house than Dom Cummings did a few weeks ago.
Do we all have to apologise for everything wrong we once did in order to appease those who wish to rewrite our history?
At the weekend, more violence in the capital as right-wing thugs fought the police having turned up en masse to 'protect' statues and war memorials. Sadly, social media called them 'football lads' which is a disgusting insult to those of us who are blokes/lads and who love the game.
They are not the people I would want standing next to me on the terrace. They were in London supposedly to 'protect' Churchill's statue - the statue of a man who defeated the Nazis - and yet some of them happily gave a Nazi salute. Puzzled face emoji time.
One neanderthal was pictured urinating next to a memorial to PC Keith Palmer, a football-loving member of society who was murdered by a knife-wielding terrorist three years ago. This country produces morons who are happy to relieve themselves next to a national hero's monument. We should hang our heads in collective shame.
Those of us of a certain age will easily remember the 1980s, a decade marred by football hooliganism. The middle-aged, shaven headed cretins in London at the weekend were a familiar sight back then, regularly appearing on our tv screens every time England played a major match abroad, their beer bellies grotesquely on show as they belted out their drunken 'In-ger-land' chants.
Their sort might not cause trouble inside grounds any more but, sadly, they still exist in our society. A worrying group, a snarling beast - like a human Twitter, perennially angry and always wanting to pick a fight.
This is the state of Great Britain 2020, a nation of even increasing snowflakes who want to tear down anything they disagree with, forever outraged, and a nation of far right skinheads who fly the Union Jack while making the Nazi salute and throwing missiles at our police force. God help us. Really, God help us.