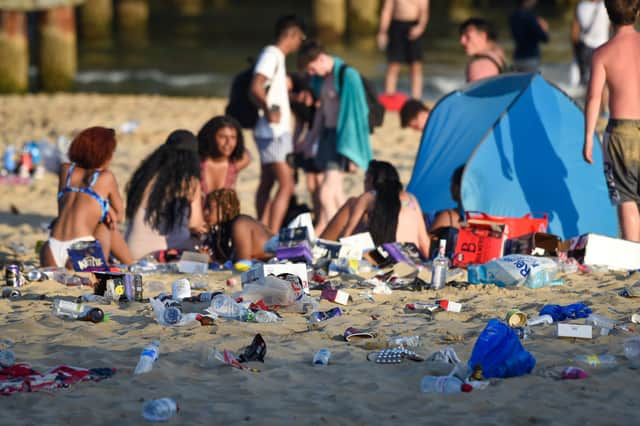 What would the Wombles say? A scene at Bournemouth beach last week. Photo by Finnbarr Webster/Getty Images.
To be fair, I'm not sure what exactly Orinoco, Tobermory and Madame Cholet would do with hundreds of discarded BBQs and several tons of food and packaging debris. I don't know what 'good use' they could put numerous broken deckchairs to, but I'm sure it would have kept them busy for a few hours.
Still, it could have been worse - the Wombles could have been greeted with Bournemouth beach at 5am the same day. Tomsk might have sworn loudly - I guess the Wombles could be foul-mouthed when the cameras stopped running - and exclaimed: 'Good God, I thought Glastonbury 2011 was bad.' (The Wombles played at the festival that year, but any music-loving reader would no doubt know that …)
Ok, I know - throwing litter away is not a laughing matter. The scenes at Bournemouth were a national disgrace - both in terms of the numbers of people flocking to the same beach and the amount of rubbish they left strewn behind.
Anyone walking or cycling from Eastney swimming pool to Canoe Lake last Friday morning would have been forgiven for thinking a high-profile event had taken place, one which had received no pre-publicity - 'Portsmouth Seafront Festival of Litter 2020' with a humorous play on words strapline ... 'Come And Be A Tosser'.
I jest, of course, but I repeat - it's no laughing matter. And though I've made that last sentence up, the City of York Council have actually put posters up telling litter-droppers 'Don't be a tosser.'
But of course, so many people are. Probably always have been. From the south coast to Yorkshire and all areas in between. They'll laugh at the poster, but will they change their ways?
Boris Johnson has made one big mistake in his handling of the pandemic and his easing of lockdown restrictions. No, it's not his failure to sack Dom Cummings - though that has contributed to swathes of the UK virtually giving up on lockdown. Instead, it's the fact he has relied on people to use their common sense.
Boris, mate, this is 2020. Look around you. At the start of this crisis covidiots were visiting beauty spots, stockpiling toilet rolls and medicines. These people probably routinely clapped the NHS every Thursday evening for a few weeks. They are probably the same people who crowd onto a beach and casually leave their litter behind.
At times in the last few months, the lack of common sense shown has been astonishing. And I've been a journalist all my life - nothing really shocks or surprises me anymore. But the photos from Bournemouth last week fell into those categories.
I have used this next phrase repeatedly during lockdown, and I make no excuse for using it again. If I use it enough, the message may start to resonate (but I doubt it) - if stupidity were a potentially fatal disease, rather than covid, our NHS would be overrun within 24 hours.
You may want to accuse me of hypocrisy, for I visited Southsea beach last Tuesday afternoon for a few hours of sun worshipping. Why not? I'm allowed to. It was so nice, I went back the following day. But I wasn't near the pier, and everyone around me was observing the social distancing guidelines (there's lots of space for everyone). Put simply, I used my common sense and lots of others were doing likewise. I didn't leave any litter.
If I can do these basic things, why can't everyone else?
I read recently that Japan's low covid death rate was due to that nation's general subservience to whatever their government tells them. The contrast with the UK couldn't be more startling. Here, large parts of the population are keen to do exactly the opposite of what they're asked to do. Don't stockpile toilet rolls. Toilet rolls enthusiastically stockpiled. Observe social distancing guidelines of two metres. Thousands cram onto a beach, or go on protest marches to pull down statues while the police just watch on, or congregate outside Liverpool's ground to celebrate winning the league. While thousands of others have worked tirelessly on the NHS frontline, while thousands have shielded alone in their houses for weeks on end, while over 43,000 poor souls have lost their lives.
Stay alert, control the virus, chuck our litter everyone, do whatever the hell we like. That's the slogan metaphorically tattooed on the foreheads of many people in UK 2020.
And that noise you can hear is Great Uncle Bulgaria weeping ...