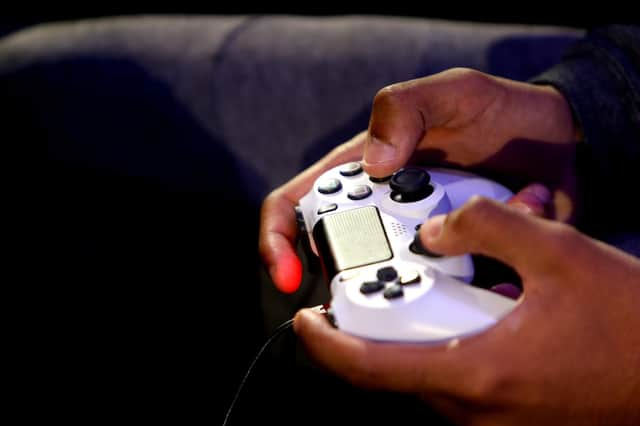 NORMALITY RETURNS: ... through your thumb tips. Picture: Getty
While this might sound like I've been flagrantly breaking lockdown rules and flaunting social distancing, I've actually managed to do all these things without leaving the safety of my room.
No, this isn't some kind of memory palace trick where you try to imagine the vestiges of normal life either.
I've managed to do all these things while playing a video game – and I realise that the first paragraph might not make it sound all that appealing but let me elaborate.
The game is called Persona 5 Royal and it's an RPG (role playing game) in which you take up the role of a high school student in Tokyo.
You have to balance your everyday life, studies and friends with battling monsters in the hearts of evil citizens in an attempt to make them turn their backs on their nefarious ways – it is a video game after all.
Taking on the role of Joker you have to organise yourself and work out when it is best to carry out all the different kinds of tasks.
You also have to actually commute to school or to see friends by taking the Tokyo subway. If you manage to find a seat you can even read.
Before lockdown began, the idea of carrying out everyday tasks in a video game didn't particularly sound like my cup of tea – usually I prefer something more bombastic from my games.
But with the events of 2020 ripping away pretty much everything we take for granted, I've found great comfort in picking up my controller after work and slipping into a slice of normality.
Sure I am not able to meet friends at restaurants, but my virtual avatar Joker can grab a bowl of ramen with another one of the game's cast of characters.
In the comforting world of Persona 5 Royal, you can freely stroll around shopping districts and nightlife spots – even if the real world equivalent places are still off-limits.
You can even take a trip to the cinema – the thing I perhaps miss the most from the pre-Covid world.
Rashford surely nails image of pampered top players?
Has anyone had a better lockdown than Marcus Rashford? The England international and Man Utd striker has put most of us to shame.
While I've sat at home day after day occasionally venturing out for walks, he's been helping make the world better.
So far he has started a charity that has raised £20m, helped feed 2.8m kids, launched a campaign to help the homeless and learned sign language to judge a poetry competition at a school for the deaf. To top this he forced the government to u-turn its decision to stop free school meals in the summer holidays.
Surely this nails any stereotype of pampered, over-paid footballers?​​​​​​​
Be done with the confusion: Alexa, tell me what to watch
Last week I spent hours scrolling through my streaming sites trying to find something to watch, with no luck.
Wherever I looked from Netflix to Amazon Prime and BBC iPlayer or All4, I came up empty. I had no idea what I wanted to watch.
So I turned to Google to solve it for me and provide inspiration, except when searching 'under-rated gems on Netflix', I got websites listing shows such as Breaking Bad or Stranger Things – quite the opposite of underrated.
I wish Netflix or Amazon Prime would put a box-set in front of you and say 'no more scrolling, watch this!' Although it sounds like 1984, hopefully I haven't given our corporate overlords ideas...