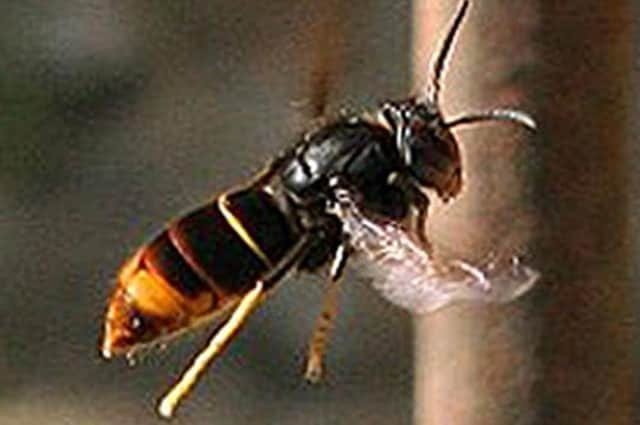 An Asian hornet Picture: Jean Haxaire/Defra/PA Wire
The invasive species is a threat to honey bee colonies across the region, as it is an aggressive predator of honey bees and other insects.
Now the Chichester Beekeepers group has joined others across the country on high alert for any sightings, and would like the public's help too.
There is a national Asian Hornet Week running from Monday, September 7
A statement from Chichester Beekeepers about the Asian hornet says: 'In 2004 it was accidentally introduced to France where it has spread rapidly and into neighbouring countries. Since 2016 a number of sightings have been recorded in the UK.
'This year there have been no confirmed sightings in the UK and hopefully there are none here, but we need the public's help to be on the lookout for them. Autumn is the time when they build their secondary nests and are most likely to be seen – especially around beehives, honey bees being their favourite food, but also on ripening apples, which they also love.'
Beekeeping associations have set up Asian Hornet Action Teams (AHATs) to help government bodies identify the insects and find any nests.
As part of West Sussex Beekeepers Association, Chichester Beekeepers has trained members ready to advise the public and correctly identify the insects.
Leader of Chichester Beekeepers AHAT, Kevin Breen, said: 'It is really important that the public are aware of the threat that the Asian hornet poses to honey bees and other pollinators, to look out for them and be able to differentiate them from the European hornet, which is larger and more yellow, and wasps which are similar to the European hornet, and do not pose a threat.'
There is a free app called Asian Hornet Watch, which is available on Apple's App Store and the Android Play Store, which has an identification guide and instructions on what to do if you think you have seen one.