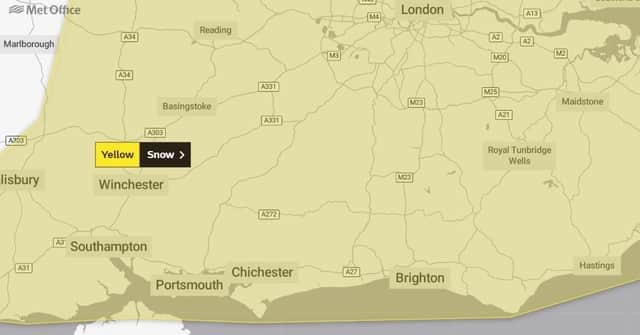 A cold weather alert remains in place across Hampshire and Portsmouth. Picture: The Met Office
The Met Office has issued a yellow alert warning across Portsmouth and much of the country today, as the cold weather continues to bring icy conditions and snow flurries.
While residents and travelers are reminded to stay alert, there are no forecasts of snowfall across the Portsmouth area today or the rest of the week.
The warning extends across much of east Hampshire, including Petersfield, Basingstoke, Aldershot and Farnborough.
The cold front is expected to move beyond the area and cover the country east of Billingshurst, Worthing, and Guildford tomorrow.
Warnings are in place across Scotland and Wales on Saturday, with no further alerts given beyond this date.
Freezing conditions will continue in Portsmouth and Hampshire until Saturday, with severe cold weather predicted across much of the rest of the country, according to a statement from The Met Office.
The statement added: 'There is a 95 per cent probability of severe cold weather/icy conditions/heavy snow between 0900 on Wednesday and midnight on Saturday in parts of England.
'This weather could increase the health risks to vulnerable patients and disrupt the delivery of services.'
Temperatures in Portsmouth are expected to rise to 10C on Monday.
A message from the Editor, Mark Waldron
You can subscribe here for unlimited access to Portsmouth news online - as well as fewer adverts, access to our digital edition and mobile app.
Our trial offer starts at just £2 a month for the first two months.