Portsmouth couple start dating, get engaged and married on the same date years apart
Your wedding day is deemed as one of the happiest days of your lives. And for Paris King-Moase and her husband Matt Moase, their special day is one they will cherish forever.
Tuesday, 14th April 2020, 11:41 am
Updated
Tuesday, 14th April 2020, 11:42 am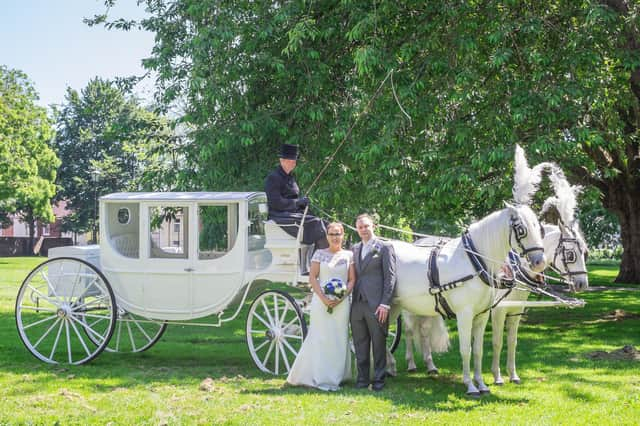 Paris and Matt with their horse and carriage outside St Mary's Church, Fratton. Picture: Carla Mortimer Photography.
The couple, from Portsmouth, had known each other for years before they started dating in 2014.
Paris, 29, says: 'We had both come out of relationships at the same time. My boyfriend had split up with me and Matt had split up with his girlfriend. We helped each other get through it and then it turned into something more.'
Matt, 27, who works as a physiotherapy assistant, officially asked Paris to be his girlfriend on Valentine's Day, 2014.
Paris with her mum, Sophie, on her wedding day. Picture: Carla Mortimer Photography.
Paris explains: 'He timed it to be on that day because he knew I had had such rubbish Valentine's Days in the past.'
Two years later, on June 14 – a common number throughout their love story – Matt asked Paris to marry him.
'We were on holiday in Spain and we went to the zoo because I live animals. I know now that Matt had originally planned to ask me by the penguin enclosure because they're my favourite animal,' explains Paris, who works in a pharmacy.
'But the penguin enclosure was closed that day so he scrapped that idea. Later on, while we were on the beach he asked me.'
Matt and Paris pose for their wedding photographs. Picture: Carla Mortimer Photography.
She laughs and says: 'He didn't quite get down on one knee because he was so nervous.
'But it was amazing. It was just me and him, eating ice cream together.'
When the couple started planning their wedding, they knew they wanted to tie the knot on the 14th of the month because of how much that date meant to them both.
'We got married exactly one year after he proposed to me. We were originally thinking two years but we had the money and got so excited when we started planning it,' says Paris.
The happy couple on their wedding day. Picture: Carla Mortimer Photography.
'In hindsight, we're so glad we didn't plan the day for two years after because the weather was a horrible day, whereas we had glorious sunshine on our actual wedding day. It was fate.
'I suddenly know what people mean now when they say your wedding goes in a blink of an eye. You spend all of your time planning it and it just goes so quickly.'
The couple tied the knot at St Mary's Church, Fratton, in front of 60 guests.
Paris says her favourite moment was when her mum, Sophie Cooper-King, walked her down the aisle. She says: 'My mum sadly died last year. Thinking back now, her walking me down the aisle is something I will cherish forever.'
Matt and Paris held their reception at the Marriott Hotel, Portsmouth, with 100 guests.
Paris smiles and says: 'At the end of the night, when the DJ started packing away, it was just me, my husband and a couple of his friends.
'We all did some shots at the bar and were dancing. It was fun.
'It was also odd to see the room so empty when it was so busy a couple of hours before. Even some hotel guests joined in the fun!'
The newlyweds honeymooned in Spain but unfortunately Paris had food poisoning. She laughs and says: 'The activities we did do were fun though.'
Paris and Matt welcomed their little girl, Willow Sophie King-Moase, eight months ago and are now enjoying life as a three.
'My favourite thing about Matt is that he loves me for me. He doesn't want me to change,' says Paris.
'When I lost my mum, I was trying to hold together the rest of my family and he was my rock.'
Matt adds: 'She's my best friend. We just get on so well and I couldn't be without her.'