Portsmouth pays tribute to 'Forces' Sweetheart' Dame Vera Lynn who died, aged 103
TRIBUTES have been paid to the 'Forces' Sweetheart' Dame Vera Lynn who died yesterday, aged 103.
Thursday, 18th June 2020, 7:31 pm
Updated
Thursday, 18th June 2020, 7:32 pm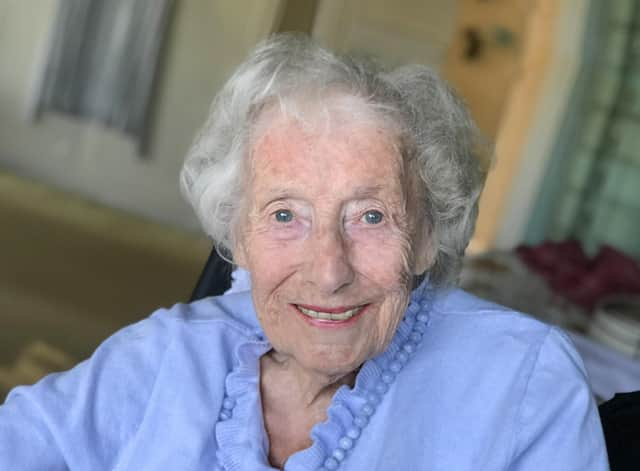 Dame Vera Lynn, pictured on her 103rd birthday. Photo: Susan Fleet.
The acclaimed songstress, whose tunes helped lift the nation's morale during the Second World War, died surrounded by her family.
The singer was best known for performing hits such as We'll Meet Again to troops on the front line in countries including India and Egypt.
Her family said they were 'deeply saddened to announce the passing of one of Britain's best-loved entertainers'.
And leaders in Portsmouth have rallied to sing the praises of Dame Vera, hailing her the 'hero of hope'.
Cabinet minister and Portsmouth North MP Penny Mordaunt said: 'Her service and art gave voice to a generation marked by sacrifice and endurance. She lifted their spirits and kept the nation going. What a women. What a life.'
Councillor Gerald Vernon-Jackson, leader of Portsmouth City Council, said Dame Vera had been a beacon of light in the darkest of times.
'She was the forces' sweetheart and was a really important part of raising people's morale during the war years,' he said.
'She has produced a huge amount of enjoyment for people over decades. So it's a very, very sad loss.'
Portsmouth Tory leader, Councillor Donna Jones, agreed and added: 'For many of our older generations, Vera Lynn was their wartime celebrity.
'Her dedication to entertaining the troops, travelling around the world lifted spirits and hearts.
'She had a fascinating life and should be celebrated for all she did and achieved.'
Last month Dame Vera became the oldest artist to reach the top 40 in the UK album charts.
A collection of her greatest hits reached number 30 in the Official Charts Company rankings following the commemoration of the 75th anniversary of VE Day.
Dame Vera supported many charities and was a stalwart of several ex-servicemen's organisations.
In 1991 she played a key part in forcing the government to end the anomaly under which a war widow who lost her husband after 1973 received a far higher pension than a widow of a soldier who died before then.
She was also a proud holder of the Burma Star and regularly attended the Burma veterans' annual reunions.
Teresa Greener, of the Royal British Legion, said the singer's commitment to the forces 'never waned' and that she continued to be involved with the charity's work right up until her final few months.
'I know she is very much a focus for the World War Two generation and the armed forces around the World War Two generation, but actually she became a real inspiration for the armed forces generally, because her strength of commitment to them never waned in the slightest,' she added.