Right step forward for Whiteley podiatrist as she bounces back from tricky 18 months with award hope
A PODIATRIST from Whiteley has been recognised for steering her business through the pandemic.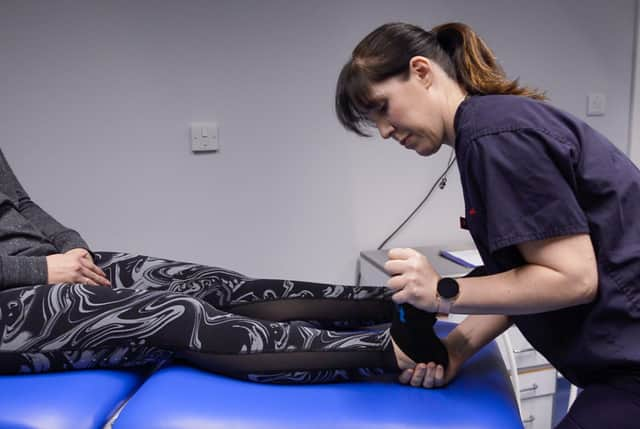 Emily Ball at work
Emily Ball, the director of Active Step Foot & Ankle Clinic in Whiteley, is a finalist in the Great British Entrepreneur Awards, which attracted a record-breaking 4,800 entries across eight regions for 2021.
Launched in 2012, the Great British Entrepreneur Awards were created to celebrate the entrepreneurs behind brilliant businesses.
Emily is shortlisted in the 'Pivot Entrepreneur of the Year' category, which recognises entrepreneurs who have adapted their business during the pandemic.
Emily Ball, from Whiteley
Emily said she is delighted to have been selected as a finalist after such a challenging time for her business.
She said: 'Before the pandemic our revenue came from delivering podiatry treatment to patients and selling podiatry-related health products in our clinic. When patient numbers dropped due to Covid restrictions, we became extremely vulnerable.
'I had to adapt our strategy to meet the changing climate, and it's wonderful to have the work we put in during what was an extremely difficult time, acknowledged. I'm over the moon to be shortlisted!'
When the pandemic hit, Emily changed her strategy and promoted Active Step as an essential service that could alleviate stress on GP provision, walk-in centres and emergency services.
She shifted her marketing strategy and focused on existing patients, keeping them informed and offering advice where needed. Emily also launched a subscription service that would give her predictable and recurring revenue.
She said: 'We have had to update our approach in a way that no one could foresee, but by promoting our services in a different way, we have managed to weather the storm of the pandemic and come out the other side on a positive footing.'
Emily is now looking ahead to the next 18 months and plans to create a corporate wellbeing platform for key workers who are at high risk of foot problems. She also intends to use her experience of workplace risk assessment to offer corporate webinars and provide consultancy to businesses in the local area.
And, she is using her experience to write her first book – How to build a robust and resilient healthcare practice in the face of an uncertain future.
Winners of the Great British Entrepreneur Awards will be selected over the next few months and regional finals will be held in September.
Story by Kimberley Barber
We have seen how tough the past year has been on businesses so we've decided to do our bit to help by offering a new way for businesses to market - and a lower cost.
The scheme, sponsored by the Federation of Small Businesses, will help businesses promote themselves at a fraction of the usual advertising or marketing costs.
As the pandemic ends, there's never been a better time to promote your business and make it stand out.
Come to us and take up this one-time only opportunity for the lowest-ever cost to appear in the area's biggest news outlet with authentic, interesting copy.
- How much does it cost?
75 per cent off normal rates. A one off, one time fee, no contract
- What do you get?
A guaranteed published article in The News - and online at portsmouth.co.uk
- How does it work?
Our business editor Kimberley Barber has been helping businesses to stand out for 10 years. She will help you identify the thing your business needs to shout about, in order to get it noticed.
Whether that's a new product, an expansion to your team, an award win, or even just simply a change of opening hours - there are many reasons that a business would need to shine a light on itself.
Kimberley will help you to find your 'top line' and her team will create an authentic article to appear in the pages of The News.
Your company doesn't need to employ somebody to find the best news, or even write it, let the experienced team at The News do it for you.
Not only will your article run alongside the daily business page, putting it in the perfect spot to reach engaged readers, it will benefit from the News' insider track on what makes attractive content that will engage your customers.
- What could happen after appearing in The News?
Our newspaper is read by thousands of people everyday. It's been the traditional route to reach people in Portsmouth for hundreds of years.
It is read by all major news outlets, and is often the starting point of national stories.
Being in The News gets your story in front of the right people.
If your story has editorial value, it will appear on our website portsmouth.co.uk - reaching worldwide audiences of hundreds of thousands of people.
As well as this, with the right tweaks, it could appear on The News' Facebook page - reaching a following of 120,000 people who all have an interest in this area instantly.
The News also has Instagram, LinkedIn and Twitter followers - if appropriate for these audiences, your story will be shared on these accounts too.
Being published in The News is just the start, with our help, we can get you on the path to national recognition.
- What else do I get?
As well as the pride and prestige of appearing in the biggest and longest-serving news outlet in Portsmouth, you will become part of our network.
You'll join a group of like-minded businesses and individuals who all have Portsmouth at their hearts.
You'll also get access to special advertising packages and discounts, should you wish to further promote your message.
Join us, it's the start of our business community coming together and working together for the benefit of our community.
- How do I sign up?
For further business support contact Emma Weatherstone, membership advisor Portsmouth & Solent Federation of Small Businesses on [email protected] or 07764432489
A message from the Editor, Mark Waldron
You can subscribe here for unlimited access to our online coverage, including Pompey, for 27p a day.