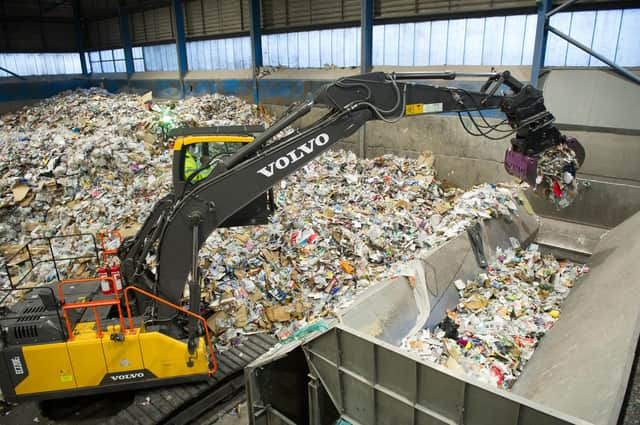 A crane moving assorted recyclable waste into the hopper t Portsmouth's recyling centre. Picture: Habibur Rahman
So if that's daunting when considering how you can help the cause, why not start with something small and seemingly insignificant - something like your bin?
According to the Climate Change Committee (CCC), waste sector emissions, including at Energy Recovery Facilities (ERFs) where most of our 'black bag' waste is incinerated, accounted for six per cent of UK greenhouse gas emissions in 2018.
This is a staggering 63 per cent reduction on levels in 1990 - due mainly to landfill tax, which has driven waste away from landfills.
Although huge progress has been made, it is argued there is still a lot to do - and most of this starts with us at home.
And the CCC has concerns that progress has stalled since the mid-2010s, with recycling rates having plateaued in England.
UK emissions from waste come mostly from methane from landfill and burning waste in ERFs - but if we can cut down on our waste in the first place and reuse and recycle more less waste will be burned.
Eastney Beach Clean - Richard Allison cleans the beach with the Coffee Cup in the background. Picture: Vernon Nash (040120-001)
Burning waste produces carbon emissions, sulphur dioxide and NOx which is a greenhouse gas and harmful to health.The majority of the remaining waste emissions come from the decomposition of organic matter in landfill, combustion of residual waste in energy – from waste plants and methane and nitrous oxide emissions from wastewater treatment processes
This is why the Portsmouth Climate Action Board is urging people to reduce waste and recycle where possible.
Board chairman and director of Revolution of Plastics and the University of Portsmouth, Professor Steve Fletcher, said: 'The throwing away of items we use only once or sometimes not at all, such as plastic bottles or sachets, uses energy and creates greenhouse gasses needlessly.
'Encouraging manufacturers to make products we can reuse, or repair, or that are easier to recycle will reduce our climate impacts. As consumers, trying to choose products that can be used many times reduces waste, saves energy, and reduces our impact on the climate.
The Portsmouth Repair Cafe celebrates its first birthday in 2019. Founder Clare Seek leads the fun. Picture: Ian Hargreaves (200419-1)
'Avoiding creating waste in the first place is the best approach to dealing with waste.'
But how do we measure up in Portsmouth?
The city is actually in the bottom 15 per cent of local authorities in terms of the volume of household waste produced annually - 595kg per household.
And the majority of this waste (around 70 per cent) is burned at a Veolia-run ERF in Copnor. The rest is recycled, and a very small amount is sent to landfill (four per cent).
The Package Free Larder, Elm Grove, Southsea. The Zero waste shop provides an alternative to the perceived over packaging found in supermarkets Picture: Chris Moorhouse (050820-41)
As reported before, Portsmouth has a low recycling rate. In 2020 Portsmouth City Council recorded the recycling rate as 26.7 per cent. The national average is 43 per cent.
The city council's environment boss and Climate Action Board member, Councillor Dave Ashmore, explained how the authority was trying to change. He said: 'We've put in place a number of things to help improve Portsmouth's recycling rates. We launched the black bins for people's household waste alongside a policy that helped people question whether they needed to put out as much rubbish as they were doing.
'During that rollout, requests for new green bins for recycling went up so we know it had a positive effect. We have introduced carton recycling banks to the city. We've installed segregated recycling bins along Southsea Common and feedback shows they are being used correctly. People really want to be able to recycle here.
'Of course a really big initiative from the administration was introducing food waste collections here, diverting a huge percentage of what would have gone in the normal waste to now being recycled.
'There's still more to do, but it's always better to re-use or even avoid buying certain things if possible in the first place.'
Connie Fenner, left, and Delphine Laveyne at The Package Free Larder, Elm Grove, Southsea. Picture: Chris Moorhouse (050820-40)
The first food waste collection trial launched in the autumn in 2019. Currently 24,000 households receive the service the council has just added another 10,000 households to start later this year.
Food waste accounts for 40 per cent of our household waste, so this could see a significant reduction in waste going to the ERF.
The council has also allocated £22m to potentially build an anaerobic digestion plant to process food waste.
But waste is about more than carbon emissions: it affects the environment in many ways
The disposal of solid waste from Portsmouth caused over 4,300 tonnes of CO2e (carbon dioxide equivalent) in 2018.
However, waste and rubbish causes more than just carbon emissions. Globally millions of tonnes of plastic is dumped in the ocean each year. As one of Europe's only island cities, and with a long maritime history, we have a special connection to our coastline.
On Portsmouth beach alone more than 10,000 pieces of plastic can be found in a single month. Most of this plastic tends to be cutlery, straws and wrappers.
This has sparked a movement among local business and initiatives in Portsmouth, concerned with reducing waste.
The Package Free Larder, in Elm Grove in Southsea, is one such enterprise. Led by volunteers, the store does exactly what is says on the tin and allows people to buy food and ingredients without packaging.
Ashleigh Edwards, from the Package Free Larder, said: 'Guaranteed, if you go out for a five minute walk, you will spot some form of waste. This might be food, packaging (particularly plastic) or even the way the air smells.
'Waste isn't only affecting our local wildlife as we've seen in all the programmes, it's affecting all of us humans too. Our planet wasn't built to hold all of us and all the waste we produce. Marine and land animals are showing significant evidence of consuming small items we have wasted, and in turn it's getting into our stomachs, lungs and minds.
'Eventually, we will run out of room, illness will multiply dramatically and we will see fatalities closer to home more often than ever before that have been a direct impact of waste. What we can do is acknowledge and account for what we waste, try to work out what you can do better (and if you're not sure, reach out to neighbours, online and local groups such as Zero Waste Portsmouth) and put something into action.
'No matter how small, we can only change the planet's direction if we all put in some effort. Not only will it improve physical health for all beings, but there's strong evidence about improving mental health and quality of life when reducing waste. Animals don't have the intelligence to remove and reuse the waste already on our planet; humans do. Let's use our knowledge and change our world for the better. We are all in this together.'
And the Repair Cafe in Portsmouth was set up in 2018, out of the Buckland United Reformed Church, to help residents make their clothes and items last longer.
Although the workshop has had to close during the pandemic, there are still ways to put their ethos into practice.
Repair Cafe founder, Clare Seek, said: 'Everything that we buy has a story behind it; people and resources have been involved in getting it into our hands. At Repair Cafe we're passionate about helping people make those things last longer; sharing our skills to keep everything from bikes to computers, kettles to school uniform, jewellery to toys lasting longer.
'We also campaign with others to demand that manufacturers make things to last longer, provide spares and instructions. We ask everyone to think before they buy, do I need it, could I borrow it, could I fix what I have or get help in doing so.
'We're gutted to have been closed this past year, but are making plans to be open again soon, so in the meantime ask friends and family what skills they have to help repair things, check out the repair shops across the city, and investigate the myriad of online resources and repaircafeportsmouth.org.uk.'
So there are more options than ever before to cut down on your waste - what's stopping you?
How waste would look in a Net Zero Portsmouth
According to the Portsmouth Climate Action Board a net zero Portsmouth would be based on a circular economy. This means instead of the take-make-waste model of consumption we have now, products and materials would be designed to keep circulating within the economy at their highest value for as long as possible, through re-use, repair, recycling, remanufacturing, and being delivered as services.
This is more resource efficient and helps companies to protect themselves from fluctuating commodity prices. The potential benefits from a circular economy in the UK have been estimated in one study at £29bn per year with the creation of around half a million jobs.
What would it look like in practice?
There are glimpses of it now: Portsmouth City Council is collecting our food waste and converting it into biogas and green electricity, Southsea Coastal Defence Scheme is re-using the old sea defences to build the new ones, the University of Portsmouth has helped develop an enzyme that turns PET plastic into a liquid that can be used for carbon fibre- a much higher grade product.
A neighbourhood group in Southsea has a thriving re-use and resource sharing circle that sees everything from books to furniture to clothes changing hands with no energy expended at all except a short walk to collect it. A global brand - AnglePoise lamps - is also based in Portsmouth and has developed a business model around repairability and a lifetime guarantee for all its domestic products.
These small pockets of innovation and creative thinking around waste need to become the norm: local government can help that process through greening their procurement policies and central government can fast track it through introducing legislation, as they did with the landfill tax in 1996.
Getting to Net Zero is also about behaviour change and bringing back some old customs around resourcefulness, self-sufficiency and thrift. This is what Sustainable Textiles Southsea hopes to achieve with its free sessions teaching people how to repair their clothes, make their own curtains and pass on skills again.
Things you can doASIDE from cutting down on your waste at home and upping your recycling there is more you can do. Here are some suggestions from the Portsmouth Climate Action Board.
Join Portsmouth's Zero Waste Community
Want to reduce your ecological impact in your daily life? Check out Zero Waste Portsmouth's website and join their Facebook group It is a great place to ask for tips, advice and share resources.
Do package free shopping as much as possible
Bring your own containers or bags to buy loose produce at our city's many zero waste friendly shops such as the Package Free Larder. Find a list of them by Googling zero waste friendly shops Portsmouth.
Get your old laptop or PC fixed
If your computer is playing up, don't ditch it: email the Landport PC Repair Cafe at [email protected] to see if they can fix it at a very low cost. If they can't they will offer to upcycle it instead.
Local food waste sharing for businesses
If you are a business with regular food waste try registering with the Too Good To Go app. Any surplus food is placed into 'magic bags' which contain any surplus stock and are therefore a surprise. These bags are listed on the Too Good To Go app for sale at a third of product cost. 'Rescuing' one magic bag every day from one store for a year is equivalent to preventing the amount of CO2e emitted from driving a car from Land's End to John O'Groats and back.
Local Food waste sharing: for individuals
OLIO is a smartphone app that connects neighbours with each other and with local businesses so surplus food can be shared, rather than thrown away. This could be food nearing its sell-by date in local stores, or the groceries in your fridge when you go away etc.
Set up your own neighbourhood Facebook group to encourage re-use of materials
Wimbledon Park Patch is a local Facebook group where people ask for stuff they need and share what they no longer want (books, TVs, rugs, musical instruments, furniture, kids school uniforms, wellies and toys for example). Set up in 2012 by one resident it now has over 750 members, and the exchanges happen on a daily basis. Why not set up your own one, where you live?
Learn how to repair your clothes for free at Sustainable Textiles
Within a session you'll be able to sew something from a variety of beginner-projects available. Or learn how to fix or re-design the items you bring, such as curtains, clothes, towels, hats, sheets and bags.
The sessions are free and open twice a month with more being planned. For future dates email the team at [email protected]
Pictured: Metal tins are compressed and stacked at the city's recycling centre. Picture: Habibur Rahman