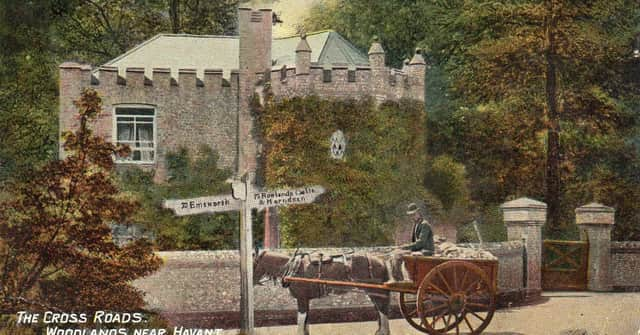 Frontage to Southleigh House lodge Picture: Ralph Cousins collection.
Southleigh Park House went on sale to developers in 2018 in an 'exciting' move that would have seen up to 90 homes built within the stunning Havant location.
To make the scheme viable for Vivid and Bargate Homes, 100 trees would have to be chopped down at the Eastleigh Road site.
A Havant Borough Council officer recommended to approve the proposal in 2018 but members insisted they would only grant consent if the trees were protected - requesting a condition on this.
Councillors were also only told that 'several' trees would need to be felled - not over 100 - which members of the planning committee were only told about earlier this month following an application to fell the trees.
Councillor David Keast, who sits on the planning committee, said: 'The true devastation of the trees was not explained (at the April 2018 planning meeting).
'To say that just several protected trees would be lost was a serious error and that is being kind.
'Members expressed they would not be willing to grant consent without protecting the trees on the site first and therefore asked for a condition which would address these.
'This application did not detail the felling of all listed trees on the site which number over 100.'
The forward local plan then suggested around 35 was an indicative number of houses for the Grade II listed site.
But the developers dug their heels in and said they must build 75 to make the site viable.
Cllr Keast explained: 'The developers said that if we did not grant planning permission for 75 homes then the restoration of the listed building would be at risk.'
'There was no mention of felling over 100 trees - just several.'
The councillor admitted it was, therefore, a 'shock' when committee members received a tree preservation order application to cut down the trees on December 10.
'It was a shock when we received the application to have over 100 trees felled,' Cllr Keast said. 'It would be sacrilege to take out so many trees. It goes against everything I stand for.
'Some of the trees on the site are described as being outstanding examples of the species and of arboretum standard. None are diseased and are mostly in their prime.'
The planning committee subsequently rejected the application unanimously.
'Cllr Keast added: 'I'm not sure where this leaves the development now, it might go to appeal.'
A message from the Editor, Mark Waldron
You can subscribe here for unlimited access to Portsmouth news online - as well as fewer adverts, access to our digital edition and mobile app.
Our trial offer starts at just £2 a month for the first two months.