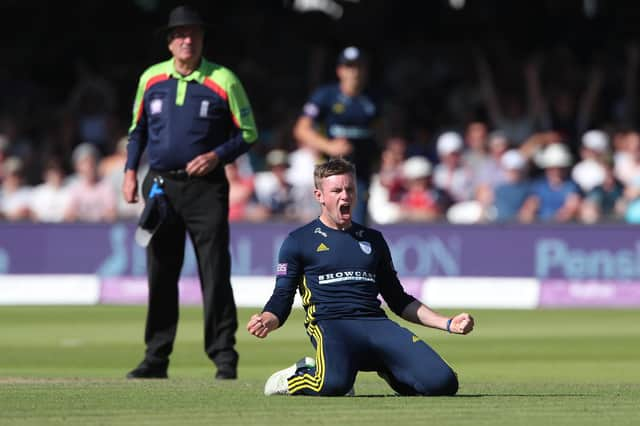 Mason Crane celebrates after taking the wicket of Kent's Sean Dickson during the Royal London One-Day Cup final in 2018. Photo by Sarah Ansell/Getty Images.
The Hampshire leg spinner was viewed as a prodigious talent when he made his England T20 debut against South Africa in June 2017 aged just 20. A further white-ball appearance and an Ashes Test cap followed in the next seven months.
It appeared to be the beginning of a burgeoning England career but a fractured back in March 2018, and a number of relapses, have resulted in Crane being sidelined.
However, following a promising campaign with Hampshire last season, and a winter with the England Lions, Crane earned a spot in the 55-man training squad ahead of this summer's international schedule.
Mason Crane celebrates taking the wicket of South African star AB De Villiers during his second England T20 international appearance in Cardiff three years ago. Photo by Harry Trump/Getty Images.
'It is a really big thing for me,' Crane said prior to being left out when the squad was subsequently reduced to 30 ahead of next month's first Test against the West Indies at his home ground.
'Yes, it is an enormous squad, and it is only training at the moment, but it is really nice to know I'm still in the picture and still involved especially after all this time.
'You could look at the first three and a half years of my career and I was really young and before I knew what an injury was.
'I guess now that I have grown up a bit and had to deal with some injuries it is kind of a part two; it is a fresh start.
Mason Crane receives his test cap from former England cricketer Graeme Swann during day one of the Fifth Test match in the 2017/18 Ashes Series at Sydney in January 2018. Photo by Ryan Pierse/Getty Images.
'Hopefully in this section I get to play a bit more.'
You can't accuse Crane of sitting back and expecting England to dial his number again.
He pumped his body with pain-killing injections to get through a Lord's final two years ago, helping Hampshire beat Kent to lift the Royal London One-Day Cup.
He then spent the past winter jetting from a T10 competition in Abu Dhabi - where he played for Deccan Gladiators alongside ex-Hampshire overseas player Shane Watson - to a three-week England camp in India.
Then he chalked up some impressive figures with the Lions in Australia, with the tourists winning all three one-day games - two against a Cricket Australia XI and one against a New South Wales XI - that Crane played in.
He wasn't picked for the first class part of the Australian tour, so in a way it wasn't totally surprising he was overlooked when the initial ECB training squad was slimmed down.
It could be that England see Crane mainly with limited overs cricket in mind. His record in the short formats was good enough to see him picked by ex-Hampshire captain Shane Warne - a man who knows a thing or two about the art of leg spin - for the London Spirit franchise.
Warne was due to be the Spirit's head coach in the inaugural edition of the controversial Hundred tournament, which has now been shelved until next summer.
'It [the 55-man squad call-up] proves to me that my hard work over the winter didn't go unnoticed,' Crane said.
'There have been countless ups and downs and it has been a long, long time, but to get to this point I am quite proud of myself for fighting back from where I have been.
'Hopefully I will get another call and get into a squad but even if I don't, I can still be proud of my achievement.'
Spin bowling in England is regularly accused of being on the funeral pyre, with pundits claiming a dearth of the craft in county cricket.
But Crane is quick to counter that theory and points to the incredible depth of quality in the latest squad – which saw eight twirlers named, including Hampshire teammate Liam Dawson.
Five of them have been included in the 30-man squad - Somerset pair Jack Leach and Dom Bess, Worcestershire's Moeen Ali, Lancashire's Matt Parkinson and Surrey's Amir Virdi.
And most of them have many years left in their careers - Parkinson is only 23, Bess 22 (he turns 23 next month) and Virdi 21. Crane is also 23, having made his Hampshire 1st XI debut almost five years ago in a T20 game against Surrey.
'I see all the time that people say that spin is a problem in this country, but I don't think it is,' Crane argued.
'You look at the bowlers who are involved, they are all wonderful bowlers which is really healthy.
'Hopefully we can drive each other on. Being able to spend a bit more time with really good spinners is something that improves you.'
Such competition could be viewed as a negative for Crane's ambitions, but he doesn't see it as a rivalry.
He said: 'I don't rank myself among the other spinners, it is irrelevant really and depends on what the selectors and the guys higher up are thinking.
'I am taking the view at the moment that I am happy to be here. I want to work hard and I'm excited to play some cricket this year as I feel like I'm finally moving in the direction I want to move in.
'When I bowl as well as I know I can I'd like to think I was up there, but that is something for me to prove day in and day out whatever the environment I find myself in.'
England's mountain of talent isn't just confined to spin bowling, and it meant that Hampshire batsman Sam Northeast was a surprising omission from the training squad – despite his 969 County Championship runs last summer.
Only two batsman - his former Harrow School colleague Gary Ballance and Dom Sibley - scored more among top flight players.
Crane said: 'I did think that Sam would be involved and it is a shame for him as he has scored a lot of runs.
'It is a tough one, though, as Sam is a wonderful player, but you look at the 55 and you think they are all brilliant players – there are no bad players and there's some good ones left out.
'I feel for him and I hope he can continue what he has been doing and get himself into a position where he can force his way into an England side.
'You look at other guys who are maybe past 30 and still had a really good career.'