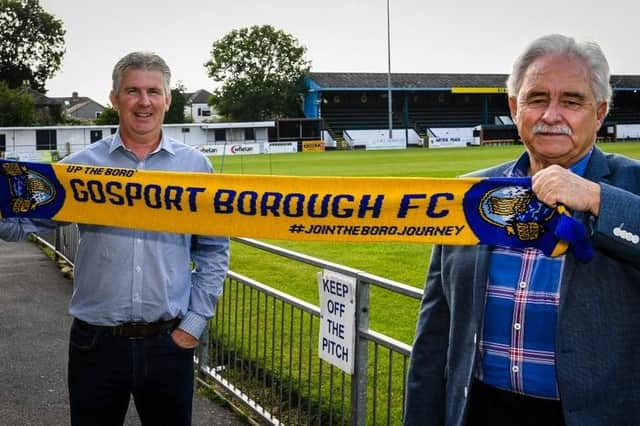 New manager Shaun Gale, left, with Gosport chairman Iain McInnes earlier today. Pic: Gosport Borough FC.
The 50-year-old was last night confirmed as Lee Molyneaux's replacement with Privett Park chairman Iain McInnes adamant Gale can take the club back into the sixth tier of English football.
Gale will forever be remembered locally as the manager who guided Hawks to the fourth round of the FA Cup in 2007/08 within weeks of replacing Ian Baird as boss.
"I am certain I am a better manager than I was in my earlier roles, as I have learned from my experiences since then,' Gale said.
'I am really pleased to have this opportunity. There are some really good people here, who I am looking forward to working with and I am sure the people of Gosport are going to get behind us.
'I am really looking forward to the challenge here.
'This is a club massively on the up I think, in part thanks to all the hard work that has been done around the Covid-19 community response project, led by Keith (Slater) and supported by Iain (McInnes).
'On top of that, the new centre of excellence has just been announced and the renewed partnership with the youth section is also great news.
'It is now my job to get things right on the field with the first team.'
Gale is no stranger to Gosport, having been brought to the club by Molyneaux in January of this year to help out with coaching and impart some of his experience.
Molyneaux told The News on Monday that it was a 'no brainer' to bring in Gale to help out.
Gale even took charge of one Gosport game, against Weston-super-Mare, shortly after arriving due to Molyneaux's job with Nike taking him to Italy.
With McInnes telling The News earlier in the week that he was looking for stability and continuity, appointing Gale was another no-brainer.
The former Pompey chairman said: 'I am really pleased we have been able to appoint someone of the calibre of Shaun at this important juncture in the club's history.
'He is well-respected in the non-league game and his coaching and managerial record goes before him.
'He understands what we are trying to create here to Gosport and very much buys into the idea of us being a club rooted in the community.
'In his short time at the club last season under Lee he showed his qualities and the impact on results and performances after he arrived was there for all to see.
'Our aim as a club is to eventually compete at National League South level and in Shaun we have the right person to build a team and, more importantly, a club to do that.'
Gale becomes Borough's fourth permanent boss in just over two years following Alex Pike, Craig McAllister and Molyneaux.
His connections with local non-league football started when he joined Hawks in the summer of 2000 as a player after being released by Exeter City.
The Portsmouth-born defender had started his career at Fratton Park. making just three league appearances before signing for Barnet in 1994.
He was appointed David Leworthy's assistant at Hawks in February 2004, and later in the year kept the role when Ian Baird took over.
Gale was promoted to manager when Baird controversially left in October 2007 - just months after signing a three-year contract - to join Hampshire neighbours and then Conference South rivals Eastleigh.
Within a few months, Gale and his Hawks players were the talk of football after reaching the fourth round of the FA Cup.
They knocked out three higher division clubs - York City (Conference), Notts County (League 2) and a Swansea City side who would end the season as League 1 champions.
That was a prelude to a memorable trip to Anfield, where Hawks astonishingly led twice before bowing out 5-2.
On the back of that, Gale led Hawks to a seventh-placed South finish in 2007/08 - three places lower than the previous season's finish.
Hawks were to finish 15th, 6th and 9th in Gale's three full seasons in charge before he was sacked on April Fool's Day 2012 with the club deep in relegation trouble. As it was, they finished just two points above relegated Hampton & Richmond.
Gale returned to Westleigh Park the following October as assistant manager to Lee Bradbury, the Hawks having sacked Stuart Ritchie after only four months in charge.
The pair then stayed together for seven years, with Hawks bouncing back from Conference South relegation in 2015/16 with back-to-back promotions.
That catapulted the club into the top tier of non-league football for the first time, though it was to be short-lived with relegation last April.
Bradbury was dismissed once Hawks' relegation had been confirmed, with Gale announcing his departure the following month.
Within days, he had linked up again with Bradbury at Hawks' divisional rivals Eastbourne Borough.
But the Sussex club's financial problems led them to release Bradbury and Gale after just 13 league games in late October. Eastbourne had won just three of those matches.