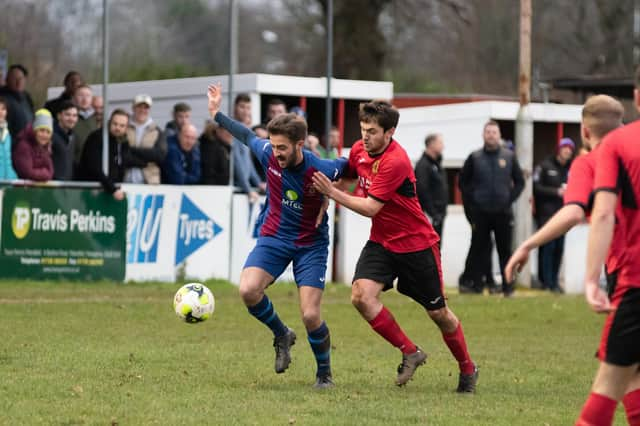 US Portsmouth, right, were denied promotion despite having played 77 per cent of their league games and being top of their table when football was halted. Coventry, however, could be given automatic promotion having played 74 per cent of their games. Picture: Duncan Shepherd
It is a word which has been bandied about quite regularly in recent weeks as the EFL and their clubs decide how to bring 2019/20 to a close.
Earlier this month, the Football Association chairman Greg Clarke told the Premier League they could not scrap relegation.
The integrity of the league was a primary reason.
Then, after League Two clubs had voted to recommend scrapping relegation to the National League, the EFL board stepped in to overrule their wishes.
'The principle of relegation across all three divisions is integral to the integrity of the pyramid, from the Premier League down to the National League,' a statement said.
They are hollow words. There is no integrity left in the football pyramid. Not when different leagues that come under the pyramid have been treated in vastly differing ways. How can there be?
Where is the integrity in maintaining promotion and relegation in the EFL, but not in steps 3-7 of the non-league game?
Where is the integrity of possibly promoting the top two clubs in the National League South - Hawks would be one of them - but not the top two in the Southern League Premier Division just one step below?
Where is the integrity of League Two clubs voting for promotion but wanting to scrap relegation? Ok, they won't get their wish but that's not the point.
Where is the integrity of Pompey possibly being allowed the chance to win promotion via the play-offs, but Tranmere not given a chance to play their way free from relegation troubles in the same division?
It's the same in League Two. My club, Exeter, could win promotion via the play-offs (if they take place, and that's still a big 'if' at present). But at least we might get a chance, which is more than Stevenage - bottom of the EFL - will get.
How can some clubs be allowed to play for promotion, yet others don't get a chance to stay up? Where, I ask again, is the integrity in that?
Where's the integrity in Coventry City being awarded promotion - via a points-per-game methodology - having played 74 per cent of their league fixtures …
... BUT US Portsmouth were denied promotion having played 77 per cent of their games and being seven points clear at the top of Wessex Division 1 when the season was halted? Do Coventry 'deserve' it more than USP?
In League Two, Crewe and Swindon will go up automatically despite only having a four-point lead over Exeter with nine games left. In League One, it was even tighter - Rotherham, in the second automatic promotion slot, were only two points ahead of Oxford United.
US Portsmouth had an 11-point gap between themselves and the fifth-placed club, with the top four due to win promotion, and only eight games left.
In the Hampshire Premier League, Infinity were top at the time the worldwide sporting calendar was put in a stranglehold by the pandemic.
They had played 80 per cent of their league games, and hadn't lost any of them. But the FA quickly dashed their promotion dream by null and voiding step 7. Yet Coventry - part of the football pyramid, the same as Infinity - could go up having played 74 per cent of their games.
Integrity? In football? In the pyramid? Don't make me laugh - there is no pyramid anymore, not one worthy of the name anyway.
'I would have accepted it more if null and void had been the same for everyone. We play by the same rules as Liverpool, don't we? I don't know which it's one rule for the rich and one rule for the others in grassroots football.'
Those were the wise words spoken by Moneyfields chairman Pete Seiden in March, less than a fortnight after his side's final game of 2019/20 - by which time the FA had already decided to null and void five levels of the pyramid with what seemed at the time to be undue haste.
At this point, let me put my cards on the table. For what it's worth, a points-per-game methodology should have been used for all leagues that could not complete the season. That would reward the most successful clubs and punish those at the bottom. That's how football has always worked. The majority of this season has been played, certainly enough to honour promotion and relegation.
I understand why the Premier League are so determined to carry on; that is a league ruined by the obscene amounts of wealth. If they don't play their remaining games, they could lose out financially. My heart is not melting for them.
At non-league level, it was obvious pretty quickly once lockdown was imposed that clubs were not going to play their remaining games any time soon (or even any time later).
In which case, the same PPG methodology now being talked about to end the League One and League Two seasons should have been introduced. And introduced ALL through the pyramid, otherwise there is no point having a pyramid.
If PPG is good enough to promote Coventry and Crewe, it's good enough for the Wessex League and Hampshire League. As Seiden quite rightly said, the non-league teams play the same game by the same rules - just not as well and in front of less fans. But that's not the point at all. The point is our old friend 'integrity'.
Of course PPG is not fair. Life isn't fair - my teenage kids have been denied the chance to sit their GCSE and A Level exams this summer. That's not fair on them, is it?
Yesterday Phil Wallace, the Stevenage chairman, became the latest to sit down and write the letters i-n-t-e-g-r-i-t-y in that order.
'There is absolutely no integrity whatsoever in using a mathematical formula to expel a club from the EFL,' he said. 'That is unjust and wholly wrong.'
'There is no integrity in the EFL Board ignoring the overwhelming vote by League Two clubs that told them they didn't want to see any expulsion from the EFL by a points per game formula.'
He is wrong to say that, though. It is not up to the clubs to suddenly decide to scrap relegation.
'As the rules stand, we should play it or void it,' Wallace carried on.
'We can introduce a rule change for PPG for promotion and play-offs, I have no problem with that, but it's wholly wrong if that artificial formula is then used to relegate a club that has a reasonable chance of surviving by playing.
'That is a completely different, and unacceptable, step to take. There is a simple solution with integrity - bring more teams into the EFL from the National League to increase the product.
'Since the National League season wasn't completed in the way it was intended, one option is to leave League Two as it is, with no relegation, and promote one club from the NL this season instead of two, to bring the EFL back to 72 teams, but with three up, three down established and in place for next season.
'No lawsuits, no clubs bankrupted and something created for the National League.'
Again, he is missing the point. You can't leave League Two 'as it is' by having promotion but not relegation. If one team wins in sport, another one loses. If teams are promoted, others are relegated.
I repeat, of course it's not fair that Exeter could be given a chance to win promotion on the pitch, but Stevenage won't get an opportunity to play their way out of trouble (and with 10 games left, and only three points behind Macclesfield, they certainly had the chance to do so).
But against that is the argument that Stevenage had played 36 games of a 46-match season and won just three of them. They've had enough chances and hadn't taken them. Why should they feel they would have taken the ones remaining?
Wallace, though, is right to advocate three-up three-up between League Two and the National League. That is long overdue.
Again, where is the integrity in a pyramid where two teams automatically go up from the third tier, three go up from the fourth, but only one goes up from the fifth, sixth, seventh, eighth and ninth tiers (National League to Wessex League Premier inclusive)?
It took non-league football long enough to win one automatic promotion place into the old Division 4 (in 1986/87). It took the EFL another 16 years (the 2002/03 season) to agree a second promotion place.
The time is right - has been for a long time - for a third one to be introduced. If you are talking about integrity, it's a no-brainer.
But this is the pyramid we are talking about. A footballing ladder overseen by governing bodies such as the Football Association and English Football League. A place where you can talk about integrity until you're Pompey blue in the face, but one where you won't expect to see many examples of it ...