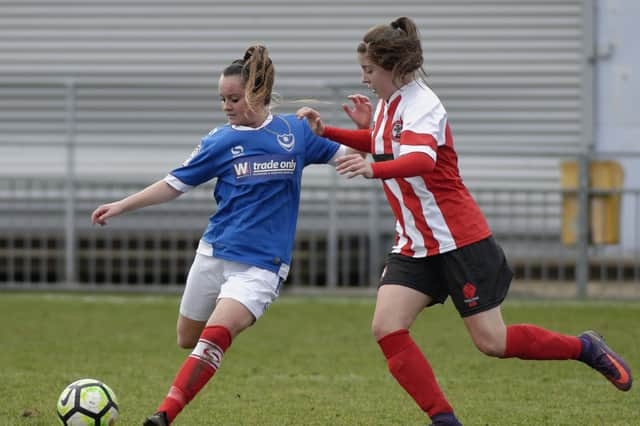 Ellie Bloomfield, left, in action for Portsmouth Women against Southampton in 2017. She has now signed for Moneyfields. Picture: Neil Marshall
The FA Board reached the majority decision to decide the campaign on a PPG system after the coronavirus saw the top division and Championship brought to an early halt.
Liverpool have been relegated to the Championship and will be replaced by Aston Villa, who were awarded the second-tier title also via PPG.
The FA made these decisions after deciding to controversially null and void women's football from the third tier down.
While that didn't affect third tier Portsmouth Women in any way, it had a major impact on fifth tier Moneyfields. They had won all 10 of their Southern Regional League Premier Division games by the time the pandemic took hold of the worldwide sporting calendar.
As a result, they were favourites to claim a third successive promotion. Now Watson is angry that those at the top of the women's pyramid have been treated differently to others.
'I'm absolutely fuming,' he said after Chelsea had been declared champions for the second time in three years. 'Points per game was the only fair way to do it all the way through. That way you would have rewarded success.
'I felt sick in my stomach at the time, and now this has only rubbed salt into the wounds.
'It's all about money - let's make sure those at the top are catered for and the rest of us can go and do one.
'We had lockdown one day, and they scrapped non league football the day after. It was just a kneejerk reaction made by people who don't care about grassroots football.
'My girls go out and risk injury the same as those in the Super League ...but we've been told we're second class citizens and it stinks.
'I was going to jack it all in and go out on my boat on sunny days instead.
'But my skipper made a video with screenshots of last season and sent it around to everyone, and I thought 'these girls deserve better – I won't let this beat us.'
'I think we will come back bigger, better, and in a healthier position. The girls are all fired up, we have a bit of a siege mentality, and the team have never been fitter.
'We'll use the null and void as motivation to prove last season was no fluke - everyone had Bournemouth down to win the league.
'I've used it as motivation to go out and get some extra quality.
'The money from sponsorship is still there, and I've kept all the coaching staff.'
Watson added: 'We have a lot of local business supporting us, and I've spoken to them all. They're all carrying on.
'It's up to me to bring in the sponsorship, but the men's club support us in many ways.
'Winchester, for example, have to pay to use their men's pitch but we're part of Moneyfields, that's our pitch as well - we don't pay.
'The club also funds one training venue a week. We fund the other - I insisted it was important we trained twice a week.
'When the new facilities are in all place, the sky will be the limit. There won't be anything we can't do and nothing we can't achieve.'
Watson has made three new signings so far - Sox Goodall, Ellie Bloomfield and Ciara Boylan.
Goodall, 26, who can play across the defence or as a holding midfielder, has Super League experience with Millwall Lionesses. She moved to the Southampton area last year, and boosts Moneys' strong contingent of players from the other end of the M27.
Watson knows Bloomfield well from his days at Portsmouth Woman - the midfielder was part of the Pompey squad that won the Southern Premier Division in 2014/15.
Bloomfield was at Chichester City last term.
Boylan returns to Dover Road after missing the entire 2019/20 season due to her Royal Naval duties at sea.
'They are three huge signings,' said Watson, who has only lost one player from last term's squad - American Kennedy Rankin having returned home.
On the coaching front, Lil Johnson - once manager of Lewes Women - is still on board. 'She's probably the best female coach outside of the Super League,' praised Watson. 'She's one of the best female or male coaches I know of - on a par with anybody I've worked with.'