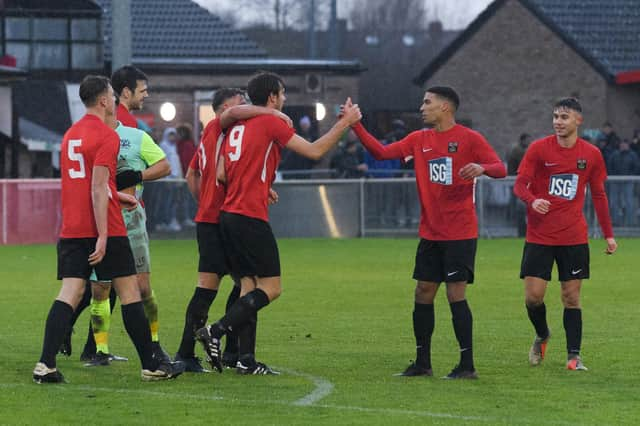 Fareham Town celebrate a goal in the FA Vase first round triumph against Roman Glass St George. Picture: Keith Woodland
But the Reds boss is adamant his squad are not fazed by the size of challenge that awaits them in the third round at unbeaten Western League Premier Division leaders Plymouth Parkway.
Fareham have the chance to write a piece of history by taking the club to the fourth round for the first time ever.
Stiles' side have already equalled the best ever run in the competition by getting this far.
They must overcome last season's Vase quarter-finalists in order to put themselves in the club record books.
'We're not going to be fazed by it, that's for sure,' said Stiles.
'My players won't be fazed by playing anyone and they've got a real determination to win.
'We're not going there to make up the numbers and get beat.
'It's a real tough game, we couldn't have got a tougher draw, that's for sure.
'We've equalled the longest ever run so it would be nice to go further than that.
'I'll just tell them what I tell them every week - to go out there and win.
'It doesn't matter about the history and all that sort of stuff, it's going to make no difference, it's just going to be a really tough game.
'We've got a game plan ready and as long as we stick to it, hopefully, we can get through.'
Stiles is expecting to be without 'three or four' of the squad that beat Helston Athletic in the previous round last weekend.
But he is tight-lipped regarding the players he could be without.
He added: 'The trouble is we're not going to be at full strength which is disappointing because we've got one or two injuries and a couple of unavailabilities which is bad timing.
'But what we have got is a squad looking to go down there and win, though.
'I'm not saying (who's out). I can't say because it determines which way I play, so I'd rather not say.
'I don't want to give anything away to the opposition.'
Fareham are aiming for their third Vase win on consecutive Saturdays since the lockdown restrictions were eased. They followed up a 4-1 home win in the first round against Bristolians Roman Glass St George by beating one tier lower Helston 2-0.