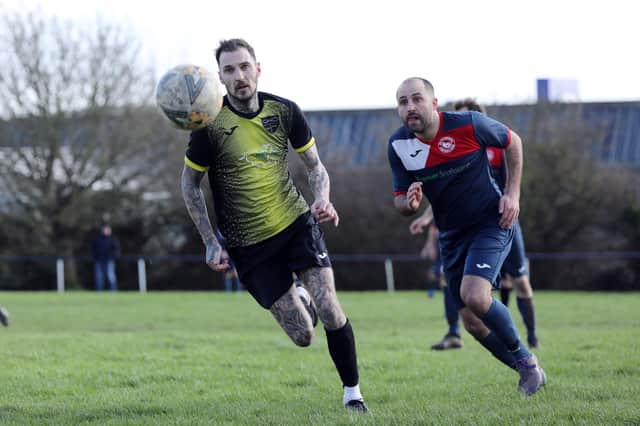 Wayne Boud, left, has left Infinity to sign for Fleetlands. Picture: Chris Moorhouse
The goalscoring winger has left Hampshire Premier League leaders Infinity to sign for the club literally on the doorstep of his Gosport home.
With a young family, that will certainly ease his travelling – Infinity are currently playing home games at Hythe & Dibden, virtually an hour's drive away.
'Wayne has been one of the stand-out players in our league for a few years,' said Bessey.
'He will give us passion, quality, work-rate, commitment and loyalty.
'He will also bring us his finishing ability which is outstanding.'
Boud, playing mainly on the right of midfield, has struck 48 league and cup goals since moving to Infinity towards the end of the 2017/18 season in just 92 appearances.
He bagged 19 goals in 40 outings in 2018/19 and improved that ratio last season with 20 in 29 outings.
Boud - a former Wessex League Premier regular at Fareham Town - has already netted seven times for Infinity in 2020/21 in 13 appearances.
The marquee signing comes hot on the heels of recent arrivals Sean Wain, Phil Archbold, Bryn McKie, Matt Andrews and Jamie Winter.
'I've got no excuses now,' said Bessey, 'and a whole lot of extra pressure!
'Did we need another winger? Not really.
'But we want to get out of this league and we have to take every chance we can to improve the squad.
'Wayne's signing has gone down well with the players, competition for places is very healthy.
'Wayne's ambitions match ours.
'He has been very loyal to Infinity, playing in the Hampshire League for three years when he could have been playing in the Wessex League.
'This is the best squad I've had at Fleetlands.
'There's massive experience - Matt Shortt, Phil Archbold and Sean Wain won back-to-back Wessex League titles with Petersfield.
'Wayne Boud and Bryn McKie played week in week out for Fareham for years, and Tommy Woodward played for Horndean and Fareham and won the Hampshire League with Paulsgrove.
'We've also got good youngsters - Dylan North, Jack North, Jamie Winter and Kelvin Robinson are all 21 or under.'
Bessey said his new signings haven't joined for financial reasons; indeed, playing for the club is currently costing them cash!
'Matt Shortt is in charge of the fines and he's already got £700 in the kitty and we've only played nine games,' reported the manager.
'He's currently fining everyone £2 each for not showering, even though with the Covid rules we're not allowed to have showers!
'We don't charge subs, there's enough sponsorship to cover the costs.
'The players each have to bring in £50 in sponsorship, and we don't pay win bonuses or goal bonuses.
'At the moment they're paying to play for us.'
Boud is likely to make his debut at home to Chamberlayne this weekend, prior to next Wednesday's tough trip to Locks Heath.
A mouthwatering clash with Paulsgrove (November 14) is also on the horizon.